When I travel, I bring back three kinds of souvenirs: Christmas tree ornaments, iron-on patches, and yarn. Each Christmas, we are reminded of our adventures as we trim and admire the tree, though I'm still trying to track down ornaments for places I didn't have the chance to buy them. Eventually, the patch collection will be handed down to each of my children as each patch is from a place they've gone with us. Then there is the knitting yarn, which I can enjoy while creating something then, later, while wearing it.
To share a bit of my yarn larder and some travel memories, here are some yarns I've bought and where. I've labeled the links leading to my own blog and the rest lead to online sources to buy these yarns direct from the dyer/manufacturer/LYS/designer or my own photos on Flickr. This post does not have any NuRav links.
Barcelona, Spain – December 2008
For my birthday, my husband took me to Barcelona and I chose a simple skein of acrylic yarn at El Cortes Inglés to celebrate the occasion. It was Luz Color Universal, a colourful DK, which I later used to knit a baby version of the Whale Watch Hat. It doesn't seem to be discontinued, but it isn't listed on their website either. The colors are vibrant yet soothing. Really lovely.
Brest, France – June 2009
We met up with my father in France for a week and I visited the Brest Phildar shop then met up with a knitter friend. At the Phildar shop, I chose two yarns in two colorways each. So soft. One was this Phildar Aviso, an Aran weight cotton blend. Having a wool allergy often makes me feel I'm missing out on the worsted and Aran weight wools, but this is a beautiful Aran weight option still available for a reasonable price point. Nice if you're seeking a yarn with vegan fibre content. This was bought when my husband and I met up with my dad in Bretagne, France for a week while he was presenting at a conference. We were based out on the coast in a resort village, but on the day I took my husband into Brest so he could return to Ireland for work, I visited the Phildar shop and then met up with a fellow knitter I had corresponded with. To this day, she and I are still friends and she even visited me in Ireland in 2013 or 2014 and has knit sweaters for each of my sons. She is such a talented knitter with colorwork and a kind person.
Valencia, Spain – June 2010
I bought three skeins of Infitex Coton sport weight at a Lanas Algodones El Paraiso. I even snapped a photo of the shop. The challenge with this is that cotton is a dense and heavy yarn and I was flying on RyanAir so I had to keep my carryon below their weight restriction. Somehow, I did it. Ok, maybe I wore a dress over my jeans. This was when I met my dad in Valencia, Spain for a week while he was presenting at a conference. We stayed in a hotel downtown and loved walking around to explore the city. This shop was on one such walk after we visited the Central Market and Plaza Redonda. It was a really lovely day with my dad and meandering without an agenda.
Washington, DC, USA – April 2011
I visited my family when I was pregnant with LB and my mom suggested I take yarn she had that would be lovely for a baby project. It was four skeins of Hayfield Grampian DK's Country Colors Tweed line. My Mom who bought it when I was in high school (in the 1990s) when she took a knitting class. She cast on to knit herself a sweater (ambitious first project, don't you think?), but quickly learned that knitting isn't her thing so she frogged the sweater and boxed this up with some nice tweed fabric in the cedar closet. She forgot about it until I got pregnant and she unearthed it and gave it to me so I could make something for baby.
Maryland Wool & Sheep Festival – May 2011
I went to the Maryland Wool & Sheep Festival (my blog post all about it) with Jen (my blog post about losing her) and restrained myself very well. I did, however, splurge on a couple mini skeins from Meadow Medley. They're based in Jarrettsville, MD. It was one of the last times I spent time with Jen. My dad was with us and we had such a great time. I was pregnant with Optimus at the time.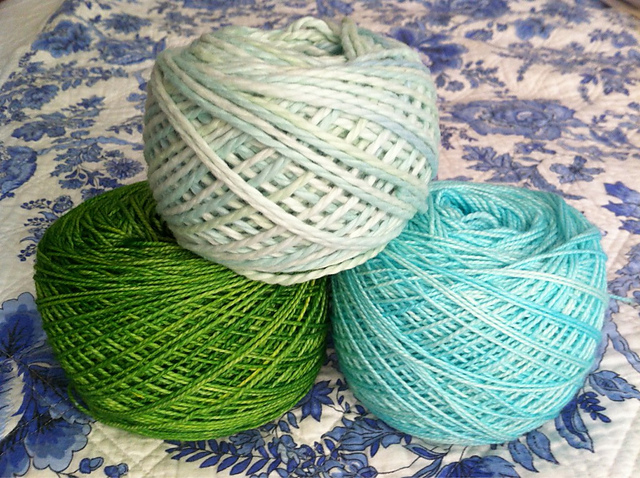 Bethesda, Maryland, USA – May 2012
While visiting my father, he treated me to a little shopping spree at the LYS. I chose three skeins and must admit I chose wisely. There were two skeins of 
madelinetosh Tosh Sock
 in Lettuce and Robin's Egg than one skein of 
Blue Sky Fibers Multi Cotton
 in Spearmint. Yes, he was shocked at how much yarn costs, I think these three totalled around $70. I still remember he and I browsed the shop together and we both liked these colors, we tend to always like the same things though as we have similar personalities and ways of thinking. I want to knit a two-colour shawl with the two Mad Tosh Socks. The Blue Sky Fibers may be part of a larger project, I'm working on sourcing a few more skeins of this. If not, it'll be a cowl.
Alexandria, Virginia, USA – July 2013
A day out with friends in Old Town Alexandria can only mean one thing…
Fiber Space
! My friend
Marseille
, Pete, and I took tiny toddler Optimus to lunch and yarn shopping at
Fiber Space
(my blog post all about it)
. There was a sale. Need I say more? I bought many many things and filled up two loyalty cards in the process. But I'm sharing the photo of this
Dye for Yarn
because it was a departure from my usual safe colors and practical baby knit yarn weights. It was me stepping outside my comfort zone.
Kinsale, Ireland – August 2013
When a friend visited a few summers ago, I couldn't resist a visit to
Vivi's Trading in Kinsale
and I left happy with two skeins of 
Smudge Yarns Merino DK
(my blog post all about Smudge Yarns) 
in the Longboard colorway. It is my favorite colorway because it is like happiness. I've been saving it for a vibrant warm shawl so I can wrap myself in summer sunshine year-round. Plus, Smudge Yarns was my friend Sara's business so it's a nice reminder of how talented and cherished she is. Her yarns and patterns were featured in our book,
These Islands
.
Paris, France – June 2014
This was bought when Optimus to meet up with my dad in Paris, France for a week while he was presenting at a conference. We ventured to
La Droguerie
one day when we were in the neighbourhood. Optimus was just 2.5 but just starting the 'terrible two' behaviour, so it was a good time to explore with him. But he was a late talker and never took to colouring or drawing. We had tried to get him to take to crayons, but no luck. At the shop, however, they had vintage school desks set up in a fabric section and while I shopped, they sat him with paper and crayons…and he coloured! I nearly cried. I chose a few soft bamboo-linen yarns for summer weight shawls. I chose grey and blue (above), while Optimus chose 
a red
and
a pink
. The rest of the week, we went to playgrounds (open late, so my dad would join us after his day), parks, cafes, the Eiffel Tower, city bus tour, a dinner cruise on the Seine, and
Jardin d'Acclimatation
. He was a fun and relaxed travel companion, aside from that one temper tantrum when he screamed so loudly a care actually pulled over to ask if he was ok. I shrugged and said "il a deux" (he is two). They nodded knowingly. We love
Paris
(my blog post all about how it is special to me)
. Next visit to Paris, I'll make a point of going to 
La Bien Aimee
.

Seattle, WA, USA – October 2014
We were there to visit family, but an added bonus was seeing the place where we had our first date – Pike Place Market. There is a yarn shop there called So Much Yarn, so it was a fun visit for me! I browsed for quite a while and settled on a modest skein of Cascade Yarns 220 Superwash® Sport Multis. We also visited a few other places that day, which you can read about in my separate post about my favourite things to do in Seattle, which is like a second home to me.
Edinburgh, Scotland, UK – March 2016
I've been to Edinburgh Yarn Festival four times, but EYF2016 (my blog post all about it) was my first year. I was pregnant with Bumblebee, but we didn't share that news until he was born, so I wore lots of ponchos when I was going to be in photos. But there I was in Edinburgh (with my roommates Georsan and Sara of Smudge fame) catching up with other knitters from Ireland and around the world. Not knowing if I'd be able to get away to another festival after my second child was born, I went a little wild with my yarn buying. I bought Rohrspatz & Wollmeise, KnitGlobal, Easy Knits, The Wool Kitchen, and La Bien Aimee. The rocket ship buttons I bought at Textile Garden were featured in my latest book, Ultraviolet Knits.
Edinburgh, Scotland, UK – March 2017
My second year at Edinburgh Yarn Festival, EYF2017 (my blog post all about it) was fun because I took two classes and brought Bumblebee with me because I was still breastfeeding. I bought Walk Collection, Dye Ninja, Bilum, and La Bien Aimee. You may recognise the bottom yarn from La Bien Aimee from the Firefly Hour Mitts in my latest book, Ultraviolet Knits. The two classes were 'Get Published! How To Pitch & Get Your Designs Noticed' (her tutorial on preparing submissions here) with Karie Westermann and 'Writing Patterns' (she's has a whole book about this topic) with Kate Atherley. I admire these two women so much so it was a dream come true to be part of their classes. It was possibly my favourite EYF because there was a balance of class, marketplace, and friend time, plus my roommates Georsan and Bumblebee enjoyed a relaxed pace and I introduced Georsan to the joys of dinner at Ondine.
Edinburgh, Scotland, UK – March 2018
My third year going to Edinburgh Yarn Festival was EYF2018 (my blog post all about it). The treasures bought in 2018 were Rohrspatz & Wollmeise, Martin's Lab (this skein featured in the Porch Light design in my latest book, Ultraviolet Knits), and Finull from Ysolda's booth (links to a photo of her booth on my Flickr). Plus, a stunning beekeeper stitch marker bracelet from An Caitín Beag. In addition to what's pictured, I also bought a glow-in-the-dark set and a Just Keep Swimming set of stitch markers (links to a photo on my Flickr) from The Little Grey Girl, Ursa Major and Ursa Minor stitch gauge from Queen of Purls in Glasgow, and two necklaces made from upcycled knitting needles from Yellow Bear Wares. That year's festival occurred the day after I resigned from the job I started three years prior, so spending a weekend with friends (especially my roommates Georsan and Marseille) for perspective was exactly what I needed at that time, plus a meal at Ondine. I took a 'Design Your Own Shawl' class with Karie Westermann. This was also the weekend when I took a photo of Georsan that convinced her to model in my Ultraviolet Knits book.
Edinburgh, Scotland, UK – March 2019
My fourth and final year going to Edinburgh Yarn Festival was EYF2019. Honestly, this was not as fun as the others for various reasons, mostly because it was overcrowded and my early entry wasn't honoured, so I flew in early then stood in the GA queue. My back and feet hurt so much after that I browsed for an hour than left, never returning even though I bought a ticket for the next day as well. I did buy Rohrspatz & Wollmeise, Vicki Brown Designs, Easy Knits (this skein featured in the Aerglo design in my latest book, Ultraviolet Knits), and Finull from Ysolda's booth. The weekend had a lot of issues and it seemed like I was getting all my 2019 bad luck in one weekend. By the time I arrived at class, I was expecting the worst. I felt defeated. But then I met Nora and saw Karie Westermann and focused on the 'Faroese shawls' class. I didn't even write a wrap-up post, but I should because other than friends (especially my roommates Georsan and Heidi) and the class, the highlight of the weekend was the Black History walking tour guided by Lisa Williams. As always, we dined at Ondine.
Durrus, West Cork, Ireland – May 2019 
A fun drive with Frankie of Python Charms (my blog post all about her stitch marker company) and my son Optimus to West Cork Yarn Festival (my blog post all about it) was a grand day out. We saw so many beautiful yarns and met talented dyers and makers. I was restrained in my spending, but did choose a cherished skein from Eve Chambers Textiles (my blog post interviewing her). Her Etsy shop has some beautiful colors on nylon/plastic-free bases. You may recognise her name as a dyer in my latest book, Ultraviolet Knits. Her colorway Flamingo Moon was the star of my Elara Shawl design.
What do you collect from your travels?