When I travel, I bring back three kinds of souvenirs: Christmas tree ornaments, iron-on patches, and yarn. Each Christmas, we are reminded of our adventures as we trim and admire the tree, Eventually, the patch collection will be handed down to each of my children as each patch is from a place they've gone with us. Then there is the knitting yarn, which I can enjoy while creating something then, later, while wearing it. Here are some yarns I've bought and why.
Barcelona, Spain – December 2008
For my birthday, my husband took me to Barcelona and I chose a simple skein of acrylic yarn at El Cortes Inglés to celebrate the occasion. It was Luz Color Universal, a colourful DK, which I later used to knit a baby version of the Whale Watch Hat.
Brest, France – June 2009
We met up with my father in France for a week and I visited the Brest Phildar shop then met up with a knitter friend. At the Phildar shop, I chose two yarns in two colorways each. So soft. One was this Phildar Aviso, an Aran weight cotton blend.
Valencia, Spain – June 2010
I bought three skeins of Infitex Coton sport weight at a Lanas Algodones El Paraiso. I even snapped a photo of the shop. The challenge with this is that cotton is a dense and heavy yarn and I was flying on RyanAir so I had to keep my carryon below their weight restriction. Somehow, I did it. Ok, maybe I wore a dress over my jeans.
Washington, DC, USA – April 2011
I visited my family when I was pregnant with LB and my mom suggested I take yarn she had that would be lovely for a baby project. It was four skeins of Hayfield Grampian DK's Country Colors Tweed line. My Mom who bought it when I was in high school (in the 1990s) when she took a knitting class. She cast on to knit herself a sweater (ambitious first project, don't you think?), but quickly learned that knitting isn't her thing so she frogged the sweater and boxed this up with some nice tweed fabric in the cedar closet. She forgot about it until I got pregnant and she unearthed it and gave it to me so I could make something for baby.
Maryland Wool & Sheep Festival – May 2011
I went to the Maryland Wool & Sheep Festival with Jen and restrained myself very well. I did, however, splurge on a couple mini skeins from Meadow Medley. They're based in Jarrettsville, MD.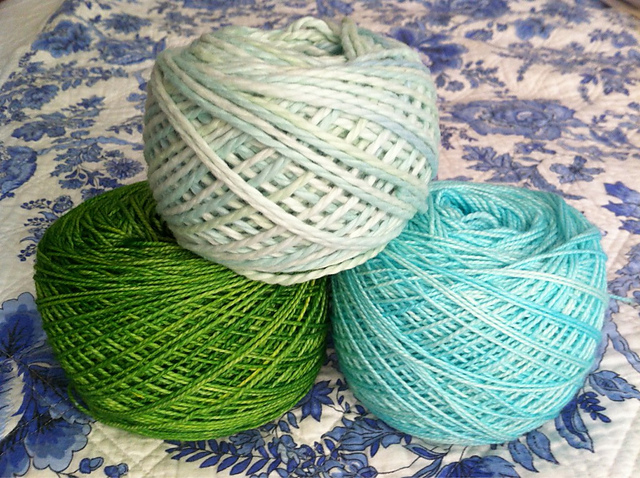 Maryland, USA – May 2012
On a visit home, my father treated me to a little shopping spree at the LYS. I chose three skeins and must admit I chose wisely. There were two skeins of 
madelinetosh Tosh Sock
 in Lettuce and Robin's Egg than one skein of 
Blue Sky Fibers Multi Cotton
 in Spearmint.
Kinsale, Ireland – August 2013
When a friend visited a few summers ago, I couldn't resist a visit to Vivi's Trading in Kinsale and I left happy with two skeins of 
Smudge Yarns Merino DK
 in the Longboard colorway. It is my favorite colorway because it is like happiness.

Seattle, WA, USA – October 2014
We were there to visit family, but an added bonus was seeing the place where we had our first date – Pike Place Market. There is a yarn shop there called So Much Yarn, so it was a fun visit for me! I browsed for quite a while and settled on a modest skein of Cascade Yarns 220 Superwash® Sport Multis.
Then, of course, there was my haul from this year's Edinburgh Yarn Festival.
What do you collect from your travels?