Just like last year, I am sharing a post about my Edinburgh Yarn Festival (EYF) 2017 experience. EYF is not just about the marketplace and yarn, but also the people/friends, classes, and the city itself.
The nitty gritty of the weekend that this post covers:
• The Marketplace
• The People/Friends
• The Classes
• The City
• The Cuisine
• The Blogs and Podcasts with more perspectives about the weekend
• My EYF Haul
We took off from Cork, Ireland just before sunrise. That in itself is unimportant to the festival retelling, but it was rather beautiful.
The Marketplace
Carol Feller launched her new yarn line, Nua, and her booth was always bustling. The chevron shawl hanging is Dangle. Mmmm.
Oh how I love Textile Garden buttons!
La Bien Aimée brought Parisian flair.
I fell in love with Walk Collection.
The Wool Kitchen and Travel Knitter bringing the colourful displays
The Little Grey Girl
Ginger Twist
Jamiesons of Shetland had clever packaging for colorway kits and pattern kits.
Bilum is gradiant heaven! Look, there's Squeaky.
Daughter of a Shepherd
Kettle Yarn Company
Phileas Yarn
The Little Grey Sheep
Ysolda had the wildly sought after Norah Gaughan's Knitted Cable Sourcebook: A Breakthrough Guide to Knitting with Cables and Designing Your Own! Amazon.com, KnitPicks, BookDepository, and Amazon.co.uk also stock it.
Knitting For All
Brooklyn Tweed
Knit Me, Dress Me, Love Me by Sue Stratford
Skye Shilasdair Shop dyes on the Isle of Skye with nature as the colors. Amazing! Their pure merino is so soft.
DyeNinja Ltd
Wendy's Yarn Bowls
Woollen flower had stunning knit colorwork cowls. Squeaky chose one.
LOOP London
Tuku Wool. Amazing selection of Nordic wools.
Pom Pom Quarterly
And more…
The People & Friends
The warmth of knitters is always a pleasant surprise to me. This year's EYF was like last year, strangers became new friends within minutes. Especially with my handsome baby joining me for weekend. Golly, he makes friends easily! We connected in person and quickly forged friendships with connections on Instagram and Ravelry. Here are a few of the people I had the chance to meet and talk with who really were delightful.
Opening night at Akva was packed, as always. This year, they had a set event menu to streamline the kitchen's processes.
Squeaky and I stuck together last year at EYF16 when I was pregnant with baby, so it was even more fun this year with him along.
We did our annual Photo Booth pic. This year, AOK was outside my belly. Knit mastery sponsored the booth.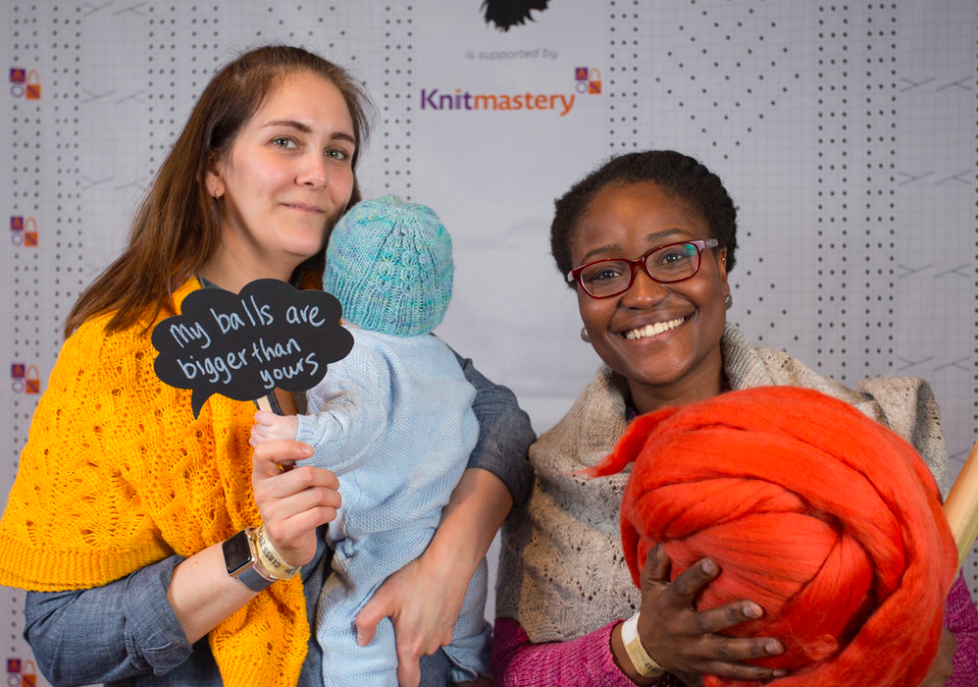 And we found Kersti.

LOVED meeting a fellow expat self-publishing powerhouse designer! Ceci and her daughter Dami of Geeky Girls Knit are so nice and down-to-Earth and talented.
Then we met MekaMika and CreativeCeci while visiting with the other Ceci and her daughter Dami. Squeaky held AOK a lot over the weekend.
I really enjoyed talking with DyeNinja. It is always humbling and awe-inspiring to meet the ONE person behind these dyeing labels I admire online. Seriously, one woman and a sink! I have a special place in my heart for sole-dyers with soul.
PrettyFunkyKnitter and I finally met in person! She was dressed in yellow and she said hello, just like a Young M.C. song. Well, not quite.

Inked and Crafty spotted me at the airport! I also met up with Carol Feller and WrapNTurn there, plus met Tania.ho after we went through security at the same time and I admired her hand knit sweater.

Baby AOK made many new friends, including Allison of Porpoise Fur. She was helping to sell roving, I do not spin, but that did not stop her from giving baby a hug.
The Classes
I signed up for two classes this year. My Friday class was Getting Published with Karie Westermann. My Saturday class was Writing Patterns with Kate Fatherly. Both were educational and interesting. The group dynamic really makes a difference too. I enjoyed the practical applications of each class and was in awe of the tutors!
The City
I love Edinburgh. We walked around a lot. Here are some photos I snapped.

The Cuisine
There are three things I love to do in Edinburgh… walk, eat, and hunt in the charity shops for second-hand treasures. We just covered all the stunning views I saw while walking in Old Town Edinburgh, now let's talk cuisine.
A favorite of mine for every visit to Edinburgh ever since the lads from Ondine visited Cork for The 2013 Celtic Cook-off at my friend Kate's multi-award-winning restaurant Fenn's Quay. I enjoyed an amazing meal in June when there and quite pregnant, but that was when I dined solo so having Squeaky and baby AOK for a nice dinner out made it a real feast.
This pic is from June so you can see Chef Roy. I have crazy eyes as only a pregnant lady who just ate the best meal ever after finally got over morning sickness can have. I think I was six months along here.
We tried to dine here last year, but they were closed. This year, we were there the second their doors opened for lunch on Saturday. We took a taxi to their doorstep. We are serious about our Mexican food.
This Halal cafe has wifi for customers and is location in Dalry. I loved their turkey bacon butty and hot chocolate. Squeaky had a plate of the chips. This is a gem. If you want a peaceful quality spot for a bite in this neighbourhood, look no further. Especially if you do not eat pork, like me.
Proper hot chocolate
Halal Turkey bacon butty! Swoon.
Yes, I know it is part of the Nicholson's chain, but I do not care. Their cheese dip and bread is amazing. The place is tinier than you'd think. A great landmark though.
I felt like year's from now, baby will find it pretty cool to have been here, so we had a quick breakfast before heading to the airport.
Italian food with a big group of the Irish knitting gals, it was fab.
The Blogs
I am not the only blogger who wrote about the weekend, here is a list of links:
EYF Through the Eyes of an Exhibitor – Carol Feller StolenStitches.com
A Taste of Edinburgh Yarn Festival 2017 – The CLN Cottage Notebook
The Edinburgh Yarn Festival – Explorations in Place
Edinburgh Yarn Festival– Little Small Cat
Edinburgh Yarnfestival 2017 – Schnueffeltier
MAKING THE CUT WITH RENEE CALLAHAN – Birkenwasser Knitwear Design
EDINBURGH YARN FESTIVAL 2017 – Birkenwasser Knitwear Design
Edinburgh – immer eine Reise wert – Woll Laden
Edinburgh and Wool – Mixed Media Jem
Edinburgh Yarn Festival – Strickschnack
Quotidian Colourwork at EYF – Knitsonik
The Faces of Wool – The Campaign for Wool
Edinburgh Yarn Festival – Antjes Werk
Edinburgh Yarn Festival 2017 – Wool and Good Co.
If it's March, it must be Edinburgh Yarn Festival – The Slipped Stitch
MORE YARN – EDINBURGH YARN FESTIVAL 2017 – Creating Ruth
A Whirlwind Edinburgh Yarn Festival 2017 – Julia Hedge's Laces
Edinburgh Yarn Festival 2017 – What an incredible couple of days! – Aileen Clarke Crafts
The Podcasts
Cottage On Tour: Edinburgh Yarn Festival (CLN Podcast Ep.11) – The CLN Cottage Notebook
Episode 234 ~ In Which It's Non-Fiction in the Fantasy World – Geeky Girls Knit
Edinburgh Yarn Festival 2017! – Babbles Travelling Yarns
episode 79 Unpacking #EYF2017 – KnitBritish
Edinburgh Yarn Festival Haul 2017 – Ella
Edinburgh Yarn Festival 2017. The Marketplace and Ceilidh Night. – HandDrawnYarn
Episode 42: Edinburgh Crazy (Part I) – A Sockmatician Podcast
Episode 42b: Edinburgh Crazy (Part II) – A Sockmatician Podcast
Edinburgh Special – Cherry Heart / Betsy Makes (Sandra Paul)
Ep. 26: Edinburgh Yarn Festival – Skeindeer Knits Podcast
Edinburgh Yarn Festival Madness! [Ep. 34] – Along the Lanes Podcast
A chat with Karie Westermann – Edinburgh Yarn Festival 2017 [Ep. 35] – Along the Lanes Podcast
EYF recap – The PassioKnit Spinner Podcast
An Edinburgh Adventure – EYF 2017 – Inside Number 23
Episode 54 | Epically Edinburgh – Inside Number 23
Episode 5 – Scotland and Edinburgh Yarn Fest 2017 – Tuskenknits Podcast 
Episode 31 – Edinburgh Yarn Festival 2017 – Lina Knits Podcast
Podcast Episode 2: Edinburgh Yarn Fest! – Lily M Writes
Edinburgh Yarn Festival 2017 VLOG and HAUL!! ¦ The Corner of Craft
Episode 227 – "Edinburgh Yarn Festival Recap + Yarn Haul" – YARNGASM
Edinburgh yarn festival 2017 – Fluph Shop
My Haul
So many beautiful things. Now they're mine all mine. Mwahahaha.
From Textile Garden…

From Pom Pom Quarterly, Laine (from Tuku Wool), and Wool Tribe…
From The Teapot Trust…
From The Little Grey Girl…
All my yarn…
Slika from Bilum
Dye Ninja
Wool Silk DK from Dye Ninja
High Twist Merino Fingering from DyeNinja
La Bien Aimée Merino DK
Walk Collection Merino DK
Until Next Year…
Did you go? Which is your favorite yarn that I brought home? What is your favorite part of yarn festivals? When you travel, do you also seek out Mexican cuisine?