Last summer, I enjoyed a special book signing event at Stranded By The Sea in Edmonds, Washington for Bake Knit Sew (Anchor and Bee, 2014). If you are ever in the Seattle area, I recommend a visit to this delightful LYS. It's conveniently located near the ferry terminal for those last-minute yarn needs before a weekend getaway.
Bake Knit Sew
Bake Knit Sew (Anchor and Bee, 2014) showcases a year of creativity in baking, knitting, and sewing. Twelve baking recipes, seven knitting patterns, and five sewing projects are yours to make your own. Approachable projects for beginners and seasoned crafters seeking to expand to another hobby. You'll be pleasantly surprised at how simple it is to make and create these functional projects from scratch. In this age of mass consumption and branding, there is magic in being able to create something unique and special. Something all your own, from the heart. Bake Knit Sew includes 13 recipes, 7 knitting patterns, and 5 sewing projects.

 Ravelry* (ebook PDF)
* I am currently setting up an alternative way to purchase my digital patterns and books.
The Event
Tara and I had been planning the event for weeks, thanks to an introduction from my amazing fellow knitter mother-in-law. Having the event be the culmination of our efforts was all the more enjoyable with every detail attended to. The group attending was a mix of the regular knitting group and visitors for the special event. I had not had a book signing or such an event in several years, but no fear because the group was welcoming and warm so my introversion was quickly overcome.
I went through the patterns and recipes within Bake Knit Sew to share the stories behind each idea and tips. We discussed the design process, inspiration, materials, and life. It was completely enjoyable and relaxed. All the while, we enjoyed snacks from the book's recipes, including a tart I made that morning. Knitting AND baked goods?! Yes, please.
The Samples
They have created two of their own samples of my design Falling Petals Shawl. One is knit in Sweet Georgia Cashluxe Fine, Lupine (blue). The other is knit in Sweet Georgia CashLuxe Spark, Elderberry (close to mulberry).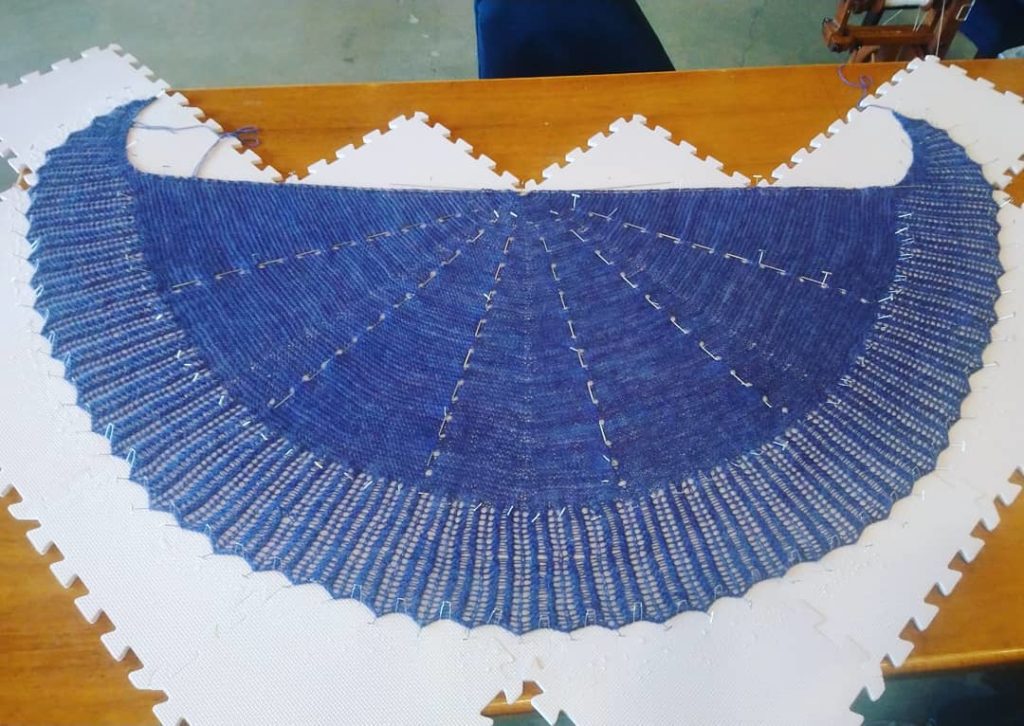 LYS Love
I really love the sense of community that Tara has created with Stranded by the Sea. Did I mention the shop has mascot bunnies?! I'm horribly allergic to cats and fairly allergic to dogs, but bunnies are all good. Whoop whoop! Definitely visit this shop if you have the chance. It has reopened after restrictions were lift. They're operating with safety measures in place and stocking just the rainbow of options you need after knitting from your stash for the last few months.
Kids are Funny
When I arrived home after the book signing event, Optimus asked me if I knocked their hand knit socks off. It was the cutest thing and he had an expression like he knew he was being so clever and funny.