Bake Knit Sew (Anchor and Bee, 2014)
Bake Knit Sew showcases a year of creativity in baking, knitting, and sewing. Twelve baking recipes, seven knitting patterns, and five sewing projects are yours to make your own. Approachable projects for beginners and seasoned crafters seeking to expand to another hobby. You'll be pleasantly surprised at how simple it is to make and create these functional projects from scratch. In this age of mass consumption and branding, there is magic in being able to create something unique and special. Something all your own, from the heart. Written by Evin O'Keeffe, author of the 2014 Blog Awards Ireland award-winning craft blog EvinOK.com.
Available in paperback from: Abe Books, Amazon.co.uk, Amazon.com, BarnesandNoble.com, Waterstones, and Anchor and Bee (publisher).

 eBook via Ravelry
Contents: 13 recipes; 7 knitting patterns; 5 sewing projects.
Paperback: 86 pages
Publisher: Anchor and Bee (November 18, 2014)
Language: English
ISBN-13: 978-1910567005
Product Dimensions: 10 x 8 x 0.2 inches
Shipping Weight: 260grams (9.1ounces)
_______________________________________________
These Islands (Anchor and Bee, 2015)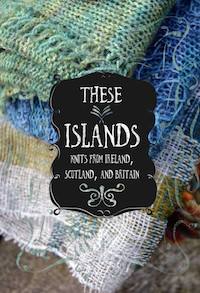 These Islands explores two sources for wool in Ireland which embrace the slow revolution with ethically-treated sheep, fair-trade wool, and local milling. A step away from the mass-produced acrylics and imported wool blends from other continents to focus once again on knitting with local wool. It is time to allow conscientious small-batch artisan producers to guide us to the very best of what these islands have to offer. If we're so focused on having our eggs be fair-trade and local, why not our knitting wool? These Islands includes eight never before published patterns for hats, a cowl, shawls, fingerless gloves, and boot cuffs using locally-processed wool made from the fleece of Irish, Scottish, or British sheep with names. The patterns are designed by Sara Breitenfeldt, Suzanne McEndoo, and Evin Bail O'Keeffe.
Available in paperback from: Amazon.co.uk, Amazon.com, BarnesandNoble.com, BookDepository, and Anchor and Bee (publisher).

 eBook via http://www.ravelry.com/patterns/sources/bake-knit-sew-a-recipe-and-craft-project-annual/patterns" target="_blank">Ravelry
Contents: 8 knitting patterns
Paperback: 62 pages. 77 full-colour photographs shot on location at Zwartbles Ireland in Kilkenny and in County Cork, Ireland.
Publisher: Anchor and Bee (November 18, 2014)
Language: English
ISBN–13: 978-1910567036
Product Dimensions: 14.8 x 0.4 x 21 cm, A5, paperback
Shipping Weight: 1.6 ounces