If you're an avid knitter, you may have already
Michael Harrigan's designs (Ravelry link)
or eyed one with a plan to knit it. Completely understandable, I have felt that way too! I met Michael through the online knitting community and was thrilled when he agreed to be my technical editor for my most recent book, Ultraviolet Knits. He was such a professional to work with and helped create a book I am so very proud of.
Travel-inspired Knits
The 10 original patterns in this collection are some of Michael Harrigan's all-time favorite knitting designs, ranging from simple stranded colorwork to textured patterns and eyelet lace. They are all suitable for intermediate-level knitters. Michael's inspiration comes from his travels around the world. He likes to spend time in historic settings, visiting local artisan markets and bazaars, and also taking in landscapes and natural features. He tries to recreate what he has seen in stitch patterns – interpreting elements of nature, landmarks, and textiles.
You'll find triangular shawls and shawlettes, knit from the top down and the bottom up; easy-to-knit stranded colorwork cowls; a Fair Isle scarf knit in the round (and a couple of Fair Isle beanies); and a winter holiday-themed shawl that combines a few different colorwork techniques. 
Travel-inspired Knits
features 10 original knitting patterns over 76 pages with photos and charts. It retails for $18.50USD/€16.00EUR. The paperback edition of this book is available from major online retailers and from the publisher,
Anchor and Bee
. The digital version of this book is available on
Ravelry
.
Interview with Michael Harrigan
How long have you been designing?
Where did your company name (if different from your own name) come from?
Michael Harrigan Designs – my name plus what I do
What do you like about what you do?
It's a creative outlet and gives me a feeling of accomplishment
What fuels you in your work?
A desire to create beautiful things
How does your environment inspire your work?
Nature inspires me and has for many years on my travels around the world
What is your approach to your work?
I see something that inspires a design and then go from there – maybe to an overall shape or a stitch pattern or a color scheme
Who in the knitting and craft community inspires you and why?
My love of color has been inspired by Kaffe Fasset and my fascination with stitch patterns by the body of work over the years by knitters of the Shetland Islands, Scandinavia, and northern Europe. What makes a beautiful pattern?
If it's a lace or texture pattern it must be balance – although not necessarily symmetrical; and it's a colorwork pattern the colors must create a mood and carry the eye to important elements
Craft tool you cannot live without?
Knitting needles
Finish this sentence: "When I am not designing knitting patterns I am… "
Knitting them or playing with my dogs or gardening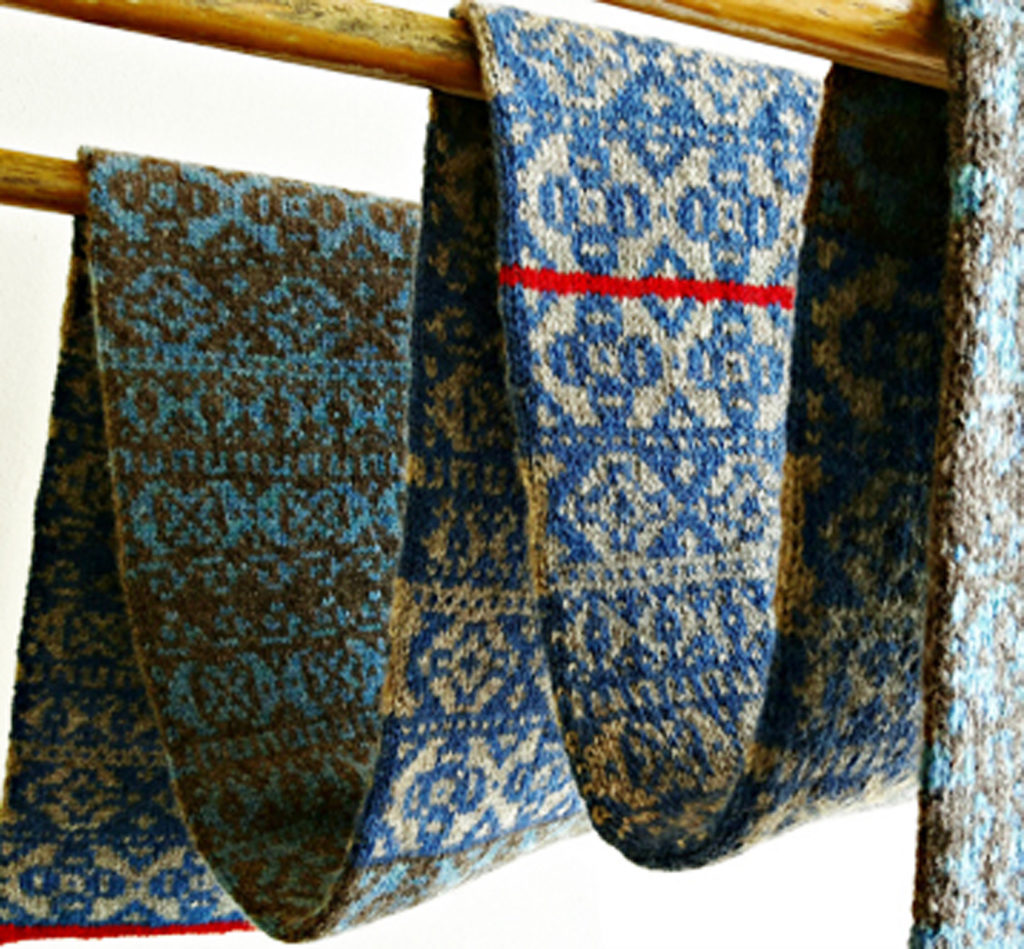 What a great interview with Michael. Be sure to go check out his new book! It is available in paperback from Anchor and Bee or as ebook from Ravelry. You can read other interviews with makers, artists, designers, hand-dyers, and creatives HERE in the Community & Interviews category of EvinOK.