This past March, I attended my third Edinburgh Yarn Festival. The festival was a lively mix of vendors, chatting, knitting, new friends and familiar faces, workshops, and so many woolly temptations. I'll run through some of the things that I enjoyed most or that really drew my attention.
Each year, I write a thorough wrap-up of the weekend, but I had a lot going on this spring so the wrap-up was delayed. But, now it's here just in time to get you excited for next year. For previous years' posts, check out: Edinburgh Yarn Festival 2016 and Edinburgh Yarn Festival 2017.
Special note: I try to link to the artisans', dyers', and other sites/shops as well as where to buy commercially-produced items I saw at the festival. No affiliate links in these. If I linked to one of your shops but you prefer I link to a different URL, comment and I'll update it ASAP.
Travel Highlights
The main difference with this trip to Edinburgh over any previous one (I've been six times total) is that this was my first trip to Scotland when I wasn't pregnant or toting a baby around. Considering I only have two children, this is a bit of a surprise, just timing. But this trip was the first time I would have alcohol! Spoiler alert, I had a pint of cider on Saint Patrick's Day and that was all since I'm not much of a drinker anyway. But it also meant I would sleep!
The Ocean Terminal to Airport Lothian 300 Bus route went between the airport, the Corn Exchange venue, and the street where our AirBnB was located. Winning!
The coolness to be greeted, by chance, by Chloë Forbes-Kindlen at the airport! She and I met through Content Marketing Academy in Edinburgh in June 2016. She is amazing! Check out her website.
Being able to have coffee in the AirBnB when I was tired first thing in the morning. Keep in mind, in March my baby AH still had not slept through the night so coffee was my morning ritual to jumpstart my brain.
We were there for Saint Patrick's weekend and there was a nearby pub with this amusing and accurate sign on its front entrance.
One thing that I bothers me is when I dress or pack inappropriately for the occasion or weather. Growing up in DC, presenting yourself to portray your contextual awareness/intelligence is a value I was raised with. Packing just Converse for the weekend then getting stuck walking in the snow was not my brightest moment. Don't worry, they cleaned up nicely once we got home to Cork.
Thankfully, I could borrow a Baa-ble hat from Marseille. That's Sweet Dreams knit by Kaystir keeping my neck warm.
The Teapot Trust: Website
The Teapot Trust provides professional art therapy to children with chronic illness in hospitals and other medical settings. In particular, they support children with complex Rheumatological conditions. You can follow their efforts via Twitter or learn more on their official website. From their 'About' page:
The Teapot Trust was set up in 2010 by Laura and John Young, following the death of their daughter Verity. Verity spent much of her short life in hospital coping with illness and managing the effects that her treatment (first for Lupus and then for cancer) had upon her young body. Art gave Verity a way of expressing herself and was an essential coping strategy for the whole family, so the Young's wanted to help other children and families in the same situation.

The first art therapy service began in 2011 at the Royal Hospital for Sick Children ('Sick Kids') in Edinburgh and due to increased demand has continued to grow year on year.

We are called The Teapot Trust to symbolise the support, friendship, security, discussion, 'rest-bite' and relief that a cup of tea provides. Verity loved 'proper' tea (complete with a teapot and cake!) and we want to offer metaphorical cups of tea to people like her and their families who so desperately need support and comfort.
A lesser known fact is that I worked toward an undergraduate certificate in Art Therapy, but finished the rest of my degree two terms before my certificate would have been earned. But those courses were so rewarding, especially given my own childhood of chronic illness and experiences volunteering as a counsellor at The Hole in the Wall Gang Camp, Epilepsy Foundation Camp, and Boggy Creek Camp. I encourage you to learn more about art therapy and the difference it makes. The Teapot Trust sells lovely things in their online shop to raise funds for their work.
Fellow Leesider, Carol Feller, had a booth with her designs, samples, as well as Fyberspates and her own yarn line Nua (pictured below). If you're a fan of Carol Feller's designs, you'll know I've written about her before in my blog and interviewed her for an article in Interweave Knits.
Russler shawl
Bubble Dash Shawl (left) and Birman Shawl (right)
Bubble Dash Shawl (far left), Birman Shawl (left), Cymric Cardigan (top), Abys Cowl (middle), Coiled Magenta (bottom middle)
So many samples in her booth! It was amazing.
WALK COLLECTION: Website
The colours are always fresh yet comforting at Walk Collection. They introduced a new display system this year that allowed a more efficient spread of their wool line in the limited space of a festival stall.
I'm in love with these!
They had a larger-than-life Highland Cow! I posed with it each morning.
Thursday. Arrival day! You can see my luggage in the bottom right corner. I literally had just arrived from the airport.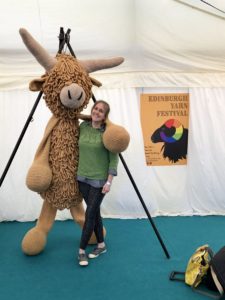 Friday!
Saturday!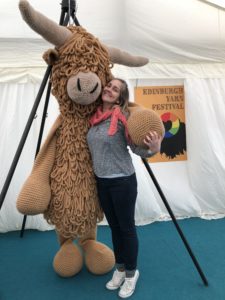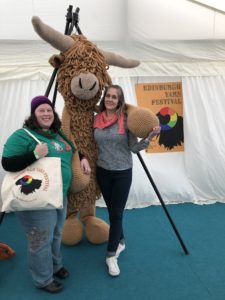 Their collection of crocheted animals was impressive.
Toft had drop-in tables to learn to crochet for these projects.
DAUGHTER OF A SHEPHERD: Website
TEXTILE GARDEN: Website
Oh, the buttons!
LYN ROBERTS DESIGN: Website
This silversmith crafts sterling silver crochet hooks as well as woolly-inspired jewellery.
I have a crush on these bee earrings. But, then again, I love most things bee-autiful.
With a spacious alcove near a coffee stall, Ysolda's booth was quieter than it was last year. It gave time to consider colors, textures, and design. The emphasis on these things did not go unnoticed either. The Fair Isle vest Ysolda wore the day (Bruntsfield pattern, pictured below) was beyond beautiful. The wools in her stall were stunning and close to nature and had a warmth that felt like a country cottage. Squeaky bought a sweater's worth of Finullgarn by Rauma. I bought two balls of the same yarn in yellow and pink. If you missed the festival, you can still buy this yarn online through Ysolda's shop.
EASYKNITS.CO.UK: Website
Dressed to the nines, the lads at EasyKnits brought the usual bright hues and decadent sets that we've grown to love. I admired their new pattern, Zip Zap Swoosh, that uses minis and full.
Nessie Knit Kits
Nessie and Mini Ginny Knitting Kit. Yes, I bought the kit. You can too!
My Haul
Yes, I was very well behaved. Too well behaved really. I meant to get something for Knitmas, but the best laid plans…
Finullgarn by Rauma in yellow and pink (not pictured) from Ysolda's shop. If I had bought this green and this navy, those would be my four favorite colors and prettymuch what's in my closet (plus some white). This yarn is excellent for stranded colorwork.
Four skeins from Wollmeise, two of the same colorway, one in a tropical forest hue, and one in cream.
Martin's Lab Bouncy Sport in Hilite colorway.
A bee-autiful stitch marker bracelet from An Caitin Beag
Just Keep Swimming stitch markers from The Little Grey Girl
At the time, I did not get a few things then dreamed about them for several weeks so I ordered them direct from the sources.
Upcycled vintage knitting needles turned necklaces from Yellow Bear Wares. Claire is now focusing on creating and eco-friendly small business making and selling reusable beeswax food wraps, make-up remover cloths, baby wipes, kitchen towels, and more!
This Ursa Major stitch gauge from Queen of Purls in Glasgow
AND MORE
A silicone yarn bowl!!!!
This one is a must if you love Star Wars and crochet. Buy it here. There are a few options.
The People
Kaystir and Kate of Hawthorn Cottage Craft Podcast.
Trying to act cool beside Karie Westermann after taking her shawl workshop. Have you seen her book, This Thing of Paper?
Cheers! Marseille flew over from the States. The first thing we did was go for fish and chips at a pub! She is wearing the Advent-urous Shawl. I am wearing the OWLS sweater and Age of Brass and Steam.
Marseille, Squaky, and I were a fab trio for the weekend.
Squeaky and I have been roommates for three sequential EYFs. I still think her inner light shines bright.
Ceci is beautiful inside and out. You'll love her video with Kristy Glass Knits about EYF 2018. And her Instagram is motivational and inspirational and lovely. Here we are at the Harry Potter shop.
In 2016, we met Linda and ran into her again this year! She is so cool.
An Caitin Beag has amazing skills with metalwork and design. If you love cats, feminism, or cool metal notions, check out her shop! I bought this bee-autiful stitch marker bracelet!
Last morning. We're tired.
Maki Ramen: Website
The City
Museum of Childhood: Website
Diagon House – Museum Context: Website
What I Didn't Buy
I have a thing for anchors and bees and maps.
What was your favorite part of EYF 2018? Or any other knitting/craft/crochet/yarn festival?