My knitting group created its own little Knit-A-Long (aka KAL) three winters ago and a handful of us opted to make the New England Knits Whale Watch Hat designed by Kate Gagnon Osborn. I did not have an easy time of it and once I realized it was coming out too small, I adapted the pattern to reduce the harsh peaks of the icebergs into soft waves and only one row of whales to make it more suitable for a baby.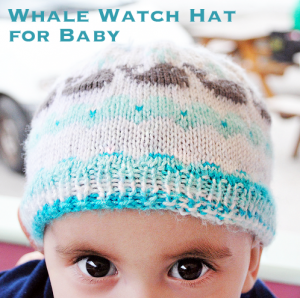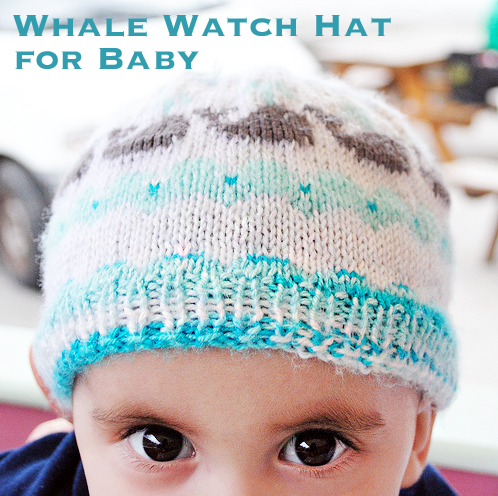 Now, on to my project notes… Choosing the Pattern: The pattern was chosen by the group of friends and I jumped in at the last-minute. The book, New England Knits, has so many lovely patterns that appeal to my East Coast American preppiness so I was thrilled with the choice and the opportunity to learn Fair Isle colorwork.  

Choosing the Yarn: Three of the girls in the KAL used KnitPicks yarn for their hats and two of us got yarn from Knit in Midleton and Cork Wools in Cork City Centre (by the English Market). Originally, I bought cotton 4-ply at Knit for the project, but it did not suit the project at all. I had already spent a bit of money on the cotton so I opted to use DK yarn I already had for the hat. The combination of yarns is soft, sweetly cheerful, and washable (dries quickly and takes to blocking). The bright varigated turquoise yarn for the ribbing was given to me for my birthday so it was a special one to use.
Knitting Notes:
29 Jan 2011: Intimidated, but have decided to knit the hat in cotton 4-ply. With wool sensitivity, this will hopefully results in a more wearable hat if I can make it look good. Hope to make one whale green, pink, or lavender with doubled up scrap of lace weight.
9 Feb 2011: CO 133 stitches as advised by the pattern.
16 Feb 2011: Waited until I had knitted one full row after the CO then stretched to test fit. Since the cotton has no give, this is important. My 133-stitch CO was about 40 stitches too large for my head. Carol tried a tubular cast on instead, but it was deemed unattractive in the cotton so I am back to square one. My resolve is wavering on my yarn choice, but I know I'll wear it more if it is cotton.
17 Feb 2011: CO 95 stitches with the cream cotton 4-ply then knit and joined in the round with the navy then knit another row. However, it was gappy and did not look good at all. I suspect the yarn choice or needle size may be an issue. I will explore my other yarn options.
20 Feb 2011: CO 144 with non cotton yarn. Too big.
22 Feb 2011: CO 103 with super soft DK. Intimidated by using DK for the hat, but since I'm using 3.25mm needles it should work nicely (fingers crossed). I chose a very soft baby DK in white for the body of the hat. Whale color still up in the air, but probably the same aqua or a gray. Will try to use stash yarn for them.
23 Feb 2011: Tried on the hat now that the ribbing is almost done an discovered it is too big. Not super huge, but it won't stay put without my holding it so this may end up being a gift for someone else. Still, staying positive! With the help and wisdom of my friends, I am sticking with the hat for myself and will cast off 14 stitches after the increase round so I can have it fit me properly. I will then steek and snip those 14 stitches out of the hat's ribbing. Also, the colors will be simple with just the aqua/turquoise/white yarn for icebergs/waves separated with a white zig-zag and white background for the whale section with the whales in black or charcoal. Same zig-zag approach for the top section. It was very reassuring to have friends also knitting this. One KAL friend already completed her hat and it is beautiful and suits its new owner, another friend from knitting who didn't participate in the KAL, very nicely. One KAL friend's cast on and ribbing are so even and the stitches just lovely. The other KAL friend who is not knitting with KnitPicks chose colors are charming and love how the 3.25mm knits up with the yarn she chose, but starting to think her 3.25mm needles have special magical powers that mine do not.
28 Feb 2011: I have started on the colorwork and floats. All seems to be going smoothly, though the hat no longer fits. Quite odd, but I am assuming it is something with the circular cable and won't worry about it until I start the whales.
1 Mar 2011: Nope, the hat definitely does not fit anymore. It is five inches too small. I will be completing this with a modified pattern for baby.
2 Mar 2011: Adapting the pattern to be less sharp, so cuter for an infant. Scalloped-edge waves along the bottom in aqua and white then white background in the center with one row of dark gray whales then scalloped-edge sky in light blue creeping in from the top for the sky. So far, it's looking GREAT!
4 Mar 2011: Once I got the hang of floats and colorwork, it was easy as pie. My hands are sore from the yarn holding, but it looks good. Only one row of whales in a soft gray bamboo.
5 Mar 2011: The hat is complete and beautiful! I did not follow the decreases advised in the pattern since I adapted the size to fit a baby. The website of Bev's Country Cottage was helpful in targeting the right age/size. Unstretched, the hat measures 15.5 inches around, but it comfortably stretches to 20 inches around so it will keep baby warm through his first birthday! All the strands have been woven in and the steeked portion was folded and sewn into the brim of the hat.
5 Mar 2011: The hat was blocked and much improved for it. I did it mostly because I didn't want to give a baby hat that had been coming round to the pub with me and the blocking was an added bonus.
Post-project refection: I highly recommend this project for anyone seeking to learn Fair Isle techniques. The book is New England Knits.