We are on day 19 of being at home with our two sons, Optimus (8) and Bumblebee (3). As a refresher, these are their self-chosen online names for anonymity and privacy. After nearly three weeks at home with the lads, I feel I can reasonably post with some ideas on keeping kids engaged during this period of cocooning.
UPDATE: After being home with two kids cocooning/self-isolating for 13 weeks, I felt I knew more and updated this post with some things that have helped us greatly during this time. There's also a snazzy new infographic. 
These ideas are also perfect for rainy days or school vacations when you have a large expanse of time together and need different ideas. I post ideas and activities frequently online, so follow my Instagram and check out my highlight titled C19Kids.
In sharing these ideas and links, I want to reassure you that you're already doing well. This is something we've not dealt with before and to be in confined spaces with other people is hard enough without their moods and interests changing every ten minutes.
It is challenging even on good days and I want to reassure you that this list isn't a To-Do List by any means. But if you're looking for ideas or resources, there are here for you. But you were an equipped and functioning parent before this and you still are!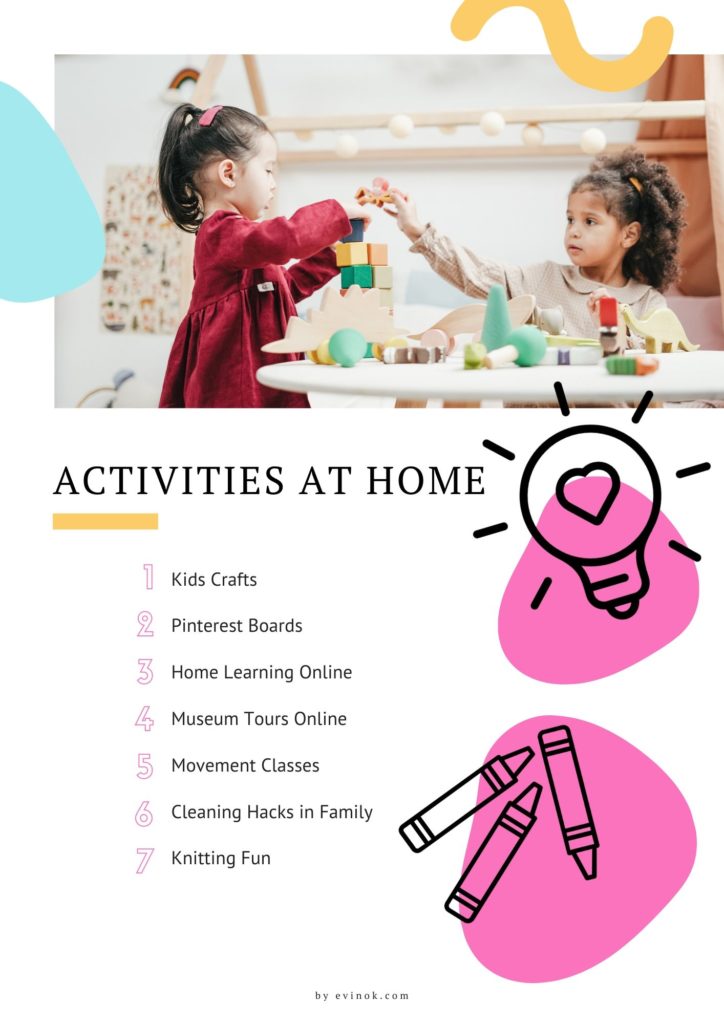 1. Kid Crafts from EvinOK
I find engaging my kids to be the best way to prevent and predict moods, messes, and mania. I try to do something with both kids together each day and also have a few minutes at least one-on-one, even if it's reading a book or having a snuggle. But I'm crafty and my kids love projects, so these tend to be activities we enjoy together most often. We also do watercolor painting, baking, and cards/games. What you do it definitely what suits you and your interests, but I hope these ideas and tutorials help:
2. Pinterest Boards from EvinOK
I LOVE Pinterest and think it's great to help visualise and organise inspiration and ideas. It is also a helpful resource of a variety of online content streams. I've created dozens, if not hundreds, of Pinterest boards and here are a few that particularly relate to what's been going on in my life lately. This selection covers crafts, cleaning, activities, and baking.
3. Home Learning Online
We learned a lot the last few months and juggling children and work with everyone at home is a formidable challenge. Thankfully, many enrichment and educational resources stepped up with apps, streaming options, and programs or materials to help children keep learning. Sure, it's just a few months of one school year, but schoolwork is familiar and can be a comfortable routine as well. I'll admit, we were fairly good for assignment fulfilment, but most of the time we had fun with our own science experiments, reading, and math challenges. Optimus is learning budgeting and math by managing his turnips in Animal Crossing New Horizons. No guilt for extra screen time right now.
4. Museum Tours Online
Optimus's teacher actually sent a list of online tours she found to replace a missed school field trip day. It was a fun way to maintain normalcy of the school year (end of August to end of June in Ireland). I also find that since the start of April, more and more museums and zoos have added online tours or webcams to engage a home-based audience. It can be great for a sense of getting out and doing something, but also something you can do with people virtually. Maybe plan a zoo day with the grandparents or a best friend? I know these will be an integral part of our summer as well.
5. Movement Classes on YouTube
This is essential! Brain energy and body energy need to be engaged. We've all seen kids that need to get some activity in. At the start of the restrictions and school closure, we had an irregular habit of exercise since we were staying home exclusively. But within a few weeks, I knew we needed something reliable and consistent so we created a playlist. The playlist starts with songs to stretch and warm up (and sometimes to clear space on the floor) then move into some fun movement activities then into movement that really gets your heart pumping then it finishes with yoga. Between each type of exercise, I place a song video. It all depends on age and health and time of day. Be safe.
6. Cleaning Hacks for the Family from EvinOK
I'm in a city apartment without a garden, but so grateful I did a huge decluttering and reorganisation in October so my place is actually useful and pleasant. They key was to make sure everything had a place – and if it didn't was it something we needed. Now, maintaining it and cleaning is all that's left. Just cleaning. Sigh, but it's manageable. Here are some essential cleaning tips which have really helped me create a routine that keeps the place pleasantly clean.
7. Knitting Fun from EvinOK
You know I love knitting and it is great for stress relief. This blog has a multitude of posts about knitting and linking to amazing patterns, but for this I'll focus on things that can be done with kids. And since knitting isn't a standard hobby or skill among children, I focused on the other stuff and I think it's a fun selection.
I offered several ideas within each category because not everyone will have the supplies, equipment, or interests. And I recognise that options to buy supplies are severely limited right now, but also the warehouse, shipping, and delivery staff are under enough pressure to order non-essential items. For this reason, I also am not encouraging crafts using flour, rice, or pasta because food waste is not possible for many of us right now. These ideas are from my previous 685 published blog posts and websites my sons' teachers have recommended.
Photo within infographic taken by CottonBro in Russia and used with donation on Pexels.