We've all admired the 2018 Yarn Countdown Calendars, but it isn't always feasible or prudent to buy more yarn, especially when many of us have leftover bits waiting to fulfil their destiny. So, I decided to see if I could create my own yarn mini skein countdown calendar with the leftover bits and minis I already owned. Spoiler alert: I was mostly successful!

Materials
24 20-gram mini skeins or 480 grams of yarn divided into 24 mini parcels
Kraft wrapping paper and pen to label the dates. I chose Kraft paper because it is 100% recyclable and biodegradable.
I looked through my stash for any and all mini skeins as well as partial balls in the same weight, fingering/4ply/sock. I found a vacuum bag with many leftover scraps that were meant to become Hexipuffs, but didn't. Everything was fair game for this material hunt, even yarn earmarked for other projects if those projects had been in my queue too long.
After all the skeins were brought together, I lined them up in a rainbow formation to see where my colors were. They are a mix of commercial and hand-dyed yarns, including Smudge Yarns Spring Club minis, Uschitita minis, My Mama Knits minis, Wool Kitchen (Unknown sock) leftovers, Folkestone Harbour Yarn minis, and Bear In Sheep's Clothing (Lagoon Sock). I had a nice collection. Now, which section would be my focus for the countdown calendar?
The Process of Choosing My Fade
I really was drawn to the mermaid hues and I didn't have much leftover yellow or red bits, if any. Ultimately, I decided to stick with a three-color violet-to-blue-to-green fade so those colors could shine. I didn't have as many greens or teals, so I considered doing an orange to violet fade, but I set aside the yellow to orange to red/pink for another calendar project next year.
I was short on mini skeins which ended up being useful since I felt I needed solids to anchor the color shift. The colors are lovely and rich with a good fade from one to the other, but… There is it, the 'but'. The Smudge Yarns minis included a true blue and two true blue-violet shades while the Bear In Sheep's Clothing Lagoon was a nice deep blueish hunter hue. But I longed for those rich true shades throughout the fade for a consistency and a restful place for the eyes along the fade.
Anchoring My Fade with True Hues
Since I used yarn I already had for this fade, there were some gaps, but mostly I found that because the yarns I had were almost all semi-solid, variegated, self-striping, or speckled, there were very few true colors to guide the eye in the fade. This isn't a huge deal and may be preferred by some, but for me, I felt like in the final shawl I really want a clear color shift with true hues anchoring the fade.
Because I already had almost all the yarn in my stash going unused, I did not give a second thought to investing $30-40 on several minis in true hues to anchor my fade. That's nothing to create something new from something I wasn't using. It's like the cost to have a nice dress altered to wear again. I'm all about using what I have and this was an ideal compromise to do that while enhancing it to feel very special and give it a little bit of newness.
I'm not sure if 'anchoring a fade' is a phrase or thing already or if my artist brain just thought it up, but it makes sense from a visual perspective. The fade I had from my leftovers and minis had a decidedly abstract art vibe, but the shawl is structured with edges and shape, so I really wanted to anchor my fade with true hues to show of the shawl shape and design, not to mention the stitchwork.
I needed red-violets for a nice contrast to the greens on the other side. I also felt like the greens themselves needed some solids to anchor them. And I had so many blues, but the teal transition felt weak in comparison. So, I needed purple, teal, and green. I looked for sets of mini skeins that would amplify the violet, teal, and green sections. As these would be solids, it also would mean that the eye has a rest between the more vibrant speckled, self-striping, or wild colorways. Here are some solid mini skeins that I considered because they seem ideally suited for anchoring a fade:
It happened that I spotted on Instagram that Eve Chambers was dyeing minis that week and look what was in her dye pots!
These solid mini skeins are from Eve Chambers Textiles, which delighted me because she is as local as it gets since she lives in the same county as me. Admittedly, she is in the scenic coastal region, so I felt like her colorways were bringing cliffside wildflowers and rich sea hues up to the city for me to enjoy. They pop up in her shop during updates, but she also has a full rainbow set which would be amazing for a cheerful full-color fade.
Here is another look of the mini skeins fresh out of the wrappers, about to be hand-wound into balls.
They were a perfect fit for the minis I already had which were wound into balls. I felt like the colors really flowed better.
Once wound, the fade was just what I wanted. I was amazed that a $35 upgrade to the fade could make such a dynamic difference. I created a before-and-after image to show which mini skeins ended up in the final fade and I've labelled the yarn companies used. Those balls not labelled are scraps given to me my friends or so long in my stash they weren't in my Notebook on Ravelry.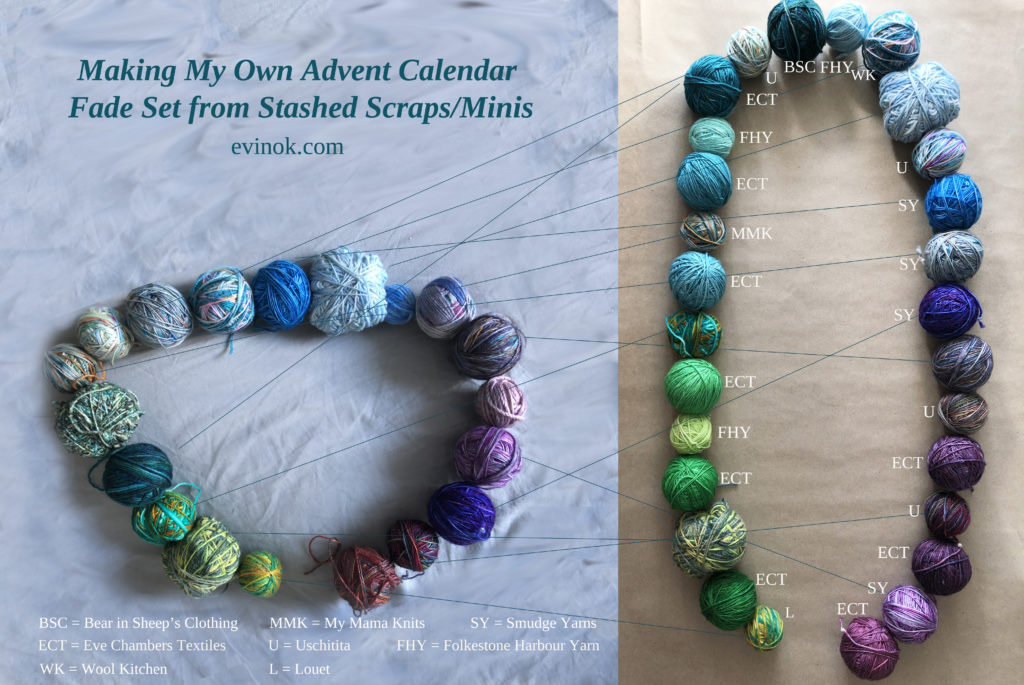 Here are the greens all wound up. I alternated between variegated leftover minis and fresh solid minis to create a vibrant shift.
Wrapping the Yarn Parcels
I hand-wound all the yarn into little balls. Yes, it was nuts. But I had a minor thing done to my feet for pain relief at the hospital that week and needed to keep myself busy with my feet elevated, so it was ideal timing.
Using plain recyclable brown kraft paper, I wrapped each mini skein to have about 20 grams per day.
Some days had two smaller balls to be around 20 grams, while other days was just one 20-gram mini skein ball. As you'd expect, it was often two if they were leftover bits in smaller 10-gram quantities. I am so grateful for my digital scale! The weight consistency was only important so I would have about the same amount of knitting per day/parcel.
I used the scrap yarn that held Eve Chambers Textiles's mini skeins together by taping it at the middle where I closed the little parcel, this would then be used to tie them onto my yarn calendar wall hanging. It would also be useful to clip onto a strung calendar using numbered clothespins.
"…brown paper packages tied up with string, these are a few of my favourite things."
As I wrapped, I wrote the date (1–24) on the wrapping with one of the boys' brown markers to make sure I did not open in the wrong order. I really loved my fade and wanted to stick with it.
When they were all bundled, I tied them onto a fabric wall calendar I had from a few years ago. This hangs on the wall and is a fun display to see progress of knitting with the mini skeins.
Result
The resulting calendar feels like a new gift, even though I was using all leftover forgotten bits of yarn I already had, anchored by nine new 20-gram mini skeins to bring true hues to the fade.
Instead of $150–200 for a new yarn countdown calendar, this one can be created for the cost of about $35 if you buy a few minis to school your color arc or fade. But, mostly, you're using what you have – ideal if you're cold-sheeping.
And the wrapped parcels feel like something new, even though it was made with 75% of yarn I already had neglected in my stash!
Uses
There are so many wonderful ways to help mini skeins and leftovers fulfil their woolly destiny – I compiled a Comprehensive List of Patterns to Use with Mini Skeins & Yarn Calendar Sets.
This post is big and lovely and you'll love it. I also created a Useful List of Knitting Patterns I've Designed for Yarn Scraps and Mini Skeins.
Advent KAL
Last year, I tagged along while my friends had an ADVENTurous Shawl KAL with their own shared yarn pool and this year they're allowing me to tag along again. I'll admit, I have not joined them because all my knitting has been for two upcoming collections of patterns – 18 patterns total. I've been swatching like I've never swatched before. This year, they're knitting the new ADVENTurer Scarf & Wrap by Ambah O'Brien pattern with the same fun yarn variations, so look for a post about that in about six weeks!
I will be knitting along with them, but working on one of my designs instead. I am making it fun by using the Bear In Sheep's Clothing Yarn Countdown Calendar I bought myself for my mid-December birthday.
Post-Holiday KAL
If you are too busy to knit something during December or advent season, look for a fun project or KAL starting in January. It can feel nice after a month of hustle and bustle to scale back and mindfully focus on something for yourself. In 2019, Carol Feller did an Ice Cloud Mystery Shawl KAL just after Christmas, so look on her site because she has the most lovely KALs and brilliantly helpful video tutorials. Here's her blog post about it.
What are you knitting for yourself?