In this post, I'm hoping to explain how to take wish list concepts and ideas to a budget-minded reality with some handcrafting and strategic shopping. Because sometimes our generous spirits do not always match our bank accounts, but with ingenuity and craftiness you can do some cool things. Like those runway to high street fashion posts, this will show how you can adapt high-end gifts for cheap. As an example, I am showing three wish list items from my Knitmas elf and how I approached them from a budget perspective.
This is the first in a three-part series about Knitmas 2017. The second post, which will go live this coming Tuesday, details everything I put in the Knitmas parcel this year. The third post will go live two days after that, revealing the beautiful things my elf sent to me.
Tweed Project Bag
One of the items my downstream elf had on her Easy wish list was a Harris Tweed project bag. I looked at both pre-made ones as well as official Harris Tweed supplies to make my own for her, but ended up sourcing a non-Harris Tweed tweed to make one. Sewing a simple zip-top project or notion bag is straightforward if you keep realistic standards to your skill level. If you're not a strong sewer, look for fleece or felt perhaps so the edges do not fray and you could skip lining it. Sourcing a durable, beautiful, and affordable fabric (and another fabric for the lining), and zipper are all that's left. I hunted down a beautiful tweed that has teal, like the original bag she wished for. But you'll need to wait for my post on Tuesday to see the result. I found these tutorials for sewing a similarly styled bag, which you may find useful.
How To Sew A Zipper Pouch Tutorial from Melly Sews
Project Bag Tutorial from Betsy Makes
Whimsical Zippered Pouch from Leslieshappyheart from Leslie Art & Sew and Blythe Happy
My Favorite Zipper Pouch from Jedi Craft Girl
How to Sew a Zipper Pouch with a Lining from Sew What Alicia
Budget Book Buying
She wished for Abundance: How to Store and Preserve Your Garden Produce by Alys Fowler. It is a charming and practical approach to grow-your-own sensibilities with recipes and logistical advice. The book itself is fabulous and still in print, so finding a copy was possible, but this is not always the case for a book someone wants. Alternatively, if the book is not available or affordable, you could look at elements aligned with the book, such as gardening supplies.
One way to save money when book buying is to look at second-hand and previous edition options to save money. Previous editions are great for certain book genres, but stay away from them for computer, technology, social media, politics, current affairs, and other elements that become outdated. But for gardening books, very little drastically changes from edition to edition. Be sure to check out the book conditions in the seller notes when buying used online so you have one that does not look worse for wear. Here are some reputable online shops selling used and reasonably priced books and as an example, I'm linking to Alys Fowler's Abundance for these, but if you want to track down a copy of Bake Knit Sew or These Islands, read this post:

Hand-dyed Gradient Yarns
Another thing she wished for very specifically was yarns to use to knit things from Carol Feller's Knitting with Rainbows book. This is very hard to do on a budget since quality hand-dyed yarns are pricey enough, but gradients are very work intensive. I did not have any in my stash to give either that were not pastels (she is not fond of pastels). Here are a few yarn dyers on Etsy who create lovely gradients for projects to go with patterns in Carol's book.
Magic Circle Store (pastel gradient rainbow shown below)
Jazz Handz Fusion Fiber (fuschia/cobalt gradient shown below)
Maerchengarne (vibrant gradient rainbow shown below)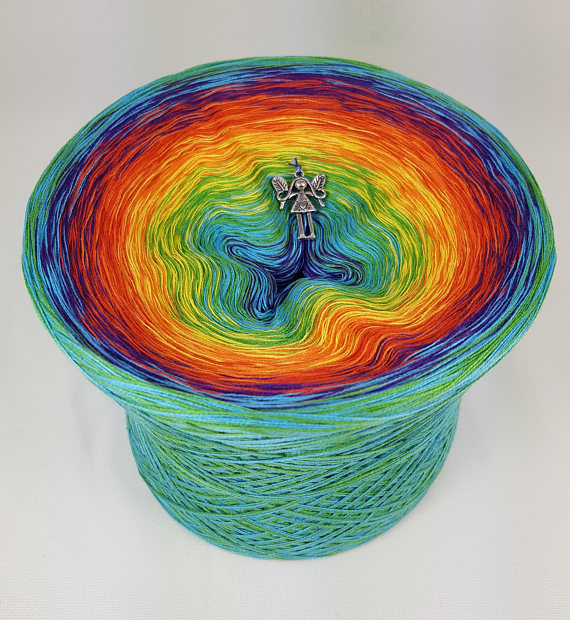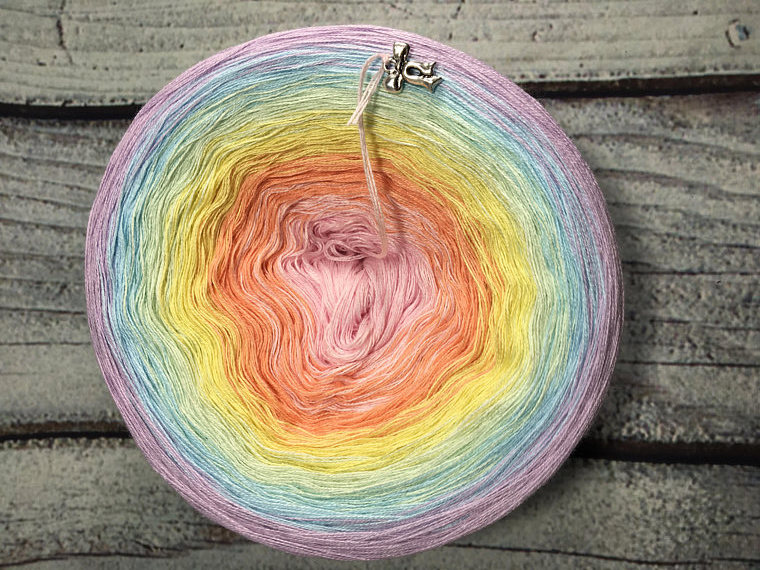 Behold, the Joy of Mini Skeins
Of course, instead of one continuous gradient colorway yarn, you could create or buy a gradient set with coordinating colors that blend and shift beautifully together or a set of mini skeins. Mini skeins are very hot right now because they work for a variety of projects without a huge color commitment. It also is a burst of new life in with existing sock scraps in a stash or a neutral yarn waiting to be boosted with a splash of color. If you feel especially generous, pair with a hand-dyed neutral sock yarn (and maybe a pattern). Smoke from Bear in Sheep's Clothing is perfect as a neutral. Here are some cool sock yarn mini skein sets that may strike your fancy.
Bright Speckles Mini Set on Gentle Sock from WhistlestopVintageCo on Etsy
Emily mini skein set from ThirdVaultYarns on Etsy
Random Mix 20g Superwash Sock Yarn Mini Skein Pack from mymamaknits on Etsy
Random Mix Superwash Sock Yarn Mini Skein Pack from mymamaknits on Etsy
Sea Tales Mini Skein Pack from mymamaknits on Etsy
Blue Semi Solid Gradient Mini Skein Set from FHarbourYarn on Etsy
Mini Skein Mash-Up from BeehiveYarns on Etsy
Summer of Love ~ 1960s 4ply mini skein set from BeehiveYarns on Etsy
10 Sock Mini Skein Set- 20 yards each- Orange Series 1 from KnarwhalKnits on Etsy
5 Sock Mini Skein Set- 40 yards each- Neutral Series 2 from KnarwhalKnits on Etsy
Hand Dyed Speckled Sock Yarn Mini Skein Set from AstraeaMeris on Etsy
Stranded at the Drive In ~ 1950s 4ply mini skein set from BeehiveYarns on Etsy (shown below)

We do not all have unlimited budgets for gift giving, as much as we hope, but with creativity and thoughtfulness, the right gift can still be created or found. I'd love to hear what dream-to-reality gifts you've done.
Now, part two in this series will be on Tuesday. That post will detail what I actually gave to my elf for Knitmas. See you after Christmas (one more bonus post tomorrow too)!