It is so fun and exciting to see how a self-striping or patterned sock yarn knits up in socks, but sometimes throwing in a bit of personal flair can add that certain touch to a project. That's just what Contrasting Heels are fun for.
Tuesday's post was about Knitting Geek Socks and Nine-to-Five Socks and today's post focuses on Contrasting and Afterthought Heels. That is a lot to cover, so I'll be linking to true experts and fabulous resources throughout the post.
Afterthought Heel
Once the entire body of the sock is completed, all the way to the toes, instead of a gusset heel or to replace a worn out heel, knitters can knit an Afterthought Heel. This option also lends itself to fun use of contrasting yarns or colors for a bit of interest.
New Leaf Podcast has a nice LONG video, How to Knit an Afterthought Heel.
Marseille ended with 36 total stitches (nine per needle) and Kitchenered. Here is a handy video detailing the Kitchener stitch from the purl side when completing an Afterthought Heel. For this section, Marseille used the Red-Purple colorway for a fun contrast. There's more about this pair of socks and the pattern in Tuesday's post.
Contrasting Heel
Sock knitting really comes out nicely with the right pattern and color way combination.
This pairing has just the right amount of contrast while coordinating perfectly. I've seen some wild sock/heel combinations and it's really only limited by the knitter's imagination. This combination knit in the Nine-to-Five Socks pattern by Nicole Hindes definitely suits Marseille's style.
Now that you know how to approach the Afterthought Heel, it's time to have a bit of fun with it. Color fun.
Materials
Though the contrasting heel and toes are a fun element, they're also fairly practical. Odds are if you knit socks (or even shawls with sock yarn), you have leftover yarn. Why not include these little treasures in your next sock project in this special way. You'd need at least 20g of yarn for a contrasting heel and toes, which is handy because there are yarn dyers selling 20-gram minis! Here are a few sock kits I've been admiring on Etsy:
As an example, this sock kit is from OlannGra and in Seahawks colors.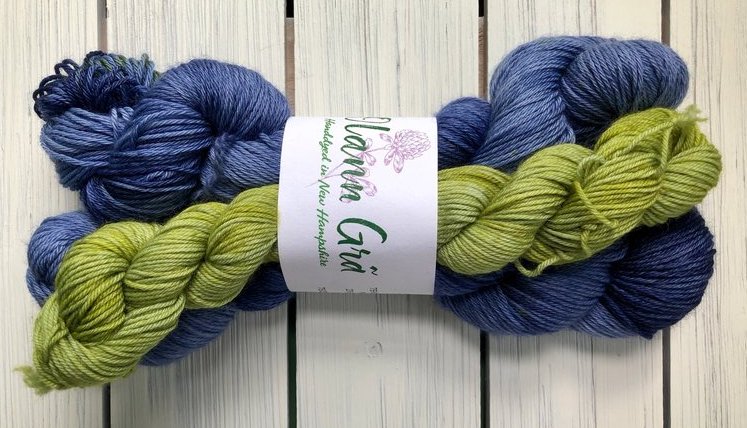 This pair of socks is The Exmoor Sock from John Arbon Textiles from EYF16.
What do you think? Have you knit socks with a contrasting heel, toe, or edge before? What would your dream colorway combination be?