This year, the Knitmas gift I created had a decidedly rustic feel. The elf whose name I drew loves creating with her hands, from jewelry to gardening to knitting, so I wanted to give her things to help her achieve that. After stalking browsing her wish list and social media presence, I felt like I was equipped with enough knowledge to create a bespoke care package just for her. On Thursday, I posted about how to take wish list ideas and apply them to a real world budget, so today I will reveal what I created for Knitmas 2017.
First, here is a refresher of the Knitmas rules. My identity must remain a secret until the gift is received (or the recipient has guessed it is me). A Knitmas gift should include:
• Something handmade by me specifically for my secret pal. This can be a card, baked item, or something made with quilting/sewing/knitting/crochet/embroidery/artistic skills.
• Something from my personal stash. Beautiful, unused, and not looking worse for wear.
• A surprise. 
And general guidelines:
• Overall value of €30.
• In the post by December 1st.
• Shared on social media and our Slack group. It's all chat all the time and the gift reveals are the best part!
I've found that the surprise is a nice chance to include a tasty treat or an artisan goody. You can read all about every other gift I've ever sent or received as part of Knitmas. Three main elements of the gift somehow translate to a crazy care package of creative pampering in many cases. It is fun to see what our elves are inspired to create with a few hints and wish list ideas to go on. So, let's see what I did. First, a group photo of the entire parcel then I'll go into detail on each item. You may notice, the parcel has a garden-minded theme.
• Something handmade by me specifically for my secret pal.
As I mentioned in Thursday's post, my elf pal wished for a Harris Tweed project bag, like this one. It was oh so lovely, but would have broken the budget. And since Knitmas is all about handcrafted thoughtfulness, I decided to sew her one myself. Harris Tweed is a stunning and smooth weave available in a broad range of classic color combinations, but she seemed to like the bolder end of the spectrum so I hunted for a teal or purple tweed in the second-hand shops in Cork city. After four or five shops, I found a tweed-like skirt from Monsoon that was grey and teal plaid. It was ideal and the grey would work with a lovely cotton fabric (leftover from the apron for Bake Knit Sew) I had already for the lining. I then bought a grey zipper from Hickey's. Then, I looked at tutorials to make sure I was not forgetting any element of the bag. Here are the ones I found:
How To Sew A Zipper Pouch Tutorial from Melly Sews
Project Bag Tutorial from Betsy Makes
Whimsical Zippered Pouch from Leslieshappyheart from Leslie Art & Sew and Blythe Happy
My Favorite Zipper Pouch from Jedi Craft Girl
How to Sew a Zipper Pouch with a Lining from Sew What Alicia
Here is the resulting bag (I sewed a "label" which is actually part of a cotton ribbon):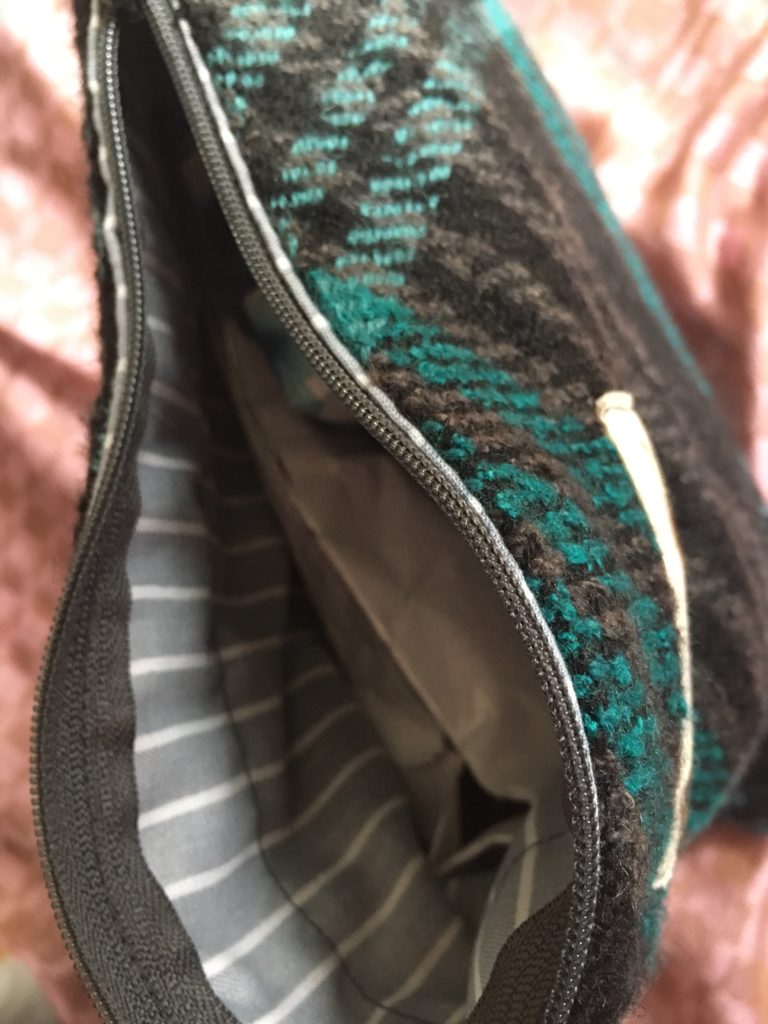 • Something from my personal stash. 
I have a huge yarn stash. There is so much to choose from. The excessive choice made it harder actually. The main challenge was that my elf pal dislikes pastels and pink, which I adore. I had to find something aligned with her favorite colors – teal and purple – or something neutral. But then I thought about her wish to have yarns to use for Carol Feller's Knitting with Rainbows. First off, if you've not checked this book out and you are into gradient or colorful knitting projects, watch this video. I chose to give her a set of mini skeins of fingering weight yarn ideally suited for the practical and beautiful Probys fingerless gloves pattern. Most of the minis were My Mama Knits mini skeins in her Choufunga sock base. And I found I had a little leftover hand-dyed sock in a teal-violet-grey, so I created a mini skein from that. There was a decidedly earthy neutral feel to the set with splashes of teal and purple, as if you were catching a glimpse of a tropical fish through seaweed or shadow. I also included four mini balls of Irish Aran tweed. My hope was that it was versatile enough that my elf pal could include her own mini skeins or leftover sock bits as well to create a truly unique pair of Probys gloves or even a larger project from the 11 Knitting with Rainbows patterns. I packaged them in a beautiful box that reminded me of a potato stamping or drops of dyes design and I tied a piece of driftwood onto the top with coordinating blue ribbon.
Here are photos of those yarns:
The MyMamaKnits mini skeins. Four of them at 46 yards each.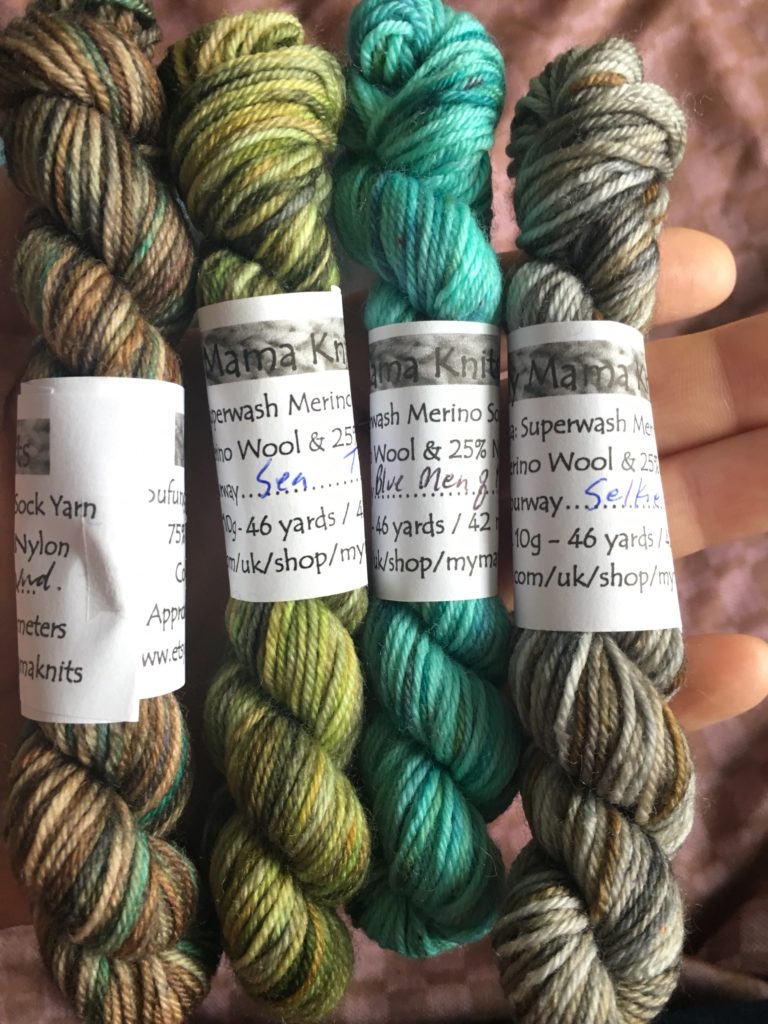 The Aran tweed nestled in there too.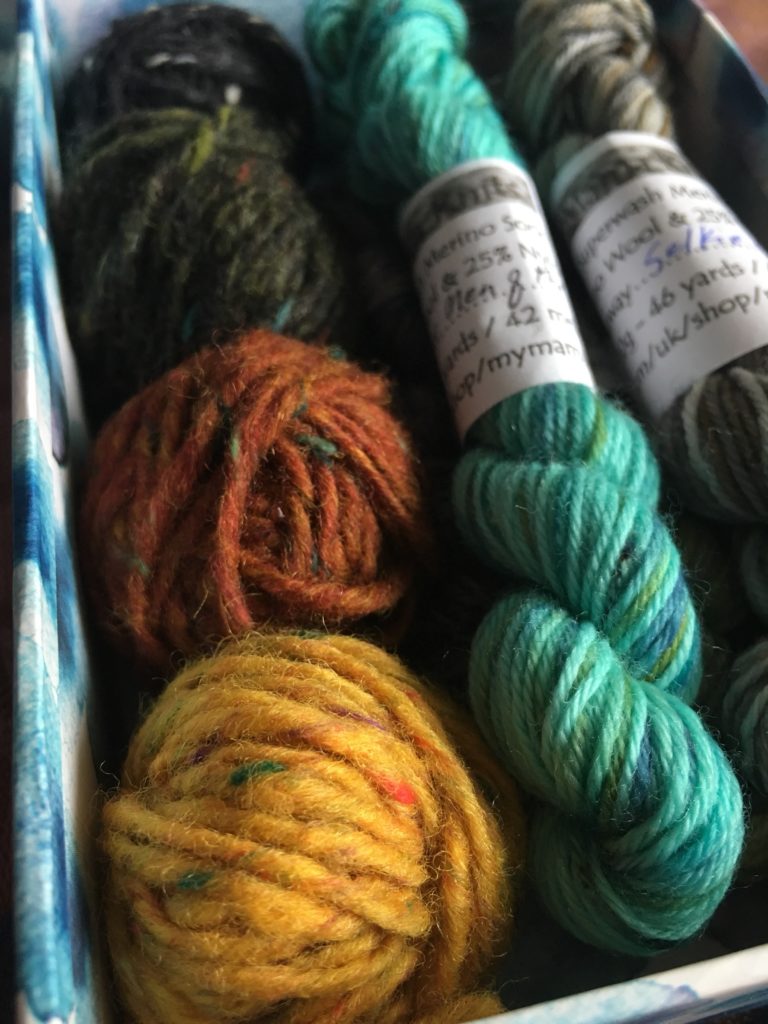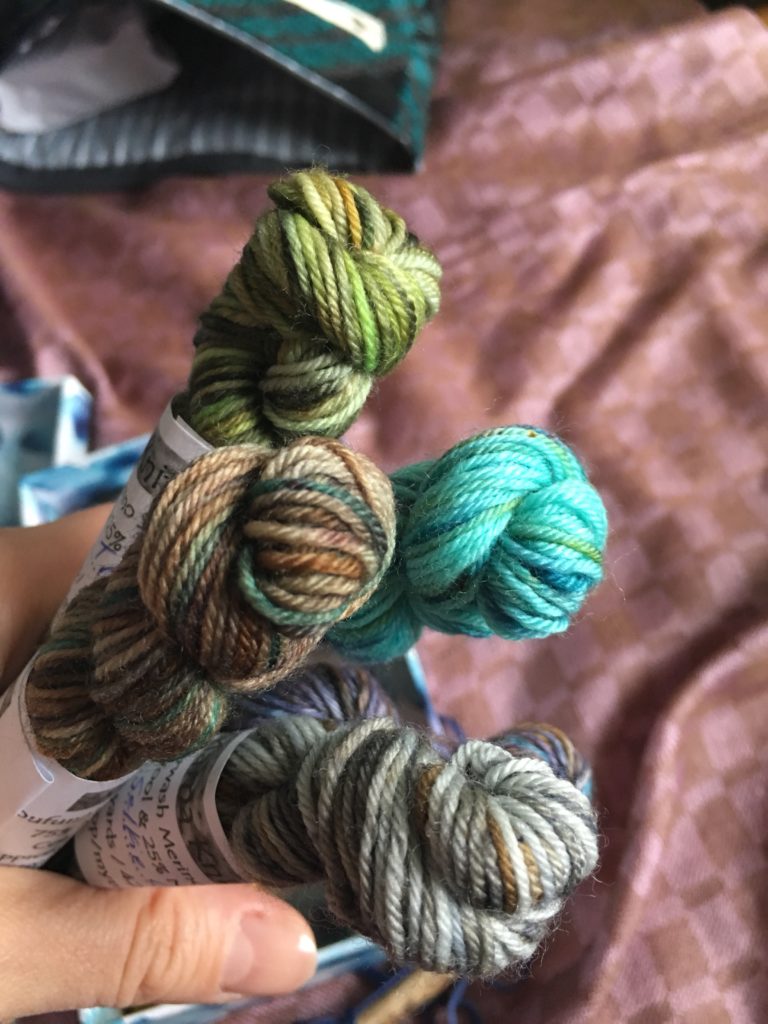 • A surprise.
I decided to send her seven surprises:
• Abundance: How to Store and Preserve Your Garden Produce by Alys Fowler
Finding a "like new" copy of this book at a used book price was tricky, but I did it. And it meant I could give her a really nice book and a few other surprises too.

• The Holistic Cook by Janet Hunt
This vintage 1986 book seemed to match my elf's grow-your-own interests. The 272 pages focus on homegrown ingredients and how to prepare them for the table. A homesteader friend recommended this title to me.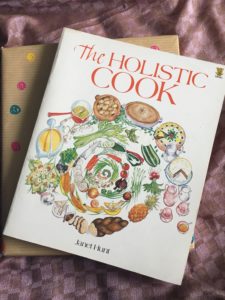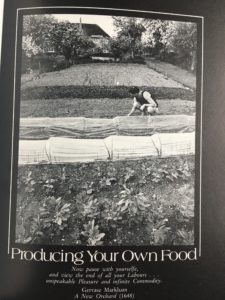 • Willie's Cacao Los Llanos Gold Colombian Dark Chocolate (88)
The Chocolate Shop in Cork's English Market sells fine treats from many chocolatiers, including Devon-based Willie's Cacoa.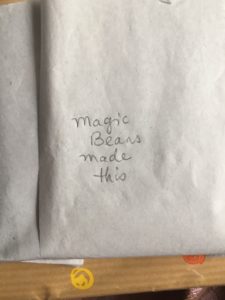 • Wilkies Organic Chocolate Bean to Cup Hot Chocolate Spoon
The Chocolate Shop in Cork's English Market sells fine treats from many chocolatiers, including Midleton/Cork-based Wilkies Cacoa.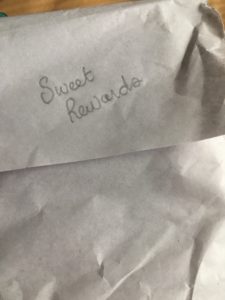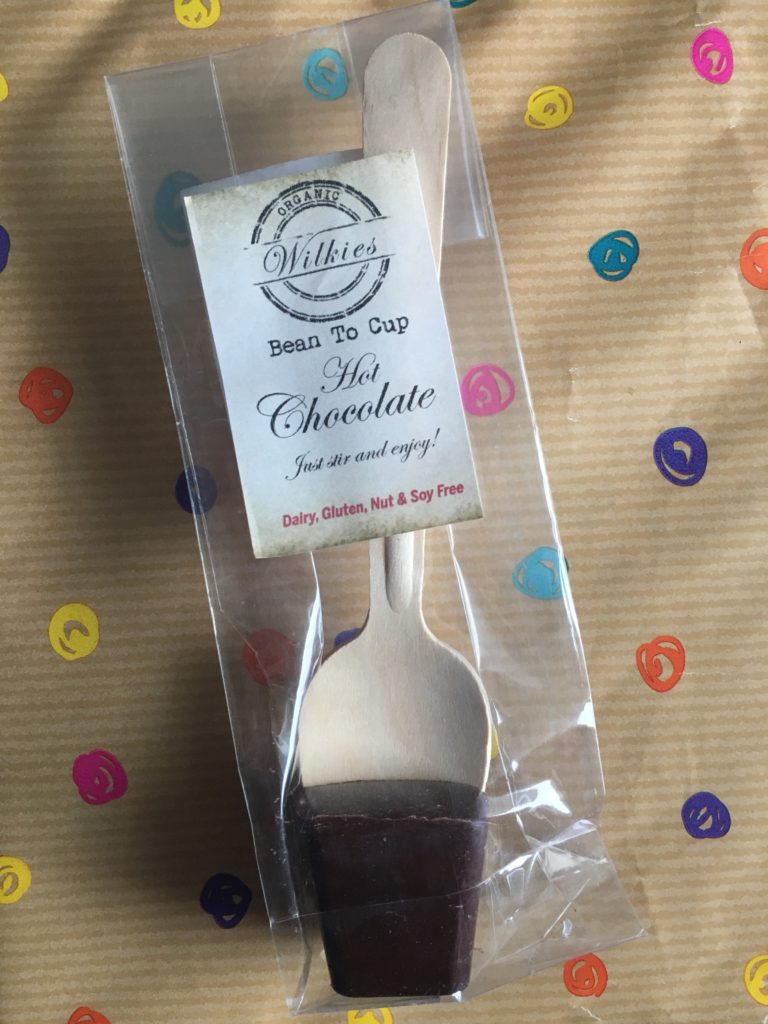 • Set of lightbulb-shaped stitch markers from CreatingWithSticks on Etsy.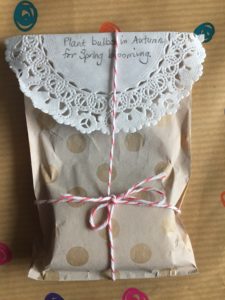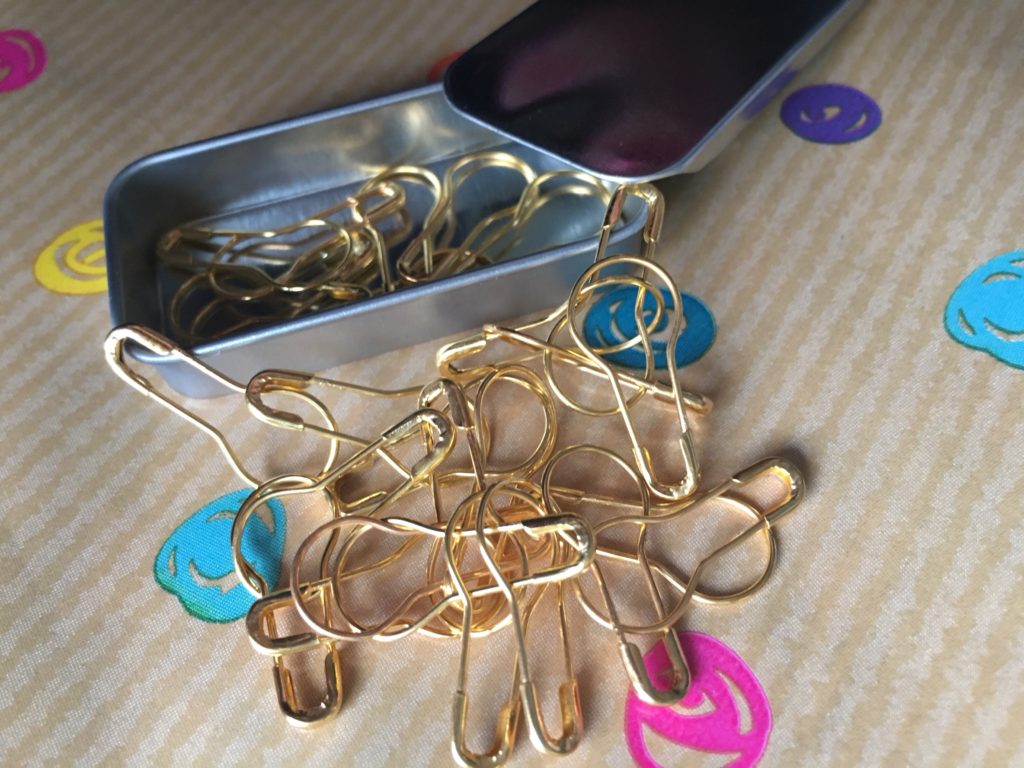 • Mini hand creams to nourish dry hands.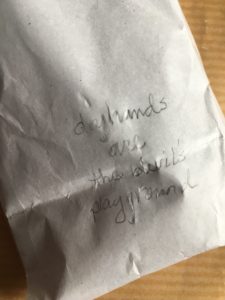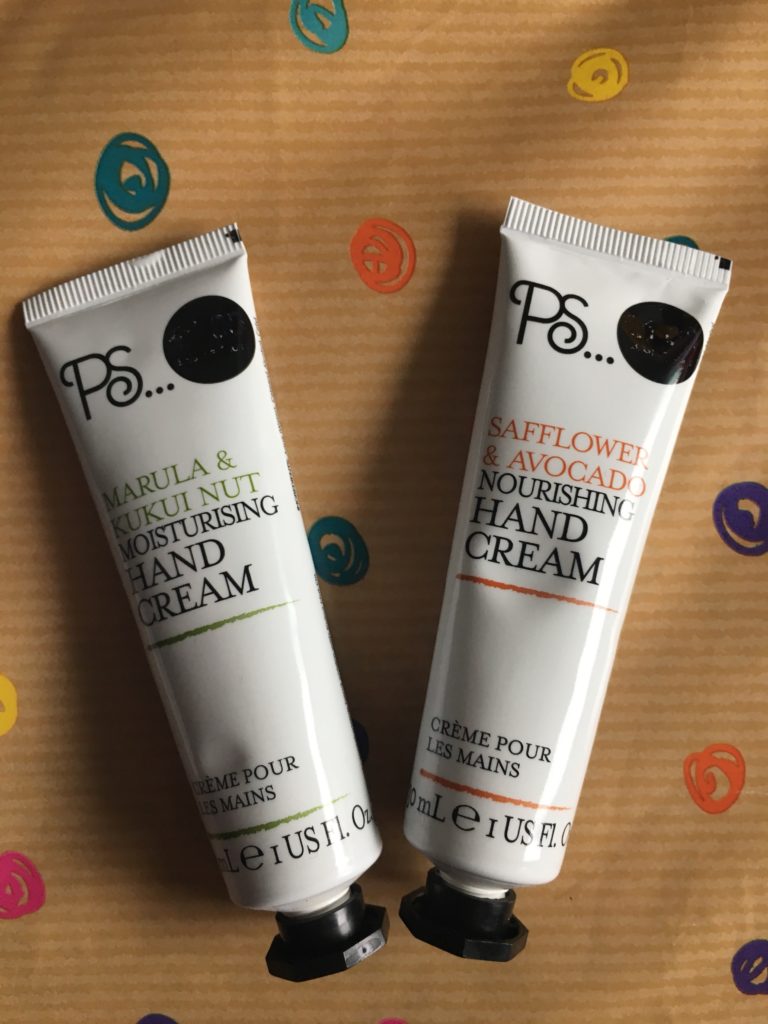 • Black and wine hued shell buttons.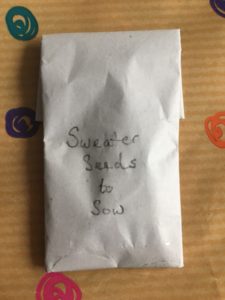 Though I still went over budget, as usual, on Knitmas 2017, I feel I stayed within the rules and my budget better because of smart shopping and handcrafting. Check back on Thursday to read all about what I received from my Knitmas elf this year.