Salads are versatile and refreshing, but often get the reputation of being green. They do not always need to feature or even include lettuce. It's no surprise my love of salads has meant I've created and shared many salad recipes on EvinOK.
The salad recipes in this post are delicious, healthy, and vegetarian (use egg/dairy-free bread for vegans)! It might be ideal for those family members who dislike eating their greens or if you don't have access to fresh lettuce (bookmark this for winter!).
Ginger-Miso Vegetable Salad works with spirallized, julienned, or chopped fresh produce.
Gazpacho Bread Salad has a comfort food quality. The tangy tomato flavors are delicious!
Chickpea & Caper Salad has a bit of Mediterranean flair and an earthy grouping of textures.
Fattouche Salad goes to show that even stale pita bread has a use! 
These latest four join many other existing recipes on EvinOK in praise of lettuce-free salads, so I'm sharing links to 15 previous recipe posts here so you have a total of 19 salads to choose from!
Vegan Chickpea & Olive Salad with Fresh Lemon Dressing
Sun-dried Tomato and Herbs Orzo Salad
Chopped Salad with Wasabi Dressing
Julie's Dijon Vegan Potato Salad
Mom's Garden Fresh Vegan Potato Salad
Caprese Salad with Za'atar Spices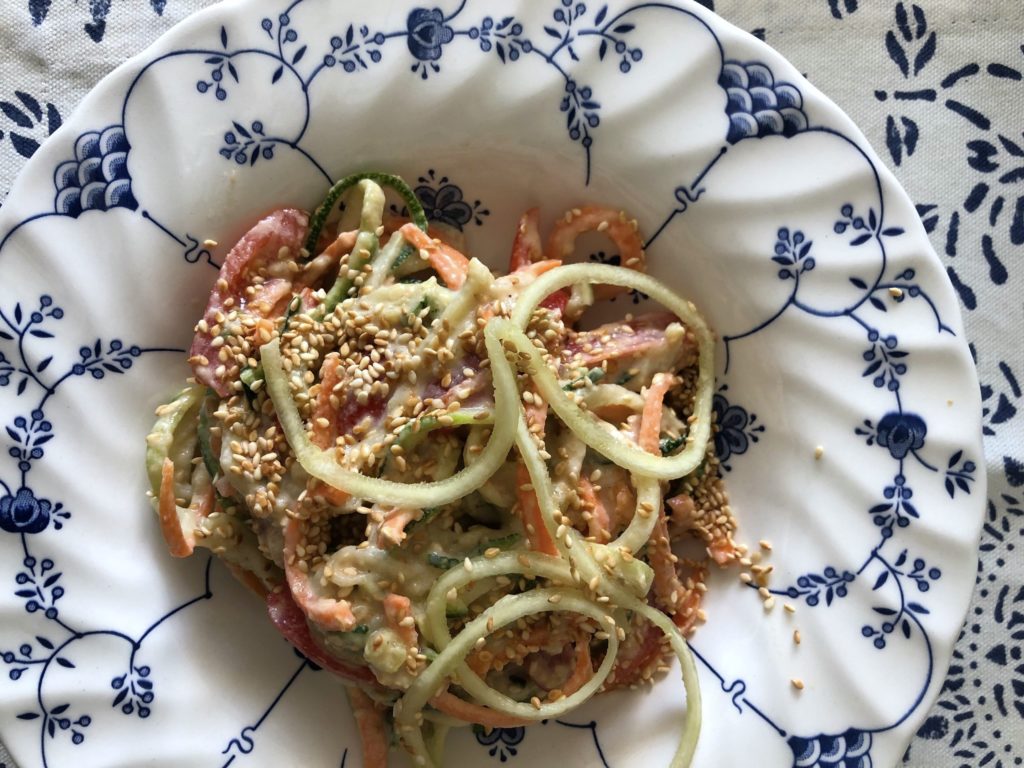 Ginger-Miso Vegetable Salad
1/3 sesame oil
1 tablespoon lemon juice
1/4 rice vinegar
2 1/2 tablespoons miso paste
1 tablespoon grated ginger (ginger paste works too)
Salt
2 carrots, spirallized/chopped/julienned
2 plum tomatoes, cut in strips
2 cucumbers, spirallized/chopped/julienned
1/4 cup sesame seeds, lightly toasted
1. Whisk the oil, lemon juice, and vinegar together then add in the miso paste and grated ginger. Salt to taste.
2. Toss with prepared carrots, tomatoes, and cucumbers.
3. Sprinkle with sesame seeds before serving.
Gazpacho Bread Salad
1 loaf crusty Italian Bread
4 heirloom tomatoes, quartered and seeded
2 roasted red peppers, cut in strips
2 cups cucumbers, peeled, seeded and diced
2 tablespoons chopped parsley
1 cup chopped basil
1/2 bunch green spring onions, chopped
1 cup black olives
4 plum tomatoes, seeded and chopped
1/2 cup chopped red onions
1/2 cup balsamic vinegar
1/4 cup olive oil
2 garlic cloves
salt
freshly ground black pepper
1. Preheat the oven broiler. Cut Italian bread in bite-size cubes (like dice). Toast the bread in the oven six inches from the broiler element for about 2 to 3 minutes. Turn the bread cubes and return to the oven for an additional 2 minutes or until golden brown.
2. In a large bowl, stir together the heirloom tomatoes, roasted red pepper strips, cucumbers, parsley basil, spring onions, and olives
3. In a cruet or medium bowl, mix the chopped plum tomatoes, onions, vinegar, oil, and garlic. Add salt and pepper to suit your taste.
4. Pour the gazpacho vinaigrette over the salad immediately before serving. Toss gently. Let stand for about 10 minutes to give the bread time to soak up the gazpacho vinaigrette.
Chickpea & Caper Salad
2 cups cooked chickpeas (it's ok to use canned, but drain/rinse first)
2 teaspoons parsley, chopped
1/4 cup capers, rinsed and drained
1 tablespoon minced garlic
1 3/4 cups roasted sweet red peppers, drained and chopped
3 tablespoons olive oil
2 tablespoons lemon juice
1 teaspoon freshly ground black pepper
1. Add the chickpeas, parsley, capers, garlic, and chopped peppers to a medium bowl and stir the ingredients together.
2. In a separate dish, whisk together the oil, lemon juice, and black pepper. Pour it over the dressing over the chickpea mixture. Refrigerate the salad for at least 20 minutes or until it is time to dine. This salad can be made ahead of time and refrigerated in an air-tight container for up to 24 hours.
3. Serve the salad with spare sprigs of parsley as garnish. It goes well with grilled vegetables, such as eggplant, or meats, such as lamb or beef.
Fattouche Salad
1 medium cucumber, chopped
salt
freshly ground black pepper
1 toasted (or stale) pita bread, broken into small morsels
1/2 cup coarsely chopped onions
1 small head of lettuce, shredded (or your preferred greens)
1/4 cup finely chopped fresh parsley
4 medium tomatoes, coarsely chopped
2 teaspoons chopped fresh mint
1/3 cup fresh lemon juice
6 tablespoons olive oil
2 cloves garlic, crushed
salt and paper, to taste
1. Sprinkle the shopped cucumber with salt and let stand for 30 minutes. Rinse well and pat dry.
2. Put the bits of pita bread in a large mixing bowl add the chopped onions, lettuce/greens, parsley, tomatoes, and mint. Stir in the cucumber.
3. In a separate bowl, blend the lemon juice, olive oil, and garlic to make the dressing. Add salt and pepper to suit your taste then pour over the salad mixture.
4. Toss salad gently and well. Chill for at least 10 minutes before serving.