When we lived in California, we dined at a great little restaurant called Tao Tao, serving Asian fusion cuisine. It was good, but the dish that had us returning with enthusiasm was Tao Tao's chicken salad. We're not the only ones. If you search for it, there are several reviews and blog posts devoted to the salad and attempts to reverse engineer it to gain a recipe. I am one such person, though I tried to deviate enough that it was its own salad because, let's face it, it will never be as good as Tao Tao's chicken salad.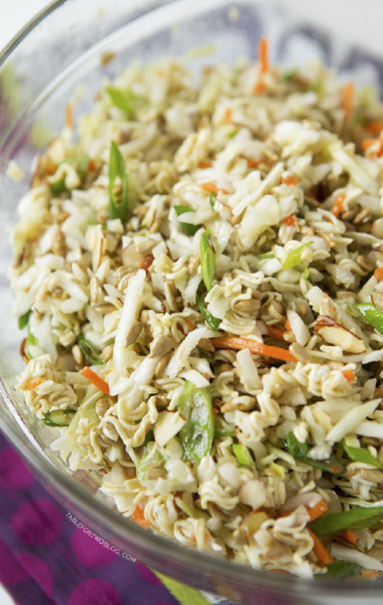 Chopped Salad with Wasabi Dressing
Makes 6–8 servings. 
CHICKEN INGREDIENTS (omit or substitute for vegetarian/vegan recipe)
4 chicken breasts, cut in strips 1 cup all-purpose flour
1/2 Tbsp. garlic powder 1 tsp. fresh ground pepper
Vegetable oil, for frying
SALAD INGREDIENTS
1 pkg. ramen noodles, uncooked and crushed
1 head fresh iceberg lettuce, finely shredded
1/2 head fresh white cabbage, finely shredded
1 bunch fresh cilantro leaves, chopped, no stems
3-4 Tbsp toasted sesame seeds
3-4 scallions, sliced thinly 1/4 cup grated carrot strips
1 clove garlic, minced 1 tsp. freshly grated ginger
DRESSING INGREDIENTS
1 Tbsp soy sauce 1 Tbsp rice wine vinegar
2 tsp fresh lemon juice 3 Tbsp toasted sesame oil
1 Tbsp white granulated sugar 3/4 tsp dry wasabi powder
1 tsp. freshly ground black pepper
DIRECTIONS
1. Mix all the chicken ingredients (except the oil) in an air-tight bag or container and shake to coat. Pan fry the chicken in the oil over medium-high heat in a large pan on the stove, turning once. Set aside to cool.
2. While the oil in the pan is still hot, toss in the crushed uncooked ramen noodles and stir constantly as they toast up a bit. Remove from heat, transfer the pan toasted ramen to a dish, and set aside.
3. In a large bowl, mix the finely shredded lettuce, cabbage, cilanto, sesame seeds, scallions, carrots, garlic, and ginger. Toss to combine them so each forkful has a variety of ingredients. Set aside.
4. Shred the chicken now that it has cooled slightly. Add to the ramen the toss chicken and noodles in the salad bowl the chopped medley.
5. In a cruet or medium bowl, whisk together the soy sauce, rice wine vinegar, lemon juice, sesame oil, sugar, wasabi powder, and pepper. Blend completely. If you're making the dressing ahead of time, you could even mix it in a jar, shake, and store in the fridge overnight.
6. Toss the dressing with the salad to coat the chopped mix completely then serve immediately.
Serving suggestion: You can add edamame or additional toasted sesame seeds, carrot slivers, sliced scallions, crushed peanuts, or toasted almond slivers to the top for garnish. I prefer edamame, toasted sesame seeds, and crushed peanuts on mine.