It is nice to realise I've been knitting for six years, but then I kinda feel like some of the bigger projects I add to my Ravelry queue are still waiting with pattern and yarn sitting right in my yarn cabinet (like Tembo by Carol Feller or Grace by Jane Richmond). So, I looked back at my knitting projects to get a sense of their purposes so I could figure out where I'm devoting my knitting energy/time, if not for these long-awaited projects. I'll admit I was shocked to learn that only four completed projects I've knitted start-to-finish were made for myself. Where did I go wrong? I mean, there's generous then there's just plain silly. Yes, this post has graphics and FO photos to learn more about where I've gone wrong (or right since giving is good).
To the data (like "to the Batcave")! And since it is the season of pie, I couldn't resist making a pie chart.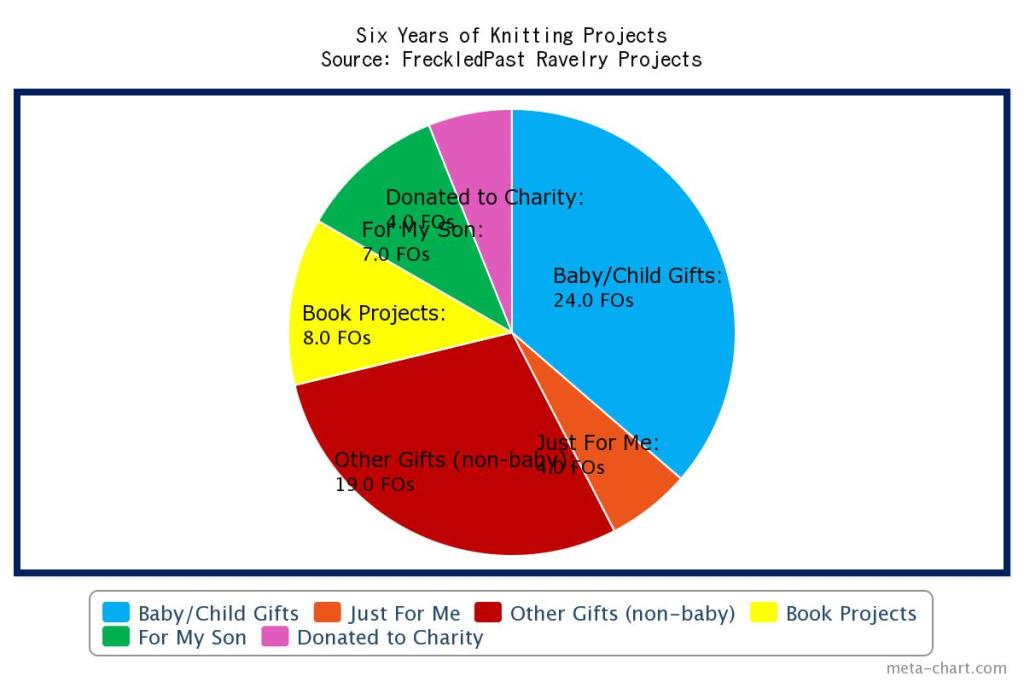 The numbers broken down without the pretty colors:
24 Gifts for Babies/Children of Family/Friends
19 Gifts for Family/Friends (1 of which was for my husband)
8 Book Projects for Bake Knit Sew
7 Hats/Toys/Sweaters for my son, LB
4 Projects Knitted for Charity
4 Projects I Knitted for ME ME ME
A few of the highlights from six years of knitting…
Gifts for babies/children of family/friends
For Family/Friends
For my son, LB
I made for myself
What are your numbers? Do you knit more for others or for yourself?