Today's blog tour post is over with Kate at Fenn's Quay and Then Some. She is a chefess and restaurant owner who blogs about food and all the mouth-watering dishes she makes along the way. Literally, along the way since she Instagrams it all from the kitchen of her award-winning Cork city restaurant!
For those of you who already own a copy of Bake Knit Sew, you may recognise Kate as the model for the Sugar Maple Vest, Apron, and the Felt Mittens. So, in case her award-winning chef gig gets dull, she can just fall back on her modelling career.
While you're over at her blog reading today's post, which includes a link to her own FREE recipe book (downloadable PDF), be sure to look at her other posts which feature her Instagram photos of the food as it is headed to the tables in Fenn's Quay. But you may want to eat first because it'll make your appetite wake up and take notice.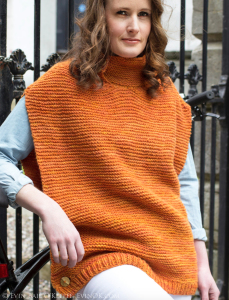 Bake Knit Sew is available in paperback and ebook versions from select retailers (full list).