Remember last year when I was talking about my Kickstarter project? Well, that project grew up and became a real book! But much like a baby growing up, there was a lot of messiness, work, late nights, and early mornings along the way. Well, though the official publication date is next month, we're having a soft launch of sorts while we wait for distributors to get the book in-stock.
My book from select retailers and online.
SIGNED Paperback edition from Anchor and Bee (€16.00 EUR).
eBook edition through Ravelry ($16.00 USD).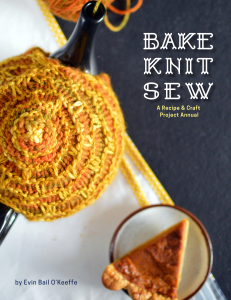 Bake Knit Sew showcases a year of creativity in baking, knitting, and sewing. Each month, an original baking recipe is partnered with a knitting pattern or sewing project, made with the seasonally-inspired ingredients and materials. These twelve baking recipes, seven knitting patterns, and five sewing projects are yours to make your own.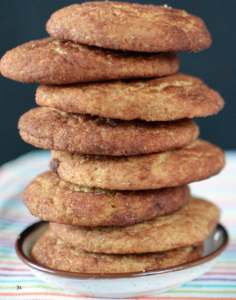 Inspired by my Irish-American Grandma's recipe box and craftiness, this book showcases a year of creativity in baking, knitting, and sewing.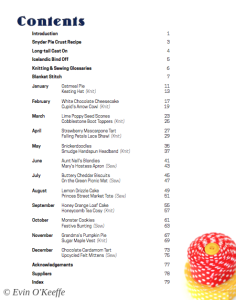 Whether it is sparkly snowflakes and fleecy mittens in the Winter, brave new leaves in the Spring, dandelion clocks flying in the Summer breeze, or golden leaves and honeycomb in the Autumn, the seasons await you with new opportunity for creativity. In this age of mass consumption and branding, there is magic in being able to create something unique and special. Something all your own, from the heart.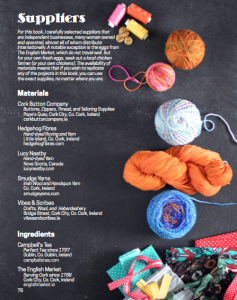 The materials were carefully chosen from local artisans in Ireland and Nova Scotia who sell globally online, most of whom are woman-owned and operated. I tried many different yarns and fabrics before settling on the ones that best suited my designs. In the final projects and book, I featured knitting yarn from Ireland-based Smudge Yarns (Smudge Yarns is as Irish as it gets, the sheep, the wool processing, and the hand-dyeing are all local) and Nova Scotia-based Lucy Neatby. I worked with fabrics and bias tape purchased at Vibes & Scribes in Cork City. My thread and buttons came from Cork Button Company. And my baking was fuelled by eggs from Cork's English Market, while I myself was fuelled by Campbell's Tea.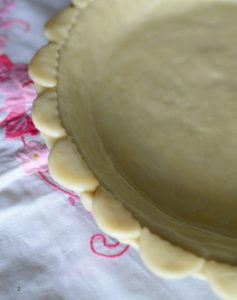 The recipes were perfected over generations, then given a modern twist and tested by volunteers. Each knitting and sewing pattern was tried and tested as well.
My recipes wouldn't be worth a dash of salt without all the recipe testing that was done by volunteers. Thank you to the kitchen goddesses: Arlene Cooke, Sica Corey, Laura Natasha Hall,
Máire Nobes, Julia Okenkova, Carlota Sage, Lorna Goodsell Walsh, and Sara Owen Willard.
My patterns were test knit by several skilled knitters. Thank you, 63Stella, BonnyAlma, Marseille Bunk, Kim Cullen, Liz DeVoss, Penny Ercolano, Siobhan Keane Hopcraft, Kathy Crooke Kyburz, M Beth Leath, Suzanne McEndoo, Carol O'Leary, Nuala McGrath, and Karen Simpson.
My Kickstarter backers and blog readers have fueled this book from the very beginning. Thank you all for your enthusiasm and support. Especially grateful for my Sponsors:
Ballymaloe Country Relish of Cork, Ireland
Brochenn yarn shop of Landerneau, Bretagne, France BonnyAlma
Campbell's Tea of Dublin, Ireland
Nora Morris Kulkarni
Dan O'Keeffe
This book was created with the expert help of a team of skilled professionals. Thank you all! Recipe Editor: Kristin Jensen
Knitting Pattern Editor: Suzanne McEndoo
Photographers: myself, Fin McAteer, and Victor Sullivan
Model Stylist: Natasha Crowley
Hair Stylist: Andrew Cronin
Make-up Artist: Andrea Murphy
Proofreaders: William G. Bail, Marseille Bunk, Arlene Cooke, Tim Nixon, Carlota Sage, and Victor Sullivan
Thank you to the beautiful models: Maire O'Sullivan, Kate Lawlor, Arlene Cooke, and Hannah Fliesler.
The photographs of my designs benefited from beautiful County Cork, Ireland, backdrops: Camden Palace Hotel, Cork City
Fish Bar at Electric, Cork City
Griffins Garden Centre, Dipsey
The English Market, Cork City Linehan's Design, Cork City
The Princes Street Church
St. Mary's Church, Cork City Triskel Christchurch, Cork City
My friends and family made this book happen too. From all the extra housework my husband took on to give me time to work on the book to my friends being sounding boards when I just wasn't crazy about a certain food photo.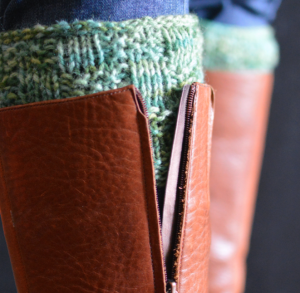 A complete year of projects! Over 50 full-color photographs shot on location in scenic Cork, Ireland make this book a feast for the eyes as well as an inspiration in the kitchen and at the craft table. You'll be pleasantly surprised at how simple it is to make and create these functional projects from scratch.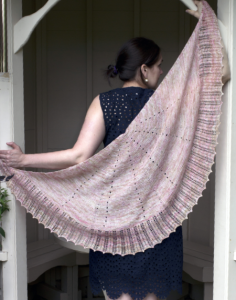 Contents: 13 recipes; 7 knitting patterns; 5 sewing projects.
86 pages
Publisher: Anchor and Bee (November 18, 2014)
Language: English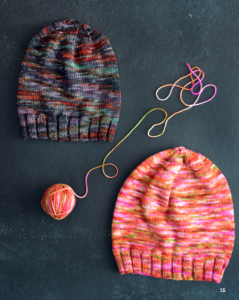 Paperback edition is available from Anchor and Bee (€16.00 EUR).
Amazon.com
($19.50), and Amazon.co.uk
(£12).
ISBN-13: 978-1910567005
Product Dimensions: 10 x 8 x 0.2 inches
Shipping Weight: 260grams (9.1ounces)
eBook edition is available through Ravelry ($16.00 USD).
ISBN: 978-1-910567-01-2
Available online and from fine retailers worldwide.