With Knitmas 2014 upon us, I am looking back at what I've made before so I can avoid being predictable. For Knitmas 2013, I designed and knit a cowl for Kathy. For Knitmas 2012, I knit fingerless gloves and sewed a tea cosy for Gráinne. For Knitmas 2011 (my first year in the gift exchange), I knit a tea cosy for D and she wrote all about it here. This belated post is about Knitmas 2012 since I obviously can't write about 2014 since the exchange is not for another six weeks so must not let the cat out of the bag.
I chose to knit Jane Richmond's Rathtrevor Fingerless Gloves from her Island
book, but I made a few adaptions. I knitted the gloves two-at-a-time flat on circulars with magic loop. I added ribbing at the finger edges to prevent rolling. The other difference from the original pattern is that I used a slightly different stitch count. But the thumb math was the same and her approach to the thumb gusset was simple, approachable, and effective.
Here they are knitted up before I did the seams and wove in the ends.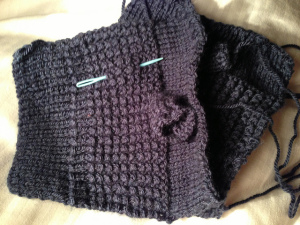 Here I'm modelling the left hand's glove in front of the Christmas tree. I love the colour of this acrylic yarn. It is like denim and asphalt blended into a lovely subdued hue.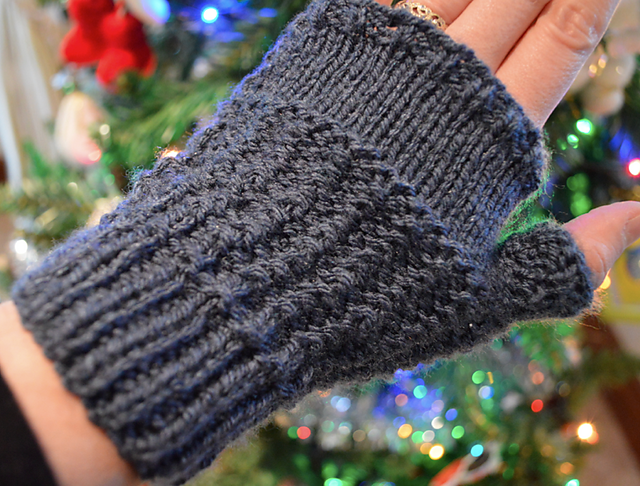 Here both gloves are together. I wish the lighting was better. We were wrangling a one-year-old LB in a hotel lobby while photographing this so it wasn't ideal styling conditions.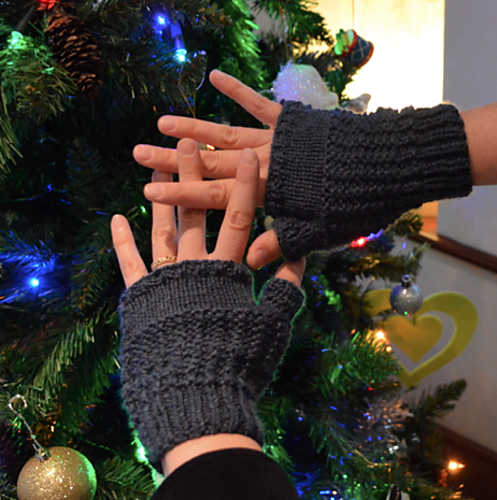 I don't think I'll do fingerless gloves or a tea cosy this year, but then again maybe I will. I wonder if giving my own book would be too obvious.
Are you part of a holiday gift exchange group? What kinds of things do you make for gifts?