It's time for another Knitmas post. The third in my 2017 series. The first post was about how I took my downstream elf's wish list and approached it from a crafty and budget-minded perspective then the second post was about the resulting rustic garden-themed gift package. Both these were meant to inspire gift ideas for your favorite crafter. Today's post shares what my upstream elf sent to me and it is astounding. I feel so spoiled, pampered, and loved.
My Elf
The trick with Knitmas is that once you receive the parcel, you start sleuthing to figure out who your upstream elf is. Sometimes this takes minutes, sometimes it takes hours. The organizer elves maintain a Google sheet listing everyone and make notes as elves are discovered, so we can be informed detectives. It is all very fun and looking for clues is half the excitement. For instance, what gave me away to my elf was the hot chocolate stirrer was from a chocolatier in Midleton, Co. Cork. So, now that I finally received my parcel, it was time to start deducing who my elf is this year.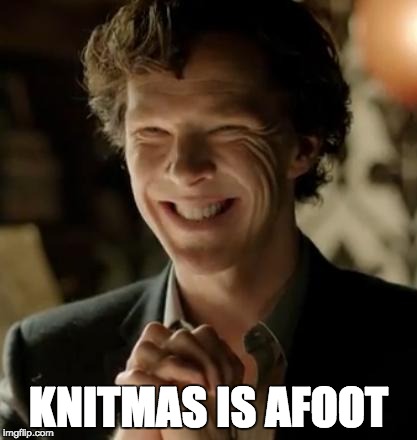 The clues were in Slack and the parcel itself. Bernie showed mild interest in the arrival of my parcel, so I suspected she was either being super sweet or was involved. Then I opened the package and one of the handmade items was hand-dyed gradient yarn. That is a huge undertaking and not for casual dyers, so it had to be a pro. This made me instantly think of Bernie. See, Bernie dyes and sells wool under her own label, Bear in Sheep's Clothing. You can stalk follow her yarn adventures on Facebook too, but Etsy is the place to indulge. I guessed and it was her! By chance, Bernie and I met in Edinburgh at Edinburgh Yarn Festival 2017, so that personal connection made this parcel a bit more special. Heck, Bernie watched AH, my younger offspring, while I attended a workshop, so we had a bond. I guessed it was her – and was right.
First Impressions
The parcel arrived when my phone was not handy, so I borrowed Deb's phone to take snaps of the first impressions because it was all wrapped so beautifully. Here are those photos for the full Knitmas parcel experience.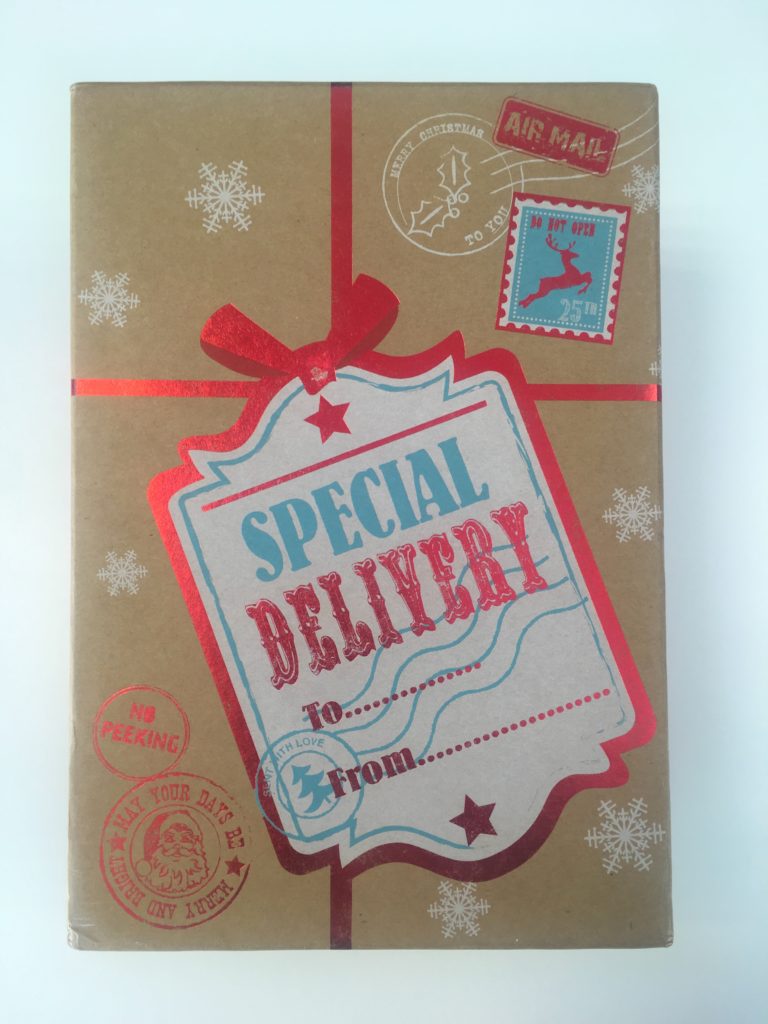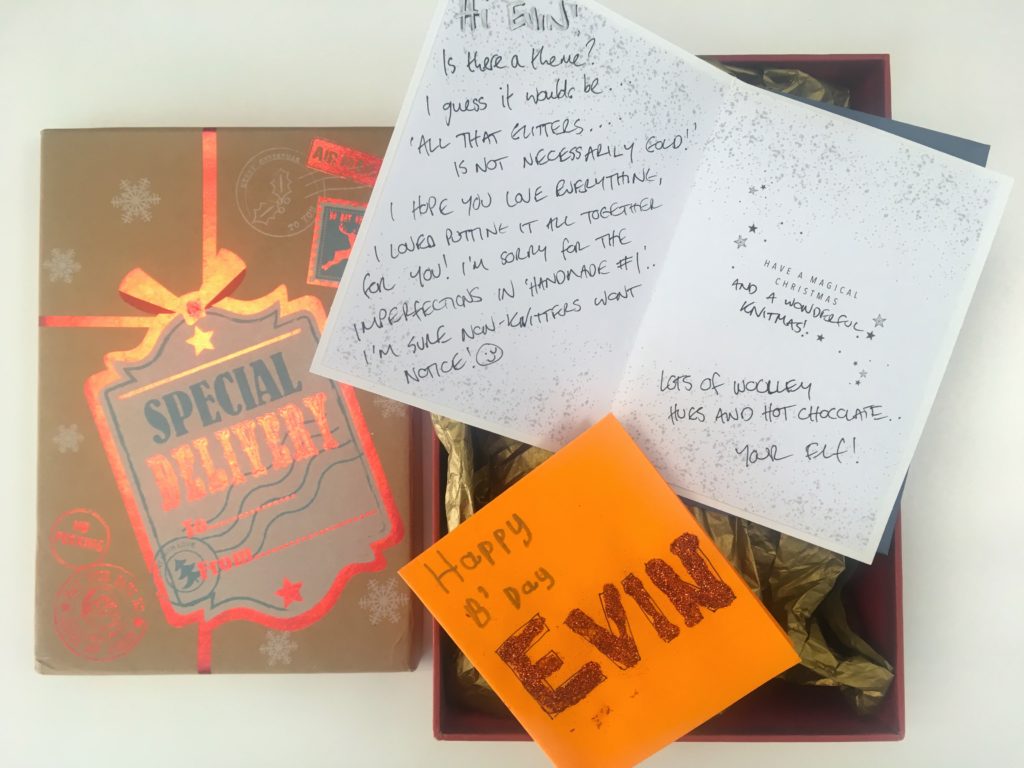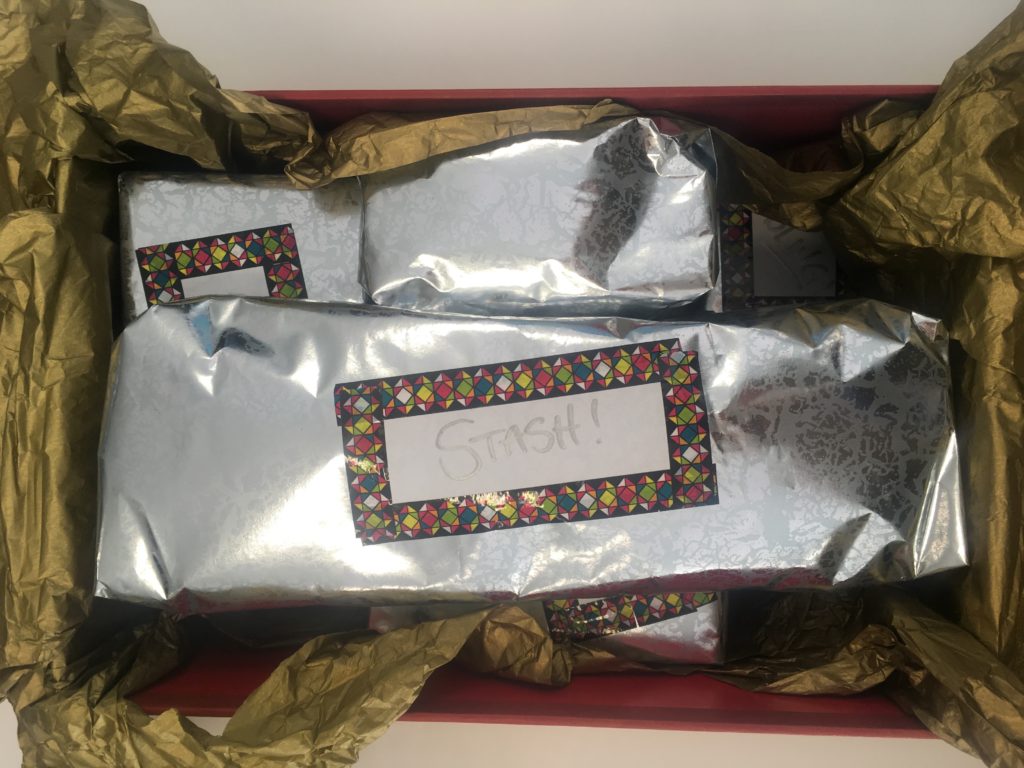 What She Made for Me
To adorn my Christmas tree, Bernie knit covers for four Christmas ball ornaments. One for each member of my family. I will likely let LB choose who gets which one then embroider the first initial on the bottom so we each have our special ornament. Then in a couple decades when the boys have their own homes and Christmases, they can have this start their ornament collection. It was supremely thoughtful of Bernie and the Griffindor colors are beautiful.
Bernie also used her dyeing superpowers to create a hand-dyed BFL blend sock yarn in gradient true grey. The colorway is called Quicksilver. The first photo is true to color (the second image came out more of a violet). This neutral gradient will inspire me to hunt down the perfect pattern.
What She Surprised Me With
Early Grey is my tea of choice. It has always been my dad's favorite tea, so we'd have cups together and the bergamot undertones are delectable. Bernie knew this and sent me tea, just when I had run out! It was like she hacked into my Tesco grocery list or something.
Ditto for the dark chocolate, which is my sweet treat as someone who isn't much for sweets.
Also at EYF was Fluph selling Rusty Ferret yarn (Doll sock). This gem of a skein came from there I suspect and the colorway Cryptic is polite and lovely with a rebellious streak, kinda like me.
It is already fast friends with Bernie's gradient cake.
One of the items on my Etsy wish list has been a monogram necklace and Bernie found an initial necklace that is so charming.
This knitting-inspired TillyFlop tea towel is perfection!
Any single one of these items would make my heart soar, then to receive a love-filled parcel of thoughtfulness just makes me feel so special. Especially when it arrived during my birthday week. And Bernie even remembered it was my birthday this week!
So often as crafters, we make and create for others, but do not always receive a handmade gift ourselves or have proper appreciation shown for our handmade efforts. Knitmas is a wonderful chance to create for those who understand and appreciate it most – fellow crafters.
Next time you have a hankering for hand-dyed artisan yarn, check out Bear in Sheep's Clothing. It's clearly dyed with skill and love.
This holiday season, what did you give or receive that made your heart soar?
Note: I'm going to take a little break until January 11th, but will be back with fresh posts on Tuesdays and Thursdays in 2018. Warmest wishes for a happy New Year's Eve and a bright start to 2018.