I had the joy of meeting Ceci and Dami from Geeky Girls Knit Podcast at Edinburgh Yarn Festival. Ceci and Dami's book caught my eye as did their American accents and we got to talking. I had a spare copy of the first print run of Bake Knit Sew in my suitcase and promised to bring it to her the next day at the festival.
I had no idea they would then review it on their podcast. Such warm fuzzies from the 'Bake Knit Sew' Review by Geeky Girls Knit. They actually went through the entire book. Their kind words about the recipes and the patterns warmed my heart and are invigorating me for my final stretch of work on Bake Knit Sew 2. If you have not watched the Geeky Girls Knit Podcast, check it out.
This is Episode 235 with their review of Bake Knit Sew. The review starts at the 57-minute mark. I just ate dinner and I am hungry watching them browse the book's recipes.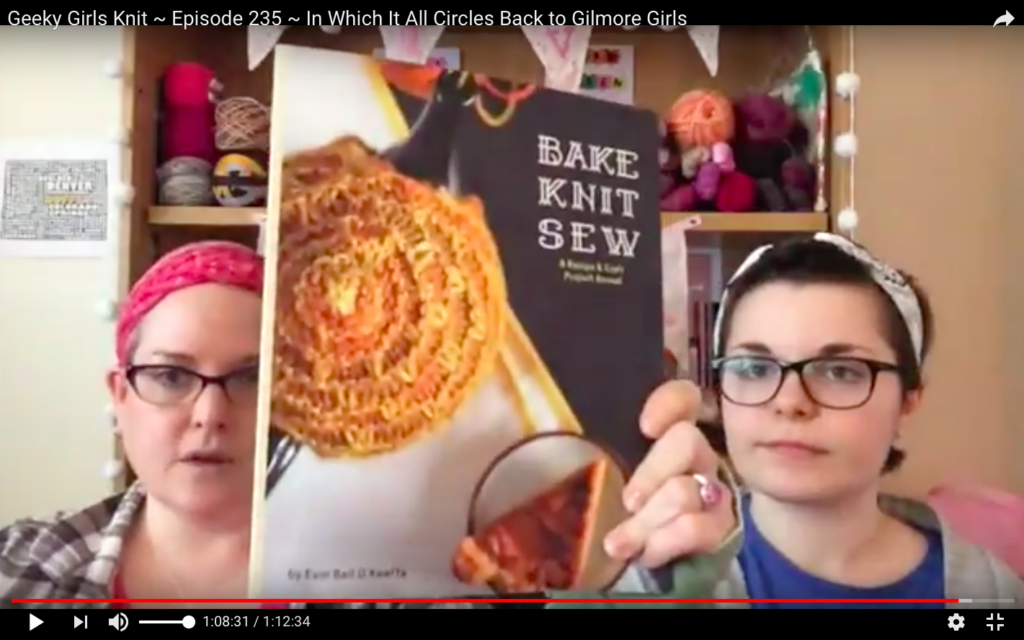 To answer the question about how the bees got into my dresser, it was against wall where there was a window. We had only been in the house a short while and still were working through the To Do list, which included insulating and adding moulding to all the windows. There was actually a gap where the bees were getting through and because my little dresser was right against the gap, they went right in there and made a home. The little dresser was a hand-me-down from my Grandma and was pale pink at the time. That window frame has since been upgraded and no gaps for bees.
I'll definitely come bake something for Ceci and Dami when I am in Edinburgh next!
The video tutorials were taken down from EvinOK.com when I adjusted a few things, so I'll add them back up this week.
Don't forget to check out my long wrap-up post with photos of Edinburgh Yarn Festival 2017. It includes photos of the Marketplace, people I got to meet (including Ceci!), info on which classes I took, photos of the city of Edinburgh, photos of the meals I ate while there, photos and details of my EYF17 haul, and links to all the other blog posts and podcasts I could find about EYF17.