There are so many talented and original yarn sources and hand-dyers in the world at the moment, but I've got to say we're spoiled rotten here in Ireland. We are lucky to have the number of hand-dyers here we do and that inspired me to compile a list to share on the blog.
I am including dyers from Northern Ireland because it is still the same island and this is about region, not politics or Brexit boundaries. This includes the dyer and wool origin, which varies and is as diverse as the colorways and textures we love and appreciate as crafters.
Also, as to not break up the list, I've added a Google map with all those listed plus a few photos at the end of this list. This is not any act of preference, it is just that I had those yarns handy to photograph for this post.
You can follow along on my knitting designing, baking, and life's adventures on my Instagram account.
If you yourself are a hand-dyer or yarn company in Ireland and are not listed, comment and I'll add you. If you want to be interviewed for my blog, check out my Be Featured page to learn more.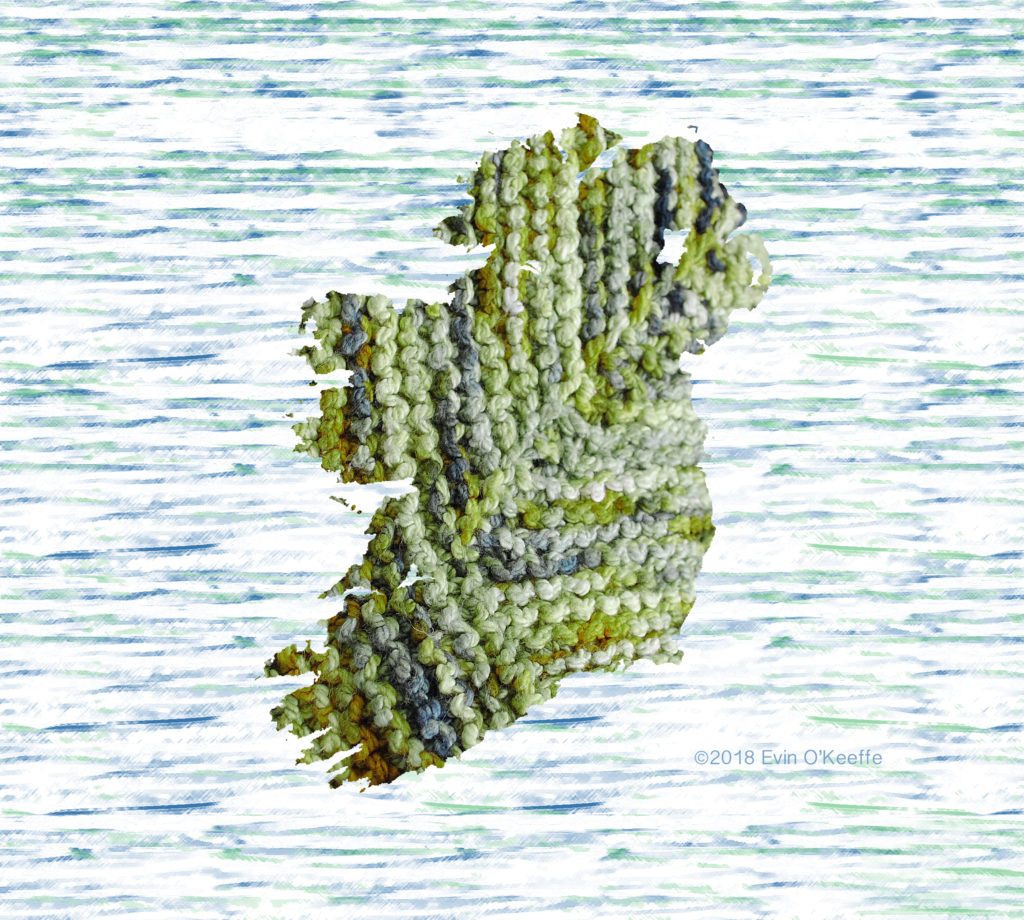 Yarn Companies and Wool Hand-dyers in Ireland and Northern Ireland
Appleoak Fibre Works (Munster)
Babbles Yarns (Munster)
Bear In Sheep's Clothing (NI) – Read my Interview with Bernie
Carol Feller's Nua (Munster)
Comeragh Yarns (Munster)
Coolree Yarns (Leinster) – Closed down
Corcra (Connaught)
The Crochet Bunnies EU (Leinster)
Dharma Dyeworks (Leinster)
Dublin Dye Company (Leinster) – Closed down
Dye Candy (NI)
Ellie And Ada (Leinster)
Eve Chambers Textiles formerly Eve and Apple (Munster) – Read my Interview with Eve
EweMomma (NI)
Fine Fish Yarns (NI)
Fine Leaf Fibres (Munster)
The Fibre Kitchen (formerly of Leinster, now in Berlin, Germany)
Giddy Aunt Yarns (NI)
Green Elephant Yarn (Munster) – Closed down – Read my Interview with Fiona
Idle Hour Crafts (Munster)
Irish Fairytale Yarns (formerly of Munster, now in Reutlingen, Germany)
Irish Fibre Crafters (Connaught)
Life In The Long Grass (Munster)
Lindsay Crafts (Leinster)
Loop Head Alpacas (Munster)
Markree Wool Craft (Connaught)
The Moon and Sixpence (Munster) – Taking a break
Mourne Alpaca (Ulster)
My Butterfly Green (Ulster)
Olann (Ulster)
Pretty Funky Fibre (Leinster)
Rebecca's Wool (Connaught)
S Twist Yarn Studio (Leinster & …)
A Secret Stash (NI)
Sionnach Yarns (Munster)
Star and Crescent Yarns (Leinster)
Strand Designs (Leinster) – Closed down
Studio Donegal (Ulster)
Tivoli Spinners (Munster) – commercial yarn
Townhouse Yarns (Leinster)
Vera Yarns Design (Leinster)
The WoolBarrow Yarns (Connaught)
Woolly Adventures NI (NI)
Woolly Mammoth Fibre Company (NI)
Yurwool (Munster)
Zwartbles Ireland (Leinster)
Cushendale Woollen Mills (Leinster)
Noteable Non-woolly Suppliers…
Commodum, Dingle
This is Knit LYS Powerscourt, Dublin
Vibes and Scribes, Cork city
I also wrote about my FibreShare and how I curated a 'Taste of My Island' package, so having this list separate will make it easier to refer to in the future. What taste of Ireland would you say is a MUST in any care package?
A Few Photos
Here are some woolly photos to admire, covet, and lust after. These are yarns I had taken photos of already, no one was excluded for any reason but convenience.
Bear In Sheep's Clothing
Bear In Sheep's Clothing has a variety of bases with rich texture and stitch definition and colourways ranging from moody and saturated, bright neon realness to subtle speckled whispers, and everything in between! Bernie is passionate about luxury fibres sourced as locally and ethically as possible. At the moment, that means British wool, spun in Britain. She dyes them in Belfast with love and care, taking the health of the planet into consideration with every step. I also wrote about her 2018 Advent Calendar fade.
Eve Chambers Textiles
On the edge of West Cork on the epic Mizen Peninsula, Eve Chambers Textiles formerly Eve and Apple is nestled among green gardens and free-range living. Natural fibres plus lush colours equals Eve Chambers Textiles luxury yarns. She works to create yarns that can be crafted into heirlooms.
Nua
Carol Feller's Nua, a sports weight yarn, is 60% Merino Wool, 20% Yak, 20% Linen. Each of these fibres contributes something special to create an amazing yarn blend. Nua is non-superwash, which creates a lighter yarn with a bit more bounce, making blocking easier, and keeping shape nicely. Sold in 140 metres per 50g skeins.
Note: The garter stitch map of Ireland is a photo I took of a BSJ knit by Sue for LB, then I adjusted the colors in Photoshop and put a basic map of this island over it, deleted the surrounding water/sweater, leaving only the knitting that was under the island. Then took a photo I snapped of rippled water from ages ago, enlarged it and used an artistic effect then duplicated and flipped it horizontally, deleted the white from the duplicate, adjusted the colors to be more green, and made that the background.  Thank you to Sue for knitting the original sweater!