I like resolutions, but they can happen any time, but I do love the start of a new year to make a plan or set some goals, but also reflect on the previous year. And though I've not posted this kind of thing in a while, I am sharing a few of my thoughts on 2017 and my plans for 2018.
Best Arts & Crafts Blog (Personal)
The most monumental accomplishment of 2017 is definitely winning Best Arts & Crafts Blog in the Personal Category at the V by Very Littlewoods Blog Awards Ireland. I was over the moon to be a finalist and wrote about my co-finalists and my feelings at the time. It has taken me a few months to float down from the cloud I've been on since hearing my blog's name at the V by Very Blog Awards. The win itself was recognition of my hard work and creative content, but also it was a night out with Carol Feller of Stolen Stitches and Nadia of Cottage Notebook.
Let's face it, EvinOK is a great blog with original posts balanced between tutorials and showing off handmade creations. My voice comes through in each post and I vary the content enough to interest non-knitters as well. All this with twice weekly posts, good grammar, beautiful photos, and social media engagement. Really, what's not to love. I maintain my standards with every post, but I also embrace whimsy because some days I want to create a masterpiece and other days I want to chill and take in inspiration from someone else. But in spite of all the work and care I put into cultivating EvinOK to be exactly what I want, I was surprised, touched, honored, and downright verklempt when I won Gold. To be publicly declared THE Best Personal Arts & Crafts Blog in Ireland at the V by Very Blog Awards was amazing. I soaked it up.
To add to that beautiful moment, I was there with my dear friends who have their own amazing award-winning blogs. Nadia of Cottage Notebook won Silver for Best Personal Arts & Crafts Blog and Carol of Stolen Stitches won Gold for Best Commericial Arts & Crafts. If you do not already read their blogs, start – especially Nadia's Cottage Notebook Podcast for which she interviewed me last year. So many creative, inspiring people I am blessed to know, but these two women are so special. And though this photo is of me holding an award, it is also a reminder that hard work and being myself is the right approach for me.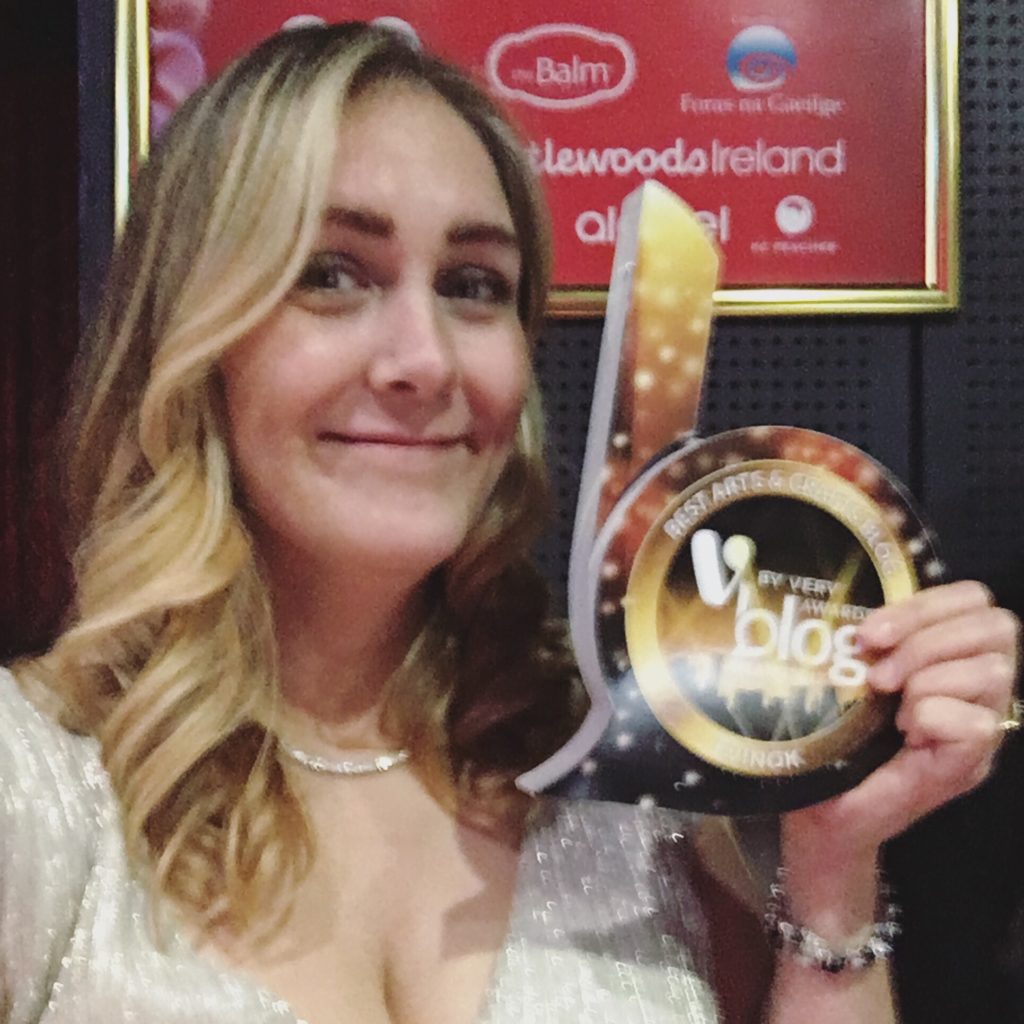 So, what's next?
Goals for 2018
Laugh and dance with my children more often.
Paint more. I love creating original artwork, even if it is just for our walls at home and I need to do it more often. I wrote about it here.
Complete Bake Knit Sew 2 and share it with the world. Yes, this book has been in progress since 2014 and is over halfway done. That whole having a baby in 2016 shifted my timeline a bit. The final push to complete projects and photography, plus editing is coming this Spring. No, really.
Complete my secret book project, which may need a Kickstarter to happen. I have been working on this for almost 10 months now and it is slow going, but going to be amazing.
Start STEAMthunk, a new blog focused on STEAM activities and resources for parents like me.
Write about all the things I make. No, really. Right now I probably only blog about 60% of the things I make. Most of the everyday meals are created on the fly so I do not take time to document the process or result (except maybe an Instagram snap). And there are so many crafts, side projects, and care packages I create that I don't think are perfect enough to blog about. But in an effort to love myself a bit more, I need to love all my creations too. When I listed all the things I've made that I've not blogged about yet, I had upwards of 40 though so that is overwhelming so it will take all of 2018 to tackle this goal.
Rebranded my other blog to return to its origins. This is a nice thing to do to mark a decade of blogging about my life as a foodie expat in Ireland.
Learn how to be better, if not the best, at my day job in SaaS customer advocacy. I love the customers at Teamwork.com and want to be the best I can be at bringing out and sharing their stories.
Read more books!
Books to Read (and Re-Read) in 2018
Known by Mark Schaefer
Aunt Dimity and the Buried Treasure by Nancy Atherton
The Cooking Gene: A Journey Through African American Culinary History in the Old South by Michael W. Twitty
The Satanic Mechanic: A Tannie Maria Mystery by Sally Andrew
Entre Nous: A Woman's Guide to Finding Her Inner French Girl by Debra Ollivier
Everybody Writes: Your Go-to Guide to Creating Ridiculously Good Content by Ann Handley
Traction: Get a Grip on Your Business by Gino Wickman