Awards are funny things. They validate our work, yet they do not make us necessarily better by their presence. I wanted to write a post about what it means to me to be a Blog Awards Ireland Finalist this year because it goes beyond a trophy.
My Origin Story as a Blogger
I started blogging in 2008 as a way to stay in touch with family and my hobbies after moving to Ireland from California. Each post was a ping shared with the world. Maybe I was afraid of being forgotten, so far from those who know and love me. Mostly, I just had spare time and wanted to do something constructive. I've never been much for sitting around twiddling my thumbs.
Blogging, for me, has been a journey. In the first year of my first blog, I was lucky to have 50 views a month (*ahem*, my family). Soon enough, it was more, but what drove me never changed. How I approached blogging did change though. I learned more about my readers and what they wanted, how to cater my site design to feel more welcoming, and to improve my photography. It fuelled my own curiosity and enthusiasm to have these people, most of whom I have never met, share my interest in something and I sought to learn more and write about it. It was around 2012–2013 I really fell into a happy rhythm with my writing. The blog and I were comfortable partners in this and I was confident enough to take chances, like posting outside my strict topics and letting things be more personal.
Time To Get Real
In 2011, I was expecting the arrival of my first child, LB, and writing eight (yes, EIGHT) separate blogs. I knew it was time to adapt or quit blogging. The eight turned into two. I was uncertain if I would continue after baby's upheaval arrival, but I thought I would take it one post at a time. The day I went into the hospital to have LB, I was writing a post about small Irish food producers. My husband took a nap. Obviously, I still had a lot to learn about balancing family and blogging. But I learned it and blogging remains my outlet and my voice in the storm of motherhood, expat life, and identity.
It wasn't until I earned a nomination for Blog Awards Ireland in 2012 that I thought maybe my little blogging lark was a talent and not just a creative outlet. It turns out, it was both. I earned a spot on the Shortlist in 2012 then was a Finalist in 2013. I was shocked and humbled in 2014 when I won Best Arts & Crafts Blog. My mother had just suffered a serious cardiac arrest in the States and I was back there with my family and unable to attend the awards. I was with my cousins when I got a message of congratulations and it was like the air left my lungs for a moment. I was the best? How was this possible? I am a hack! I do this for fun! Keep in mind, this happened a month before the release of my first book, so I was full of nerves already.

To this day, I am so proud of my 2014 win because it is a little sign from the universe that following my bliss and passion results in recognition. That win caught the attention of the marketing folks at Teamwork.com who asked me to join their team and run their blog. Fast forward to 18 months after I took the job and the company blog won Best Corporate Marketing Blog at Blog Awards Ireland 2016 (you can read some of my Teamwork.com posts here). Also that night EvinOK was a finalist for Best Arts, Crafts, and Interiors Blog. I missed that too because AH was just a couple weeks old and I couldn't bear to go to Dublin for a night without him. It was all very exciting and I watched the night unfold via Twitter. My friend Jen kept updating me too.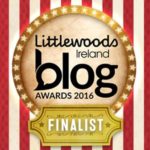 The backstory lays before you and now we are in the present. I learned yesterday that EvinOK is a finalist in two categories this year – Arts & Crafts and Lifestyle. I am honoured and awestruck. My blogging peers know what goes into each post, from idea to go-live, and being recognized means a lot to me.
Putting In The Work
There are late nights, early mornings, and coaxing my five-year-old to hold my phone straight to get a photo of me in something I've created. But it is not just about the resulting posts because, for me, it will always be about the process. You see the final post, but behind each one is hours of work and orchestrating time to do it with two kids and a day job. The ruffled top post, for instance, required three trips to Penney's with both my kids to buy two of the correct size top. I bought a second in the wrong size on the second trip and had to go back. Then during naps, I got out the grown-up scissors and measuring tape to take what I needed from one to add to the other. Sewing it together took two more nap times. Then when it was all done, I had to iron it when no one was home because the ironing board works best in the kitchen (and in everyone's way). After that, I had to coax LB into snapping a few pics of me wearing it, edit the images for exposure and saturation, then put it all together in a well-written post. What do I get for all those hours? On paper, absolutely nothing. But intangibly, I've helped my older son gain confidence in his photography, strengthened my sewing skills, and been reminded never to go to Penney's when school has let out.
When I see the list of finalists this year, in each name I see those hours and perseverance. As a blogger, we are putting in that time behind the scenes and creating something original (hopefully) and informative, while also allowing ourselves to shine through. All these hours for a five-minute read. Is it worth it? Heck, yes. Why is it worth it? Because it makes me happy and I learn new things while challenging myself. But any blogger knows that some days it is exhausting and feels formidable. It takes planning and stick-to-itiveness to write and photograph two posts per week with two kids, six school runs per week, 40 hours at my day job, and all the laundry/dishes/shopping that life demands. In spite of all this, I keep doing it because it is my passion and I enjoy having a group of people that share my interests. That is why it means so much to be recognised for my efforts and achievements by being named a Blog Awards Ireland Finalist for 2017.
My Fellow Finalists
Now, before you go, I really want to talk about my Blog Awards Ireland Finalist peers in both categories! Because if you're here reading my blog, you will probably also enjoy reading their blog content. I have read all of them and written a very brief introduction to each. Please click and read more from each author if it aligns with your interest.
Arts & Crafts Finalists – Out of nine, there are now five.
Cottage Notebook – Nadia's blog feels like you're invited into a friend's home for tea and there is a jar of freshly picked flowers on the table, children playing in the corner, and something handmade in a basket by the window. The photography is gentle and sweet, her writing is a pleasant journey through her slow living philosophy, and her podcast is one of my all-time favourites. She interviewed me last year! Cottage Notebook is a destination blog and podcast for a cottage-inspired creative lifestyle.
EvinOK (that's me!)
Pieces of Aideen – At the core of Aileen's blog is her YouTube channel. She makes her complex weaving and macrame creations feel approachable with her videos. Her use of color against crisp white makes her photography stand out and her incorporation of other craft projects provides readers with a gateway into creating. Pieces of Aideen delivers thoughtful posts with a focus on inspiring texture and vibrant color.
The Sewing Blog of a Professional Stitch Ripper – Charlotte taps into her precise sewing skills while chronicling her journey to a handmade wardrobe. With designer patterns and carefully selected materials, the resulting garments are a feast for the eyes. Her most recent post (Megan Nielsen Briar T-Shirt from 8 July, 2017) has me in awe of the obvious black magic necessary to tame jersey with a sewing machine. Charlotte is well on her way to a handmade wardrobe.
Where Wishes Come From – Each post from Sadhbh brings a glimpse into the creative life she has created with her adorable twin daughters. Her posts range from home style inspiration and sweet Sylvanian toy moments to crafts and the same creative sensibilities that must have inspired her book, Bí ag Spraoi Liom! The candid photography and authentic family-focused content give Where Wishes Come From its broad appeal. Sadhbh offers new and established readers a warm welcome to her blog.
Lifestyle Finalists – Out of almost 150, there are now 11.
Being Brian Blog – Brian offers readers a sincere, sometimes introspective, perspective on his life through a series of posts ranging from identity to adulting. His unique voice gives each one a familiarity that makes you feel like you're listening to a friend. The Being Brian Blog is just that, an unadulterated view of his life through his own eyes. Brian has written posts which are open and authentic in the best way possible.
Champagne in a Teacup – This blog is a life chronicle offering a taste of food, travel, reading, and more. Each post includes well-lit photographs and a sense of enthusiasm for her content while still offering a meaty description of life in the moment. Champagne in a Teacup is a multi-course meal ready for readers to dig in.
CherrySue Doin' the Do – Sue's colourful and bright blog about everything from home and travel to beauty and movies invites readers to a diverse collection of posts focused on the positive and fun elements of life. She shares what brings her joy and laughter in the hopes of spreading it among her readers. CherrySue Doin' the Do has frequent posts with photos, memes, and silliness that will have you laughing right there with her.
Cuddle Fairy – Becky brings her positive outlook to parenting, travel, fashion, and TV through her blog. With a broad range of topics and reviews in her almost daily posts, her approach is decidedly upbeat.
Cupid or Cats  – Jane (pseudonym) lays her personal life, opinions, outlook, and perspective on the table in each blog post. Cupid or Cats brings utter honesty to everything.
EvinOK (that's me!)
Live Lavishly – Carly blogs about all things beauty products, style, and life in her detailed blog. Her in-depth review of fake tanning products is impressive as are her style posts.
Louise O'Connell – With a well-design focus on beauty products, Louise's blog conveys a joie de vivre and passion for her subject matter. Extensive product reviews and style tips bring her readers to the forefront of current beauty and fashion trends in an approachable and well photographed way.
The Fashion Horn – Mary Cate's fun approach to fashion and style transformation gives her blog a lively look. Bright images add to the modern design and sensibilities of her life and style chronicle. The Fashion Horn is dedicated to helping you polish your look.
Totally Ró – In her blog, Róisín shares her bubbly enthusiasm and passion for beauty, entertainment, and life with her readers in an approachable manner. Reading her blog is like hanging out with your girlfriends, with a nice range of topics and always a laugh.
Your Beauty – Andreea approaches blogging to be the posts she wants to see in the world and creates well photographed beauty, cosmetics, and fashion reviews to inspire and inform. Her approach to content creation lends itself to her own personality and love of Dublin. The crisp white design and vibrant photographs lend a flair that is all her own.
More Soon!
I will let you know all about the awards in two weeks! I already have plans to go with a couple other finalist friends, including Nadia of Cottage Notebook, so we can cheer each other on. In the meantime, enjoy my usual twice weekly (Tues/Thur) posts with a couple bonus posts thrown in because I've noticed a slight increase in blog visitors this month and want to show my appreciation to you all.
If you have a moment, please comment with anything from what made your day great to what your favourite kind of posts are on EvinOK. I always love hearing from you.
Also, follow me on Instagram and Twitter for more frequent updates. I am on Pinterest quite a bit and, for some reason, I have nearly 22,000 followers on there who share my obsession with fibre crafts, interior decor, capsule wardrobes, decluttering, Halloween crafts, lunchbox ideas, upcycling, IKEA hacks, and STEM activities for kids.