I expected to welcome AH in mid-September, but instead he arrived in late August. This happens all the time, I know, but it also meant that the hen party I was planning for my friend Sara for the first Saturday in September arrived less than a week after I gave birth. It also happened on the day my milk came in so dressing was a challenge. But looking back to that hen party, it was just what I needed to have a little friend time amidst the first days of sleeplessness and give AH time with his dad and brother.
But the beauty of our crafty pottery painting hen party plan was that it was creating our own bespoke pottery at Crafty Hands in Midleton. This meant I could sit, relax, and not feel like a wet blanket for not drinking. The event was well planned but relaxed. The ladies at Crafty Hands set us up and we chatted as we worked away. We each decorated a custom plaque/plate.
I decided to make a plaque for over my desk in honour of my little publishing imprint, Anchor and Bee.
Here I am with Sara, the lovely bride-to-be who is now wed.
Of course, the bridal fun was not over with the plaque since we then got to wait for it to be fired and arrive a month later. Sqweeeee. But then other wedding preparations to be done kept us distracted (not to mention baby AH). The week before the wedding, Sara and her other bridesmaid and I went for mani-pedis.
The big day arrived and Sara arranged for all the ladies to have their hair and makeup done. I have never felt so pampered and beautiful.
This is what baby AH wore for the wedding. Don't you just love the buttons on his hand knit cable knit cardigan?
Each of us bridesmaids wore a different deep blue dress. Mine was L.K. Bennett Flute Silk Chiffon Dress in Sapphire which I wore with Clarks Chinaberry Pop in Plum Suede shoes. It captured the vintage vibe of the wedding nicely and photographed well – and was flowy and forgiving in all the right places. I tried on dresses in April when I was just starting to show thinking if it fit with a little belly it would work well for a post-baby body that is still recovering. Sure enough, it did!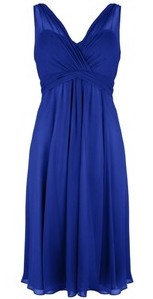 My friend Kay loaned (and later gifted) me her Sweet Dreams shawl to wear for the wedding. It is amazing.
Of course, any wedding in Waterford Castle must be photographed, so here are a few lovely moments from the occasion.
The couple offered quilt squares instead of a guest book! The pieces will be sewn together and used.
It was a memorable event that was both intimate and elegant. One of the best weddings I've ever witnessed from hen party to wedding reception. I think what made it special is that it embodied the couple's interests and was not anything they were not. Authentically authentic.