A beautiful book which brings you the best of cooking, eating, surfing and living life by the coast.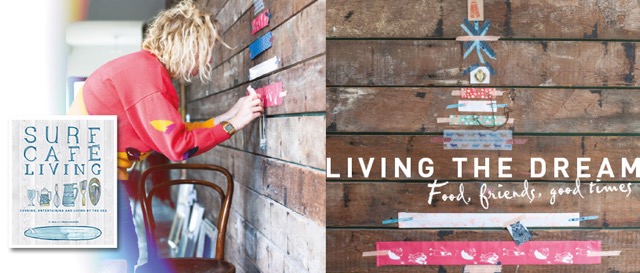 Surfers Jane and Myles Lamberth are living their dream, running a bustling seaside café, creating a gorgeous home and enjoying the coastal lifestyle that goes with it. Surf Café Living is their second book, and here they once again serve up delicious, easy-to-make recipes with an emphasis on fresh, organic, seasonal produce.
After releasing their first title The Surf Cafe Cookbook, Jane and Myles transformed a rundown bungalow into a contemporary beach house. In Surf Café Living, they share a wealth of design and style inspirations along with resourceful ideas for hosting friends and family. This book is all about flavour-filled entertaining without stress. It will inspire you to invite guests around for brunch, throw an impromptu barbecue or take the next step and host a dinner party filled with music, tastes, flowers and friends.
Surf Café Living explores everything from keeping bees to harvesting herbs to sourcing that perfect vintage find for your home. And taking his cue from the changing seasons, talented chef Myles shows you how to prepare mouth-watering dishes such as Calamari and Chorizo Salad, Veggie Noodle Soup, Pan-Fried Skate, Roast Chicken with Salsa Verde, Cola Pulled Pork and Gluten Free Raspberry and Coconut Muffins.
Meanwhile Jane transforms the house with passion and creativity, passing on her tips for style and design in their beach house and garden. From making a deckchair and handmade rug to cultivating your own allotment with instructions from local craftsmen. In these pages you'll learn how to make upcycled cushion covers, inventive party decorations and campfire coffee, too.
This book is dedicated to making your house a home and filling it with great friends, family and – of course – delectable food.
With beautiful illustrations and stunning photography this is a book for  everyone's wish list. All recipes are given in both U.S and metric measurements.
Surf Cafe Living: Cooking, Entertaining and Living by the Sea
 by Jane and Myles Lamberth (Orca Publications Ltd, Autumn 2014)
£17.99
Paperback, 192 pages with more than 400 colour photos (185mm (w) x 240mm (h))