I'm thrilled to be able to share this guest post today by Catherine Bedford of Dashel. She has some valuable expertise and insight into getting a bicycle, cycling safety, and all the relevant matters to consider. As a family who loves cycling together and as individuals, this post is so helpful for us as ew upgrade Optimus to a bigger bike and Bumblebee takes over his two-wheeler. You'll see photos of my boys in this post. Now, very important for my readers in Ireland in terms of road safety. Shorter days are coming and reflective gear is essential (even on overcast grey days!). RSA has a page devoted to Irish road safety for cyclists and you can avail of a free high-visibility safety vest, backpack cover, or armband.
Guest post by Catherine Bedford, Dashel
If you are contemplating taking up cycling, whether for exercise, to avoid trains and busses on your commute or as a new family activity, you are not alone! The increase in take-up of cycling over recent months has been phenomenal! 
But, if you haven't ridden a bike since your own childhood, where on earth would you start in your cycling journey? Here are some tips to help you get back into the saddle after a long time:
1. Get the right bike
The chances are that your old BMX is not what you're thinking of using to restart your cycling journey, so which should you choose? The best way to decide which bike is best for you is to think about what you will be using it for and where you are likely to be cycling, whether on your own or as a family. 
If you are looking for speed, then a road bike, or racer, is probably a good fit. They are lightweight and designed for speed. A tourer is similar to a road bike but is slightly sturdier so if you are likely to use your bike for longer journeys with older children where pannier bags might be useful, for example if you are fishing or camping, this is worth exploring.
Alternatively, if you're considering something a bit more adventurous and fancy taking your bikes off-road, perhaps on forest trails or over hilly paths, then a mountain bike is probably what you need. These have better suspension and thick tyres designed to grip in muddy or loose terrain.
And there is a lot more choice than these, too; the hybrid, folding bikes and recumbent bikes, where you sit in a reclining position. Your bike will be an investment so take the time to research what will suit you best. You can look online but I'd also suggest talking to the staff at your local bike shop to find out what will best suit your needs.
When it comes to cost, like anything you mostly get what you pay for. If you're on a tight budget, do look at second hand, reconditioned bikes. Obviously they are better for the environment but also allow for the fact that children grow fast and need to change bikes accordingly.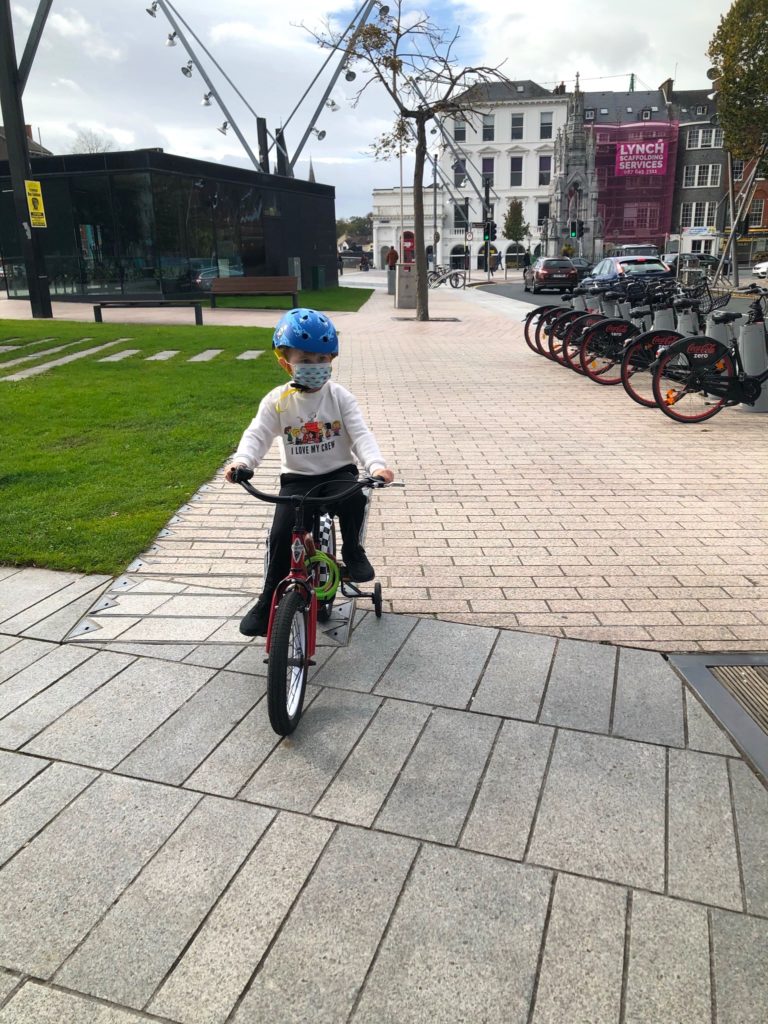 2. Make sure you are safe
Staying safe also needn't cost the earth but do make sure you have the essentials. Starting at the top, helmets are not actually legally required but I do feel it's important because, in the unfortunate event of an accident, it will protect you! If you think helmets mean looking silly, think again. There are some really stylish helmets on the market these days which means you can make a fashion statement while keeping safe. You can also buy helmets made of recycled materials, that can themselves be recycled at end of life.
Visibility is also key. You must have lights on your bike and, if you are likely to be riding in traffic, consider one you can wear on your (stylish) helmet too. This will make you even more visible to 4x4s and buses. Even if you're not planning on riding after dark, it's wise to carry something reflective with you at all times. Who knows, you might enjoy your ride more than you thought and want to go for a bit longer. You don't have to be clad head to foot in day-glow; a simple sash that can be easily carried with you is enough to be sure you are seen.
Gloves are also a good idea, not just to keep you warm in cooler months but they will protect your hands in event of coming off your bike – these are generally the first thing you put out to save yourself. Also cycling glasses are not only good for protecting your eyes from glare and UV rays, they also protect your peepers from wind and rain, bugs and dust.
Finally, I'd also recommend you learn a little bike maintenance so you can ensure your bikes are fit for purpose on a regular basis. Make sure you know how to check the air pressure in your tyres, test your brakes and ensure you have sufficient lube on your chain. Again, a good bike shop should talk you through the basics when you buy.

3. Get the right clothing for your ride
You may be pleased to hear that you don't need to go and buy loads of Lycra before you can get on your bike. Indeed, you can ride in your everyday clothes, up to a point, although you should avoid heavy shoes or loose laces and baggy skirts or trousers which could get caught up the pedals or chain. Wear light and comfy clothes and avoid things like jeans for long cycle rides as thicker denim can chafe after a while. If you already own leggings for yoga or running they'll be perfect.
Of course, if you get seriously involved in speed riding you may want to buy clothes and gear that aid with streamlining. On the other hand, if you're commuting, that is probably the last thing you want to do. Instead, look out for cycling gear specifically designed to transition between bike and office. Not only can you get helmets that don't cause 'helmet hair', there are stylish jackets which look great in a meeting but glow at night when you're riding home. Similarly, there are some amazing shoes out there, perfect for cycling in that really look the part when you are sitting at your desk. Similarly, this gear is great if you are cycling to meet friends for a pub lunch, cream tea or picnic.
And do invest in some rain gear. A lightweight jacket and over-trousers are good to have to hand and a poncho is great for showery weather too.  
4. Find the right route
Consider sensible routes when starting out. You do not want to begin your new pastime weaving in and out of inner-city traffic. Not only is it dangerous to do so without experience, you're highly likely to put yourself off before you start. Try some rural off-road routes to start with. If riding to work or on the school run, ask about and find some quieter routes that go through parks, for example, or beside the river. It may take a little longer but it will be safer and far more pleasant. Also consider the difficulty of your route. Novice cyclists and small children are unlikely to enjoy hilly rides initially and would be much more sensible to opt for easy terrains and low gradients. You can always build up as you gain confidence and fitness. Best of all, use your early days cycling to explore local routes and find some you really enjoy.

5. Avoid the aches and pains
Taking up a new physical activity will almost always leave you with some aches and pains, where you are using muscles that haven't been worked for a while. Unfortunately, cycling has some additional potential discomforts.
You may find that you are saddle sore to start with. Check your saddle is in the right position and, after a while, as your muscles and tendons get accustomed to it, this 'pain in the bottom' will abate. In the meantime, you should stand on the pedals at regular intervals to give you some relief. It may also help to invest in underwear with minimal seams or even some specialist shorts. If the discomfort does not improve you might need to think about a different saddle.
You can also find you have discomfort in other parts of your body; neck, lower back, hands, feet and legs. These are almost without fail due to your position on the bike and the handlebars and seat not being in the optimal position. Again, it is worth asking the shop that you buy your bike from to help you get this correct in the first place or ask advice from friends who have cycling experience.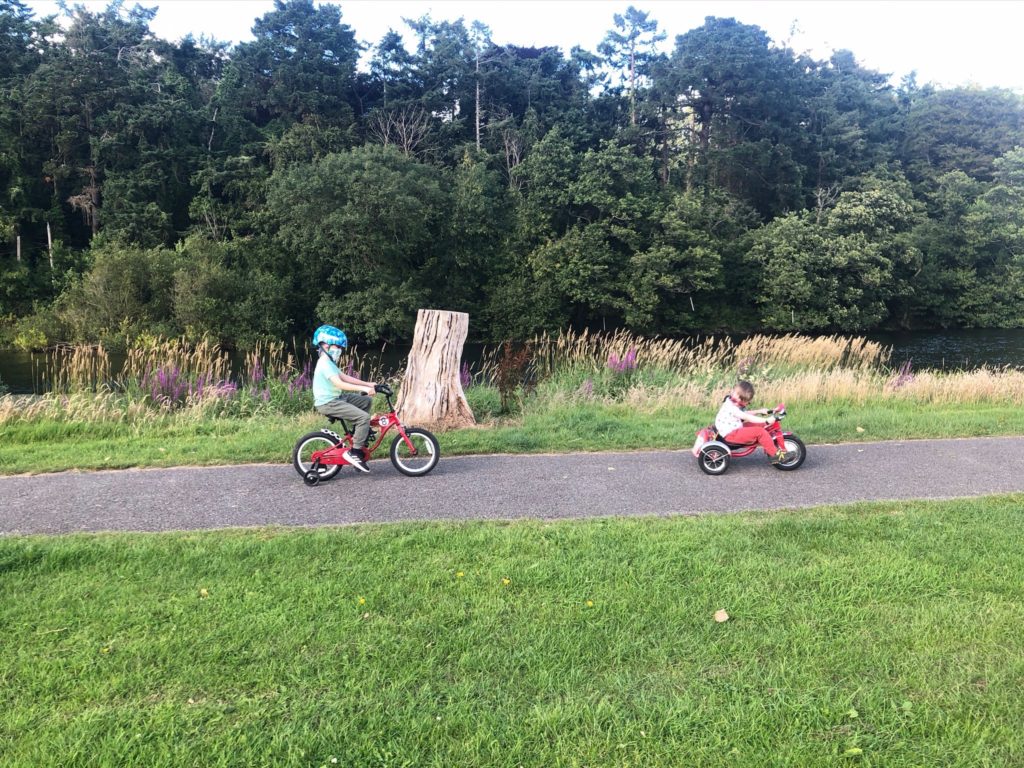 6. Family cycling
When it comes to cycling as a family and take the kids along, there are additional considerations. Again, safety is key. 
With children, as adults, until they are fully competent, I advise keeping them off roads or sticking to safe, quiet roads. Let them gain their confidence and mastery of their bikes. Make sure that their bikes have a bell and that they know how, when and where to use them. Teach them hand signals and relevant points of the Highway Code.
Make sure their helmets are correctly fitted to their heads, put on knee and elbow pads as appropriate and ensure that they are wearing brightly coloured clothes at all times, even if it is a bright and sunny day. If and when you decide to take them on the roads, they will be lower down than adults in the group and, therefore generally less visible. As ever, you need to avoid cycling close to parked cars. Children are also likely to be more wobbly on their wheels and drivers should be aware that they need to give them a wide berth. I've found that children can brake unpredictably if scared by traffic revving past them, which could cause other cyclists to collide with them. So, if the roads are too busy and it doesn't feel safe just walk the bikes along the pavement and try another time when it will be quieter or another route. Councils need to be lobbied to provide safe, segregated cycling now more than ever so that families don't need to use cars to travel with social distancing.
If you're not confident with your children riding independently yet but they are too big for a child seat or trailer, consider a tag-a-long or trailer bike. These are essentially like a tandem but obviously the rear bike is smaller. This is a great way to get your child used to cycling and teach them all they need to know but you are in control of the bike and they can rest on longer rides.
Remember not to get overambitious with your early family bike rides. Start small and build up according to your child's age and ability. There's no point putting them off by asking them to do too much in the early days. I'm certain that, as their confidence and ability grow so will their enthusiasm for new, different and longer routes. You may find you're the one asking whether you can go home soon!
ABOUT THE AUTHOR
Catherine Bedford is Founder of Dashel. Dashel offers a range of slim, ventilated, lightweight cycle helmets manufactured in the UK. With a distinctive urban feel Dashel Helmets are made from recyclable materials – ensuring that they are low impact at the point of manufacture and produce very little waste at the end of life. The new Re-Cycle helmet will be ground down into new helmets at the UK factory when it is finished with. The helmets are portable, sold packaged in a handy rucksack that means there is no superfluous packaging. They come in an array of classic colours. Choose from black, blue, sage green and red. Dashel helmets are £79 and available from all good cycle shops and online at Dashel.co.uk
Instagram: dashelcyclehelmets
Twitter: @dashelcyclehelmets
Facebook: facebook.com/dashelhelmets
Pinterest: dashel cycle helmets
LinkedIn: https://uk.linkedin.com/in/catherine-bedford-b55a883