As part of my series of interviews with hand-dyers, I'm sharing the words of Bernie of Bear In Sheep's Clothing today. After an online friendship and sharing many real-life friends, I finally met Bernie at Edinburgh Yarn Festival 2017. We talked yarn, motherhood, and life. It's always nice when an online friend is also a real-life friend without awkwardness.
Today, I'd like to focus on Bernie's words because her work as a yarn-dyer is vibrant, like her personality. Excuse my crazy eyes (was in the car for two hours before this), but here's a photo of us together at West Cork Yarn Festival 2019.
She shares some fun photos of dyeing, life, and yarn in her Instagram feed, so give it a follow if you don't already. Now, away with the interview itself.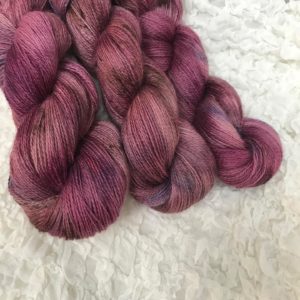 How long have you been dyeing yarn?
What inspired you to make your dyeing a business?
I went to EYF and knew I wanted to be part of that world! The colours, the hustle and bustle! The camaraderie between vendors! I saw so many different fibres that I hadn't seen in Ireland at the time, I bought some Masham and literally fell in love!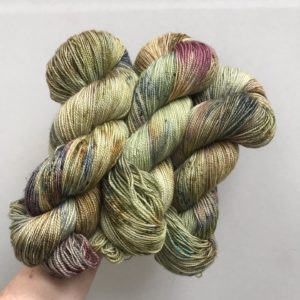 Where did your company name come from?
I've always been Bear, not just my first name… my maiden name was Kerr. (Care bear! Cartoon from the '80's) I love hugs, I'm a protective mama, and it's a play on the fact that we should just wear wool!
What do you like about what you do?
The colour, the freedom… but most of all the craic! There are many days/months of solitary slogging away in the studio but then you pack up all your hard work and bring it to a show and meet sooo many lovely people that love what you do and you feel giddy and proud!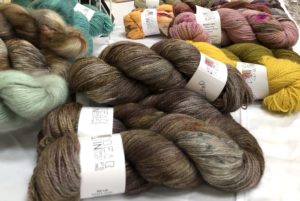 What fuels you in your work?
Customer satisfaction! A banging playlist, coffee and energy bars!
How does your environment inspire your work?
I love the bustle of the city! The moody skies over the hills, the ever changing colours of the hills themselves, the wonderful new peaceful murals bringing Belfast into a new era!
What is your approach to your work?
Happy, and quick! Between school drop offs and pick ups! Next year everyone will be in longer and I'll not know myself!
How do you approach your work on a colorway?
I trust every instinct! I go for it, I write it down. If I'm looking to achieve a specific colour I get my tiny beakers out and experiment! I always use up the dyes I practice with though!
Who in the knitting and craft community inspires you and why?
Debbie Orr
, she built a wonderful business, dyed gorgeous colours and was the most lovely, welcoming person!
What makes a beautiful skein of yarn?
I am more passionate about creating yarn that will make a beautiful FO than how good it looks in a skein!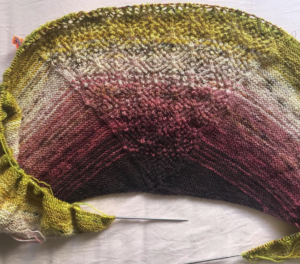 Craft tool you cannot live without?
Stitch markers!! I like to knitflix so stitch markers are invaluable!
Finish this sentence: "When I am not dyeing yarn I am… "
Anything else you want to share or reflect upon?
A calm body of water as I dip my toes in… while knitting of course! 😂😘
Such fun to share Bernie's interview with you. Pop over to her Instagram to see more of her work and words. You can also see her yarn in a pattern in my upcoming Ultraviolet Knits book.