To celebrate World Wide Knits in Public Day 2019, Please join EvinOK & Brunch Cork at Electric in Cork city for a morning of knitting with a focus on creating mini hats for The Big Knit. We previously wrote about this a few years ago.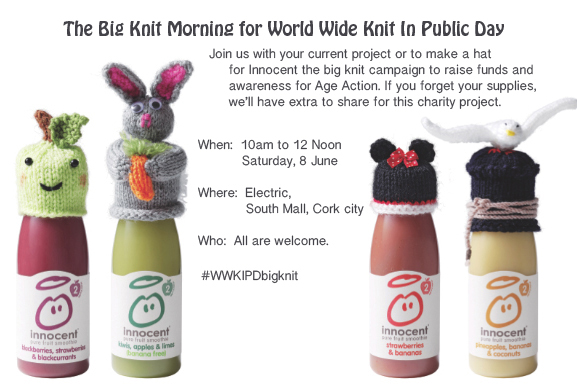 When to Meet
World Wide Knit In Public Day 2019 is on Saturday, 8 June. We will meet at Electric from 10am to 12 Noon.
Where We'll Be
At Electric in the downstairs indoor bar seating area. This venue is accessible, the ramp entrance is on the west side of the building. Seating is in chairs or booth-style benches. Coffee, tea, scones, minerals, and the like will be available for purchase. The event finishes at 12 Noon, when Electric begins serving lunch.
Who Should Attend
ALL ARE WELCOME. Knitters and crocheters are welcome, even if you've not crafted since school days these little hats are a great chance to try to craft again. If you've never crafted before, feel free to come by and see what it's all about.
What to Bring
Bring your own project, or use our supplies and The Big Knit patterns (links below) to knit or crochet a smoothie bottle hat for The Innocent Big Knit campaign in aid of Age Action. If you are on social media, the hashtag for the event is #wwkipdbigknit
How This Helps The Big Knit
We hope that this event raises awareness for The Big Knit and all charity knitting causes. Each hat knit results in €0.30 going towards Age Action. It doesn't seem like a lot, but it adds up. And you can donate funds or furniture more directly here.
From the Innocent The Big Knit website:
The colder months can be tough for a lot of people – as many as 25,000 older people's lives are at risk because of the cold. And we wanted to help.

Back in 2008 we had an idea. We asked some older people, and some younger people, to knit little woolly hats. We put those hats on our smoothies, and for each one sold we made a donation of 30c to Age Action.

The idea snowballed and so far the people of Ireland have knitted an astonishing 490,000 hats. Together we've raised over €150,000, and raised awareness of the great work done by charities like Age Action.
The Big Knit Patterns
Patterns (PDF of apple, pineapple, and watermelon patterns)
2012 guide and patterns (PDF of plain, striped, and bunch of grapes patterns)
Patterns on Ravelry