Before leaping into this post, I want to say that September 11th will always be a difficult day. 13 years later, I'm still not ready to talk about it. So today I thought I would focus on something positive and that is knitting for charity. It is a tiny thing to create a little hat for a smoothie bottle, but for every bottle with a hat bought, actual funds go toward Age Action Ireland. And the hat you end up with can be donated back the next year OR used as an egg cosy. So, let's learn more about helping others because that is what it's all about.
It's that time of year again –– The Irish Big Knit in support of Innocent Smoothies Big Knit. Little hats are made each autumn to sell with individual bottles of their fruity beverages to raise funds for and awareness of Age Action. The mini hats are a perfect project for leftover DK, sport or sock yarn. The 2014 Irish Big Knit deadline is 12th of December 2014 and their target this year is 65,000 hats!
So get knitting! Here are patterns (PDF) and more patterns (PDF)!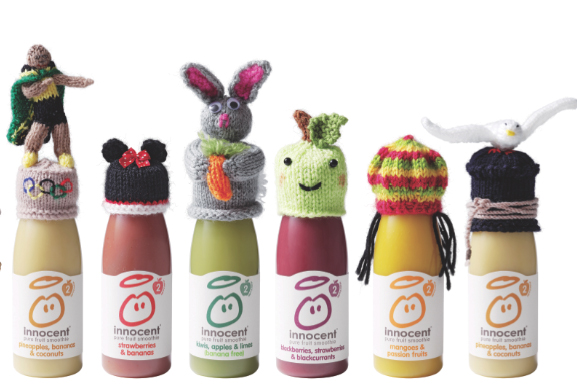 Need inspiration? Check out some patterns from previous years (PDF), 2012 guide and patterns (PDF) and a bunch of wacky, wild and wonderful hats on Flickr.
Here are ones I've made:
I knit these. The pattern works as an egg cosy too!
There is no doubting the success of this campaign. Here is a study done in the UK.