Following the success of Breast Cancer Haven's Big Tea Cosy 2018, the national breast cancer charity is encouraging everyone to once again 'get their knits out' for 2019.
Breast Cancer Haven is inviting everyone to embrace the cold weather, cosy up with friends, and loved ones, and 'make a brew for breast cancer' between 1-31 March 2019:
People can also turn their tea party into an opportunity to get crafty, by hosting a 'Crafternoon' as an opportunity to try their hand at knitting and crocheting and get making in order to help support the charity's visitors of people going through breast cancer treatment.
LoveKnitting is continuing to support Breast Cancer Haven's annual Big Tea Cosy campaign by selling exclusive knitting and crochet patterns, with all proceeds going towards the charity's supportive service. 
Customers buying the range to make at a hosted tea party or in their own time can choose to keep or gift their finished woollen creations to someone going through breast cancer treatment as a sign of support during a difficult time. With a choice of hats, snoods, tea cosies and many more, the limited edition patterns are all specifically designed to provide comfort to those currently undergoing breast cancer treatment.
Six women in the UK are diagnosed with breast cancer every hour, and this campaign aims to inspire people to see what they can do to raise money, as well as reveal what Breast Cancer Haven can do to help. Just raising £40 will help pay for a counselling session to support someone suffering from breast cancer.
For every cup of tea enjoyed, cake baked, and knitting pattern purchased throughout The Big Tea Cosy money is being raised to help people going through one of the most difficult times of their lives. 
The Big Tea Cosy 2018 was a resounding success, with over 60 individual knitted items kindly donated, and visitors throughout all Breast Cancer Haven's centres nationally are now being gifted with these cosy knits this winter, thanks to the generosity of knitters and crafters across the country.
Whether you're a crafting connoisseur or a complete beginner, anyone can host their own Big Tea Cosy tea party or 'Crafternoon', or purchase one of LoveKnitting's lovely knitting and crochet patterns being sold and help aid those in need of the national breast cancer charity. 
All tea parties, bakes, or knitted or crocheted makes can also be shared on social media with the hashtag #TheBigTeaCosy on Facebook, Twitter, and Instagram to show people's support online.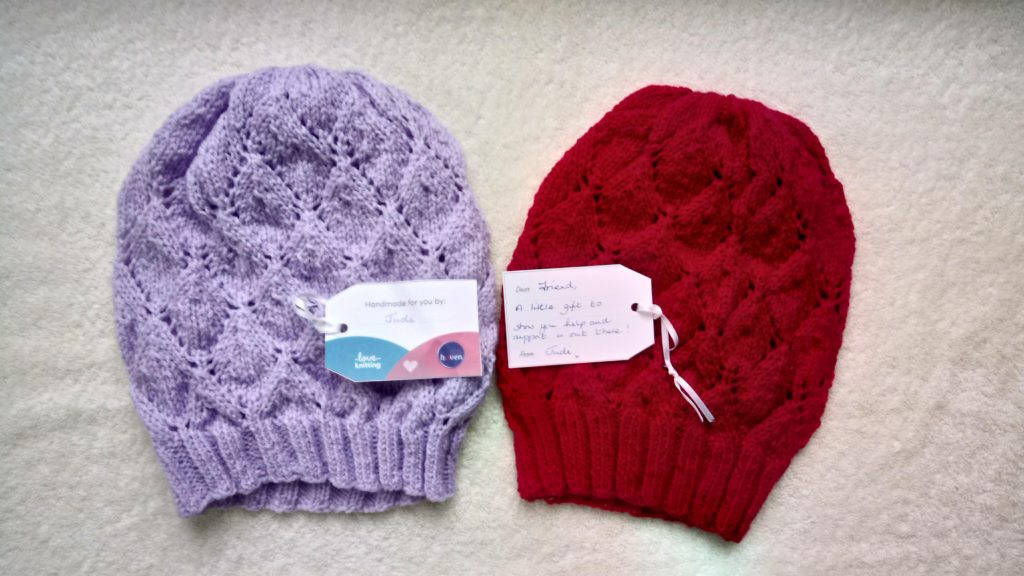 On 28 February 2019, LoveKnitting will also be hosting a 'Come and get cosy' pop up living room in Spitalfields market, where visitors can pop by, enjoy a mini tea party in comfort and knit a small square to be made into a large patchwork blanket, or even make a boob pompom, all for Breast Cancer Haven.
Pamela Healy OBE, Chief Executive of Breast Cancer Haven, said:
"This year's Big Tea Cosy is going to be even cosier than ever as we once again team up with the world's largest knitting supplier – LoveKnitting, and their incredible community of knitters. Our visitors tell us that visiting Breast Cancer Haven makes them feel safe, welcomed and incredibly well-supported, and we think The Big Tea Cosy campaign sums this up perfectly. The added element of again being able to knit or crochet something to give back to someone currently undergoing breast cancer treatment, makes the campaign even more special."
Janet Drury, a Breast Cancer Haven visitor who received one of these donated knitted makes, said:
"I was delighted to receive such a lovely gift, made even more special because it was created in loving generosity to support Breast Cancer Haven visitors like me. I look forward to using it over the frosty winter months."

To sign up to The Big Tea Cosy 2019, and receive a fundraising pack filled with everything to make any tea party or 'Crafternoon' a roaring success please visit the official sign-up form online.
For more information about The Big Tea Cosy or Breast Cancer Haven, please visit www.breastcancerhaven.org.uk/thebigteacosy