Kids love watching people open blind bags on YouTube and adults love watching HGTV home renovation reveals. It's in our nature to enjoy a surprise that we know will be pleasant. Life is filled with the unpleasant kind far too often, so it's no wonder we gravitate towards this little vicarious joys. So, it comes as no surprise that there are blind bags catered to crafters, from Blind Dates by Countess Ablaze to Yarn Calendars. I'll share a bit about my experience and what's available at the moment.
2018 Yarn Countdown Calendars
I compiled a list of 2017 Yarn Calendars for Knitters and the post was so popular, I decided to do it again this year. And if you're looking for the perfect pattern to use the little lovelies, here is my post on Comprehensive List of Patterns to Use with Mini Skeins & Yarn Calendar Sets plus my post about knitting Ambah's ADVENTurous Wrap KAL Wrap-up with Mini Skein Swap Twist.
Now for the delicious list of options, most are on Etsy. I'll write the shop name and link it to the Countdown Yarn Calendar item in their shop. Most are mini skein calendars, but some are stitch markers or the like. Many of the options include a full skein for the final day. Prices start around $60 and go to about $200 with all the bells and whistles. Shipping is usually in addition to the calendar cost. I tried to include a nice variety, but missed quite a few because I'm human. If you have one in your shop, I'm happy to add it here if you comment with the link. I've removed any that are already sold out.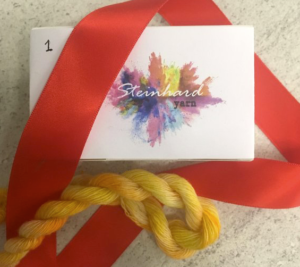 AllWoolThatEndWool (10g or 20g minis – base options, full skein add-on option | US$61.22+)
AppalachianSockCo (25 minis | US$137.00)
AustralianWoolStore (24 10g minis, 1 full skein | US$138.89)
BearInSheepsClothing (24 20g minis in a FADE – base choice, full skein add-on option | US$163.24+) – this is the one I'm buying
ChemKnits Chanukah Sampler (8 5g or 10g minis | US$25.00+)
ClarkAndElle (24 20g minis and 1 full skein | US$135.00)
CornbreadAndHoney (12 to 25 20g minis | US$60.00+)
DagmarEir (24 20g minis and 1 full skein | US$150.00)
Dyetastic (24 20g minis plus 1 full skein and project bag, notions bag, and stitch markers | US$160.00)
FamilyTreeYarns (12 20g Dickens-themed minis | US$61.22)
FireOpalFiber (12 20g minis OR 11 20g minis and a full skein | US$66.00 or US$94.00)
GeektasticFibers (24 20g minis plus 1 full skein | US$160.00)
Giddy Yarns (24 10g minis plus full skein add-on option |)
GrenouilleCo (12 20g minis plus full skein | US$100.00)
HarbourCrochet (24 10g mini with full skein add-on option | US$85.02+)
HippyNoodle (minis | £60)
Irish Fairytale Yarns (multiple options | €170–250)
LittleMouseHouseUK (24 25g sock blanks | US$163.24)
LittleStoneCottageUK (24 20g minis with full skein add-on option | US$142.84)
LowlanderYarnStudios (24 20g minis, 1 full skein | US$185.00)
NicolaLuke (24 20g minis, 1 full skein – base options | US$176.85)
Once Upon a Corgi (24 20g minis | $175)
Qing Fibre (23 2g minis plus larger treat on day 24 | £156)
RainbowFusions (many options | US$129.23–244.86)
RosiesMoments (25 5g minis plus treats | US$40.81)
SeeJayneKnitYarns (25 stitch markers | US$39.95)
SkileyKnitsFiberArts (12 or 24 minis or stitch markers | US$60.00+)
Steinhard Yarn (24 mini skeins – 7 base choices dyed with plants, no chemicals | US$115.32+) – pictured above
StitchLoveByHazel (24 markers | US$47.61)
TheGamerWidows (24 seasonal stitch markers | US$48.80)
TiasTerrificThreads (25 20g minis, 25 progress keepers | US$150.00)
VickiBrownDesigns (10g or 20g minis – base options | US$88.42+)
Yarnatic Studio (24 20g minis | US$78.21)
Zanetto (24 5-10g minis with a 24-part pattern | US$61.22)
There is only one of me and so many hours in the day, so I could not catalogue every single option here, but I am maintaining a list of over 100 woolly countdown calendars on Etsy.
Blind Date with Yarn by Countess Ablaze
I was intrigued when I saw Countess Ablaze share details of her Blind Dates on Instagram. I ordered one since I've never tried her yarn (or seen it in-person) and this was a great way to give it a go. When it arrived, I went on Instagram Live to share my experience opening it. It was The English Gentleman DK. The colorway states "Blind Dates", but on the website, it is quite similar to Take The Pain Away.
Then, I taped my Blind Date package back up and, when LB came home from school, let him open it anew. He is one of those kids who loves blind bags – and even watching kids open them on YouTube (back when we allowed YouTube on our devices). He LOVED the experience of opening a surprise yarn treat and the fact that it was his favourite color (Hulk Smash green, no less) was an added bonus for him. He immediately asked that we go on Ravelry to choose a pattern for it so I could knit him a new winter hat. "Simple but with a design in the stitches." I've got to say, I'm super proud that he asked for that considering its a semi-solid skein. So proud. He also asked me to order more. Stop being such an enabler, kiddo.
Blind Bags & Surprise Treats
Of course, countdown calendars aren't the only way to enjoy a surprise. Here are some woolly treats as close to blind bags as us adults will get. Of course, sock and yarn clubs also do the trick. I'll have to write about those soon.
JoyToTheWoolCo Mystery Mini Skein Set
CandrasYarnParadise Surprise Bag of three sock skeins
CurlicueCreations Cotton Yarn Surprise Box
Darn Good Yarns Mystery Yarn Grab Bag
FlockOnThePlain Surprise Skein
ForTheLoveOfYarnUK Lucky Dip Skein
ForestsAndMeadows Yarn Surprise Box
HandyFamily Amigurumi Supply Box
JoyToTheWoolCo Mystery Mini Skein Set
Luthvarian Surprise Fiber Bag (for spinners)
YarnyCrochetAndMore Surprises Mystery Yarn Box
Yarn Plaza Surprise Knitting Box
What are your favourite surprises?
Note: The featured photo for this post was taken by Margot for last year's post about the ADVENTurous KAL.