Sometimes there is such an allure to try something new, just a tiny bit beyond your comfort zone, but still well within your skills. This project was just that, I ordered the Tibet Jewels Woven Table Runner Weaving Kit from Darn Good Yarns and then I realized there's no way I can make this as a first weaving project, so my friend Marseille wove it using a borrowed 16-inch loom.
The Materials
The kit included the pattern as well as two skeins Darn Good Yarn Tibet Jewels Recycled Sari Silk Ribbon Yarn and two skeins Darn Good Yarn Sport Weight Linen 2-Ply in Cadet Blue. It did not include a loom, understandably.
The super bulky reclaimed and recycled sari silk multicolored ribbon yarn "Tibet Jewels" is made from 100% recycled handspun sari silk ribbon, in rich, vibrant jewel tones. The vibrant and lusciously soft touch fabric of brilliant jewel tones is created by women in fair trade co-ops by collecting the remnants of sari silk fabric accumulated during the trimming of the manufacturing process.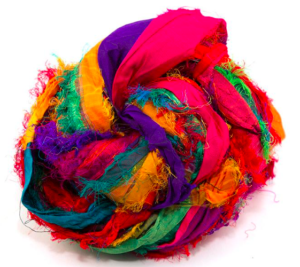 The sport weight linen 2-ply is garment-worthy as it softens with us. It is durable and strong, ideal for a functional table runner.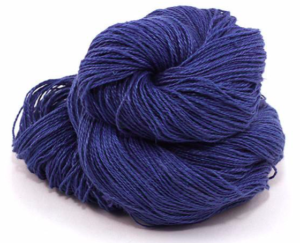 The Design
Though I bought the Table Runner Weaving Kit from Darn Good Yarns as a kit, you can also just buy the pattern alone. Designed by Mary Ballard, the over saturated jewel tones of the sari ribbon play well against the blue linen yarn. Ms. Ballard is known for her design work through her Etsy shop. She studied Fine Art at College for Creative Studies and WayneState University and worked in the fashion industry. The kit doesn't include the essential Rigid Heddle Loom with a weaving width of at least 16", plus the one 8 dent heddle. There's a great interview with Ms. Ballard on the Darn Good Yarns website! 
The Process
The weaving took a couple weeks and could only be done on a portable but fairly sizable loom, so not something to carry in the purse for waiting rooms or train trips. Here are a few photos of the table runner in progress.
Once done, it was time to give the fringe a trim to be even.
The Result
The resulting table runner is bright, vibrant, and soft. Here it is on my great-grandparents' dining table. Finished, it measures 50″ x 14 1/2″, plus fringe.
And some close-up shots. I just cannot get over the rich colors in these two yarns. The sari silk is so vibrant and captures my heart.
I'm loving the varied textures with the 2-ply and super bulky together for this weaving project.
One of the things that seemed appealing about the kit was that it was focused on natural fibers – linen and silk! That is alluring these days with micro plastics. If you want to read more about the impact of micro plastics from the textiles industry on the environment, here is an interesting paper: Quantifying shedding of synthetic fibers from textiles; a source of microplastics released into the environment. Additional related articles in the margin shed light on the domestic washing impact as well. And Mushrump's post, What can knitters and crocheters do about synthetic fiber pollution? And if you're in the mood for vegan yarn or ethically-minded wool, check out this post.