The focus of today's interview is Patricia Shaw aka City Stitchette. She's a New York-based independent knitwear designer who is fortunate enough to bundle up in her own designs while strolling Central Park. She actually has beautiful moments of NYC in her Instagram feed if you're interested (hint hint).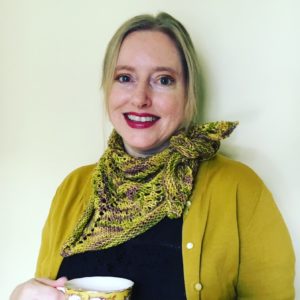 When I see her photos of Central Park and New York City in Autumn, my mind wanders. It is just a seasonal shift, but when the chill has taken over the air and the breeze bears the scent of fallen leaves and you know the scent of roast chestnuts from street vendors will be along in a few weeks, I want to be there in hand knits. Like Charlotte York, if she was inspired after her autumnal visit to Rhinebeck (Note: Kristin Davis, the actress who portrayed Ms. York, actually knits as seen in this photo by Arnaldo Magnani/Getty Images).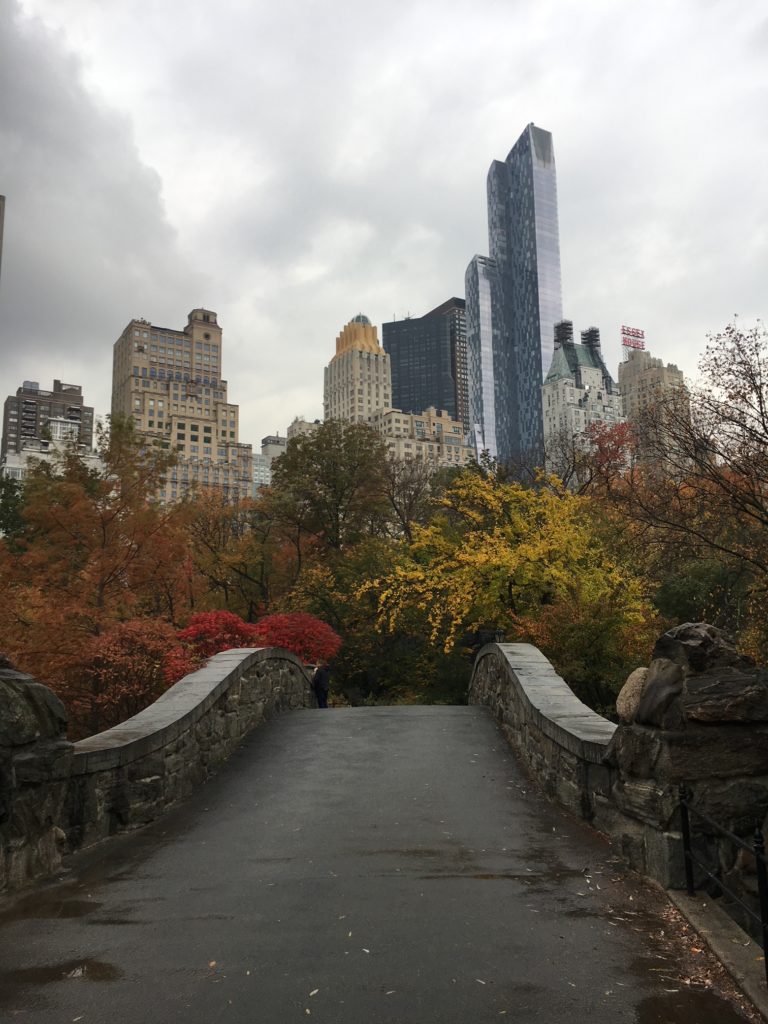 How long have you been designing knitwear patterns?
I've been designing knitting patterns for approximately 10 years, although those first few years were fumbly, and then they became designs that I knit and sold on Etsy. In autumn of 2016, I put my first pattern up for sale on Ravelry.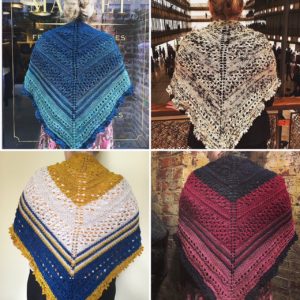 Where did your company name come from?
I've lived in NYC since 1989, so the "city" is ingrained on my style at this point, and "stitchette" because my focus in the past was embroidery and crochet before it was knitting, so I wanted a word that would be more inclusive of other forms of making.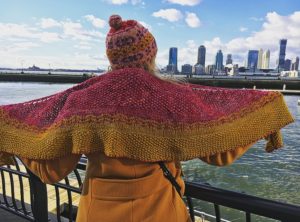 What do you like about what you do?
I so enjoy "playing" with color and trying new techniques and shaping, but one of my favorite parts of knitting is the slow process of turning an idea, a sketch, into a handwritten step-by-step guide of how to create that idea–the mechanics of figuring out a pattern that makes sense with mathematical increases and decreases and such is fun.
What fuels you in your work?
I'm tempted to say pots of tea, but really I'm fueled by curiosity and imagination–a constant curiosity and looking at the world around me on my wanderings near and far plus imagining different colors and textures together.
How does your environment inspire your work?
The energy of New York City is obvious, and the diversity of people and culture is part of that, but there are also layers of nature big and small (from Central Park to the Hudson River, from a hawk outside my window to the bark texture of a tree I walk by every day) that influence me.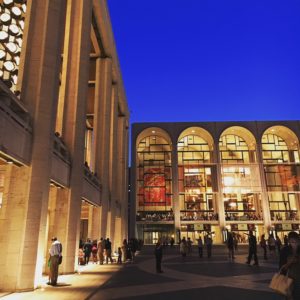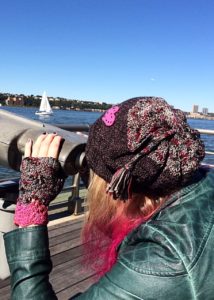 What is your approach to your work?
I have a full-time job, so time for designing/knitting often feels a bit of a sprint. In the past I tried making lists to keep the chaos of jumping from project to project at bay, but this year I started to using a knitting-specific planner (Strickplaner, by Martina Behm, who I called out "Strickplaner!" to in my excitement at seeing her at Vogue Knitting Live in January, #embarrassing). It is helping me think about and keep track of all sorts of goals: year-long, quarterly, monthly, weekly/daily. / Luckily I work near my home, so I can spend a bit of time at lunch working on my knitting ideas or making a yarn store run.
How do you work on a design? Does it start with a sketch or does the yarn talk to you?
My brain kind of jumps all over the place. Sometimes I sketch a knitting pattern idea out of the blue (inspiration comes from EVERYthing), sometimes I become smitten with two or three colors of yarn and I want to figure out a way to put them together, sometimes I have an idea for a cable or texture, and other times I simply want to play with colorwork and stranded knitting. Whichever way the kernel of an idea happens, I always begin with a rough sketch, quickly followed by the charting or writing of a pattern on graph paper (I love graph paper!).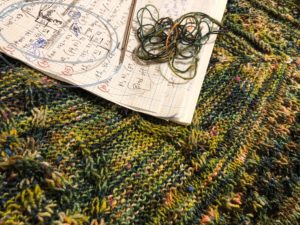 How do you know a piece should be simple or when to include a complex design feature?
In my university design classes, I was more of a "draper" rather than a strict pattern-writer, and it carries through to my designing today. Once I have an initial design sketch, I begin working out the pattern-writing details via an alchemy of math, experience, stitch dictionaries and other reference books, but I really need to see how something is going to look "in person" as it is getting knitted. Some ideas end up being way too complicated and busy looking or suddenly "need" an extra cable detail or eyelet stitch . . . I always end up refining details in a pattern as I begin knitting the initial idea.
What is your favorite item to make?
The past year or so has proven to be an era of shawl knitting for me–they are versatile and entirely practical yet can be things of beauty, whether a solid hap or a speckly lacy crescent.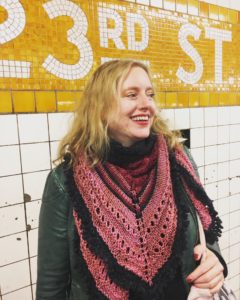 What designers inspire you?
Oh, there are so many talented designers out there! And thanks to social media, I can see the works of creative minds from around the world, both in the knitting world (pattern designers, yarn dyers, teachers, etc.) and beyond it (printmakers, ironworkers, painters, etc.). This is the most difficult question, because I can't list everyone who inspires me without blathering on for ages . . . but if I edit myself to a list of at-the-top-of-my-mind-at-this-moment people, it would include Ysolda Teague, Mary Jane Mucklestone (she helped make stranded knitting click in my brain), TinCan Knits, Pia Kammeborn, Fidlstix (more colorwork!), Stephen West (most inspiring styled photos of color riots), and Caitlin Hunter. (I've limited my list to knitting designers, but I absorb much color and texture inspiration from nature and wandering through the Metropolitan Museum of Art, too.)
What makes a beautiful skein of yarn?
Ooh, that's a trick question, because there are so many beauties out there! I am partial to colorful colors, so I'd have to say a rich hue catches my eye . . . or a soft speckly variegated yarn. Many colors whisper to me, but the ones that speak the loudest are those that remind me of nature (a bird's-egg blue, the acid green of moss on a tree, shades of a golden and pink sunset . . .).
Craft tool you cannot live without?
My sketchpad–it's my starting point and refining tool.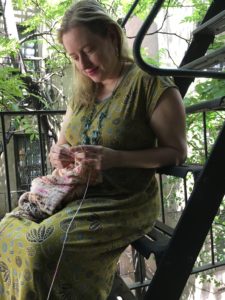 Finish this sentence:
When I am not designing knitting patterns I am… knitting for fun OR working on books (I have a full-time job in book publishing and have a lifelong romance with books).
Inspiration can be found in so many places and through so many color combinations–don't be afraid to explore and experiment. And always swatch!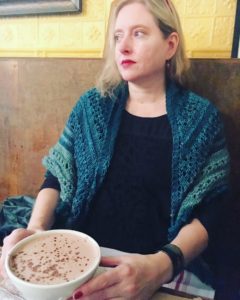 Be sure to pop over to City Stitchette's Ravelry designer page to see her released designs: