I am loving the gingham, stripes, eyelets, and ruffles in fashion right now. They are easily found in cotton and can be applied to many different styled garments for all shapes and sizes. Though, sometimes what the shops offer with these elements is not meant for ALL shapes. I was keeping a watchful eye on what I liked and didn't like about these trends (or popularity of classics, because that really is what is going on here).
I wanted a ruffled top in all cotton that did not expose my stomach if I reached. I looked at a few shops, but either the tops were not all cotton or they were backless or cropped considerable or had the cold shoulder style. Nothing quite right. I was losing hope until I went to Penneys/Primark, where I saw this simple all cotton striped ruffled top.
I found the ideal top, but it was a few inches too short, so I bought two and merged them for a ruffled top refashion project. Now with 100% more ruffles.
Check out these ruffles!
I wore one top for a day to see how much longer I wanted it to be to meet the needs of my everyday life. My friend R agreed it needed to be longer. Once I knew the length I wanted, I trimmed the second shirt's ruffles and set about pinning them into place behind the original shirt's ruffles.
There was a handy little shelf where the torso of the shirt met the ruffled waist, so I decided to attach the second round of ruffles there for simplicity. It would have been just as easy to stitch it directly to the top behind the main layer of ruffles, but I felt like here where there were two fabrics it would better handle the weight of more.
I stitched it into place there on the waist and arms.
The result was very tidy.
I pressed the seams and tried it on. My older child enthusiastically offered to snap my photo.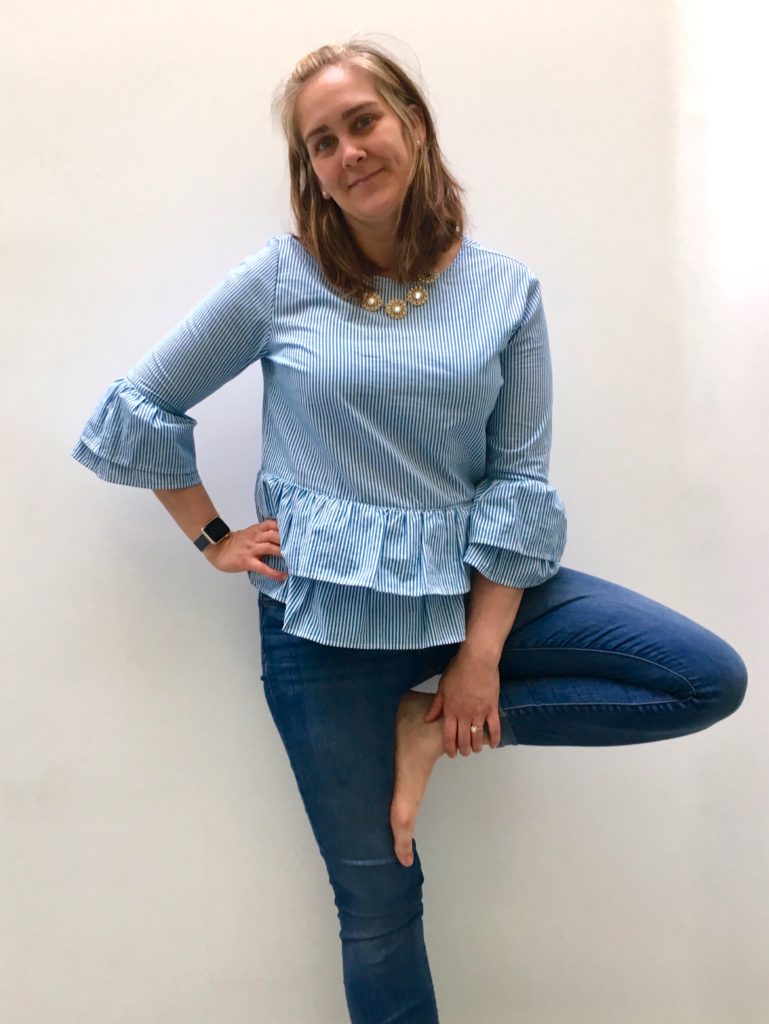 You will notice the sleeve ruffles are closer together than the waist ruffles. This was because sleeves get into things like ketchup and sink water, while the main purpose of this project was to cover my torso modestly so the extra sleeve ruffles were just to reflect that for continuity (and fun).
This is a little blurry, but LB asked me to make my arms like triangles for this shot and it really shows how the ruffles fluff up and have lovely fluidity.
What do you think? Is the shirt improved with 100% more ruffles? The total cost for this project was €22 (two shirts at €11 each). I already had the pins and white thread handy.
If I had not found this shirt, I would have been dreaming of this dress, but it was impossible to find and buy. And dresses are limiting since I wear jeans a lot and Ireland gets chilly, so just as well I found my stripy ruffled top!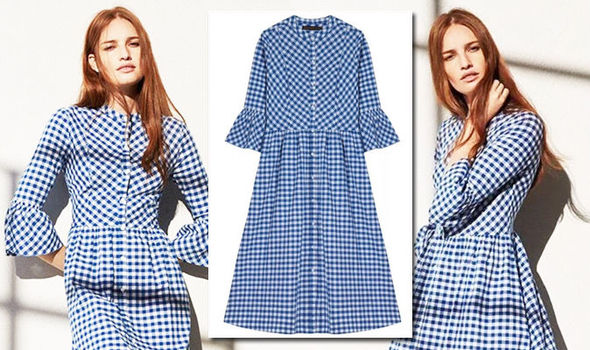 What refashioning have you done lately that made you feel stylish yet crafty?