So, by now you may be wondering why I am writing so much about what my friend Marseille is knitting, so here are the reasons why before we launch into detailing another of her projects. Ok, just one reason really… I only create so much and so quickly, but I love learning about how things are made. Since I can't knit fast enough to share a new project with you more than a few times a year, my friends who don't blog enjoy the chance to have their finished objects (FOs) nicely photographed and spotlighted. And Marseille knits so many diverse, colourful, and texture-rich things.
Now, with that out of the way, let's talk about cables. Today's post is about an intricate yet classic cable knit cardigan Marseille knit for her nephew. Well, it was meant to be for her niece, but you know how kids grow. It was knit in size 6 (which fit at age two). The pattern she followed was Gramps Cardigan by Kate Oates from Tot Toppers. She knit it up with Cascade Yarns 220 Superwash® in Extra Cream Cafe, which is a rich mocha hue.
I used Ysolda's tubular circular cast-on for the arms. Best thing ever! And I used the 'tulips' buttonhole. Very pleased.
Here are plain photos of the front and the back before it was blocked.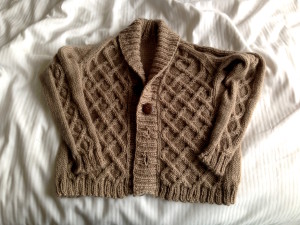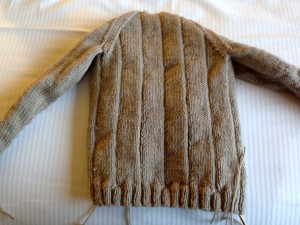 Of course, the real challenge was choosing the perfect buttons.
You can see which ones won.
I did the Knitmore Girls' grosgrain ribbon button band, but I'm not pleased with my sewing skills. I was tempted to rip it out and redo, but didn't in the end because I wanted to get worn sooner rather than risking it be outgrown.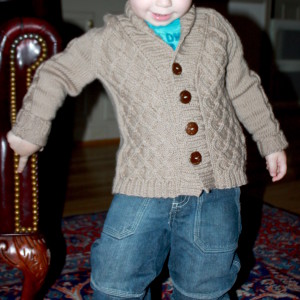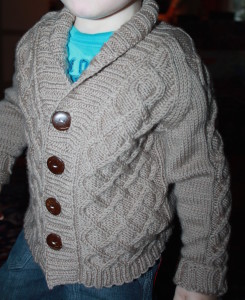 And you may have noticed by now that things Marseille knits tend to win awards at fairs. This one is no different. She was awarded the Blue Ribbon at the Anne Arundel County Fair in September 2013.
What friend do you have that knits things you admire?