Before living in Ireland, I thought Ireland had lots of stews, fish, baked goods (especially scones and breads), beers, and potatoes adorning plates and tables across the country. Of course, after I've lived here for nearly three years, I KNOW that is the case, but that's just the tip of the iceberg. The focus on fresh, quality ingredients on this island is astounding and inspiring. For this reason, I shudder when I hear visitors ask where to find a pint of Guinness or a real Irish dish of corned beef and cabbage – not because those wouldn't be lovely to devour, but because there is so much more to eat here than boiled meats and just one beer. And don't get me started on dyeing beer green! In preparing this week's post, I dug into the Gleason family recipe box to find a hearty winter stew. Its rich flavor goes well with mashed potatoes or just a big spoon. This is the kind of dish that warms from the inside out on a chilly or rainy night and, let's face it, Ireland gets both types of weather fairly often just to keep up those 40 shades of green.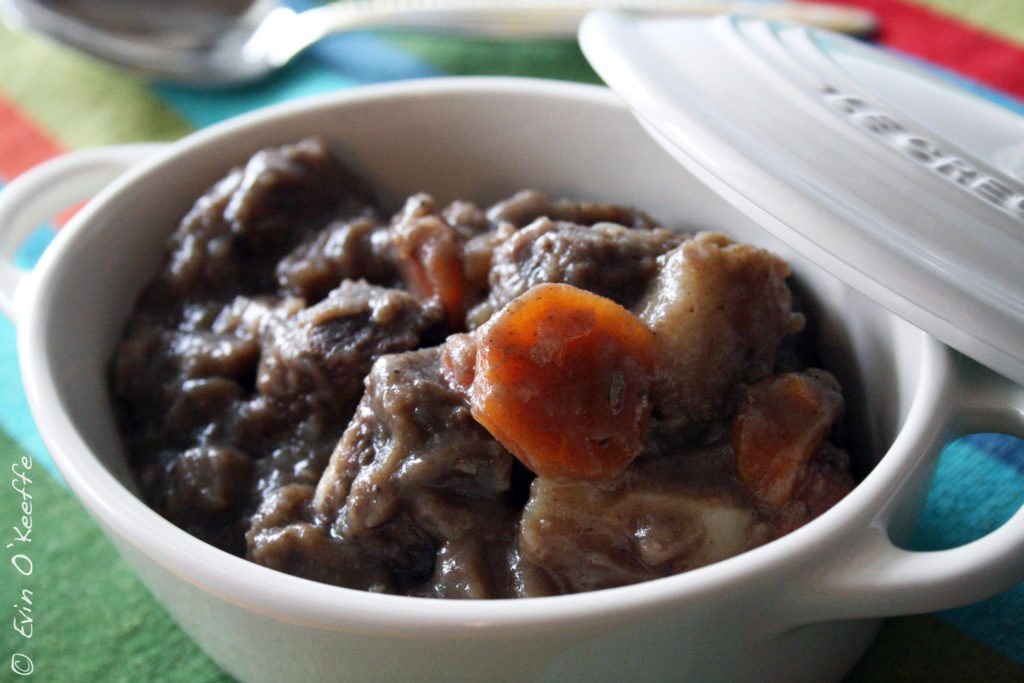 Beef & Irish Stout Stew
2 pound stewing beef, cut into bite-sized pieces
4 tablespoons oil
6 tablespoons flour
1/2 teaspoon black pepper
1/2 teaspoon cayenne pepper
1/2 teaspoon dried thyme
7 tablespoons tomato paste
1 1/2 tablespoon minced garlic
20 ounces Irish stout (Guinness, Murphy's, Beamish,… – I used the craft-brewed Shandon Century Stout from Franciscan Well Brewery in Cork City)
8 small potatoes, quartered
2 cup carrots, cut into bite-sized pieces
1 cup celery, cut into bite-sized pieces
6 ounces beef broth
1. Preheat oven to 250 degrees.
2. In a bowl, sift together the flour, black and cayenne peppers. Coat the beef with 2 1/2 tablespoons oil, then toss with the seasoned flour.
3. Warm 1 1/2 tablespoons oil in a deep skillet over medium-low heat. Add the meat to the pan and brown on all sides. Once the meat is cooked sufficiently, stir in the tomato paste and minced garlic. Cover and heat for 5 minutes. Transfer the meat to an oven-safe dish or casserole. Stir in the potato, carrot, and celery pieces.
4. In the same skillet, pour 10 ounces stout and bring to a gentle boil over medium-high heat. Scrape up the sediment and flavor deposits from the bottom of the pan that remain from the beef. Once the stout begins to boil, remove from heat and pour over the meat and vegetables. Pour the remaining 10 ounces of stout and the broth into the mix. Sprinkle the thyme and stir the meat, vegetables, and stout to blend completely.
5. Cover and heat in the oven for 2 hours. Serve hot.