We bought a few new things this year and are loving them, so I thought I'd share a list of what we spent our money on in 2020, since you know it wasn't travel or dining out. Really, this list is pretty much every single thing we've bought in 2020. Keep in mind, Optimus was very sick in January and recovering in February then returning to school when things shut down here in Ireland, so our 2020 has been very much taking place indoor in restful ways. And aside from some practical purchases, we refrained from buying things.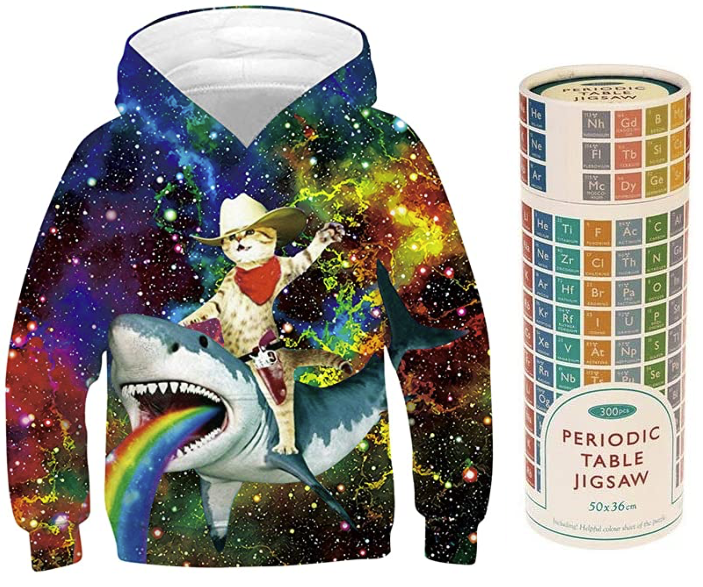 Disclaimer: The Amazon.co.uk link are affiliate links in this post, so if you click through and place an order I may receive a small amount (at no cost to you) from Amazon for referring you. I'd be telling you about these specific things anyway and I earn about £20–30 per year this way which I use to buy Christmas gifts (usually books) for my kids. That being said, if you can please buy from a local or independently-owned shop. Amazon won't notice you didn't buy it there, but your local shop thrives with each purchase.
Cleaning Robots/Gadgets
Early in our time at home, we ordered a robot vacuum and a robot mop. We love it. We didn't realise that the lightweight gadgets also make it possible for the kids to help out with cleaning more! Here are the two main appliances and various supporting items we bought.
Self-Charging Robotic Vacuum Cleaner DEEBOT 500/502
Ecovacs DEEBOT Buddy Kit for N79S/ DEEBOT 502
iRobot Washable Wet Mopping Pads for Braava Jet 240 (2 in a Pack)
At my parents house with all the lovely dog fur my canine sister sheds, I have come to rely on air cleaners so this winter we bought a few Lavieair Portable Air Purifiers (Electrostatic Precipitator with Washable Dust Collector) to reduce dust allergies in our apartment. Helpful and works great.
Gadgets
We created a device limit rule during restrictions that worked well, so we invested in a permanent bamboo docking station to continue this rule long-term. The rule is that you can use a device for your allotted time, but then it gets plugged in to charge – and while charging it is left untouched. This guarantees at least some down time for everyone and no catching glimpses at a device while playing board games or having quality family time. It's a good habit for all of us that we already had, but was challenged with everyone home all the time.
We have two of these Plinrise Animal Desk Phone Stands and love them. Soft and they glow-in-the-dark (the Luminous color option)!
When I was sewing masks or filming IGTV/TikTok videos, I needed standard lighting – especially in the windowless kitchen, so I bought this fab little LED Ring Light. It has a USB plug so I just bring a battery pack or charging plug where I need to film and I'm ready and it's lit.
Part of the device structure this year has included a daily one-hour video game playdate between Optimus (8) and his friend. I got tired of hearing them screaming 'Liam, TP to me!' or 'You killed my dog!' or 'Watch out for the creeper!', so we invested in this Wired headset in Nintendo Switch colors. This also works well for Zoom meet ups.
From beach time to bath time, we are loving this bluetooth speaker that has boombox vibes. My husband has even attached it to his bike for long spins which has proven to work like a bell notifying people he's coming, but also spreading some cheer with music.
How do I not sound completely un-fun when I say that we love our 4 TB My Passport Ultra for Mac Portable Hard Drive? Not sure it's possible. Anyway, it's great storage size for the price and we love that it's Time Machine ready with password protection.
Books
Realising our home library needed better representation by black authors and wanting some more books generally after re-reading ours for months on end, we ordered Vashti Harrison's Little Leaders: Bold Women in Black History Beautifully illustrated, we love reading this book! And her book Little Leaders: Exceptional Men in Black History is preordered for September. She also has Think Big, Little One, which is a beautiful board book for littler ones.
With swimming lessons paused during restrictions and Bumblebee to start them when signups open again, Jabari Jumps is the PERFECT book to open up conversations of swimming and intimidating new big leaps. Author and illustrator Gaia Cornwall has a sequel coming out soon titled, Jabari Tries. Can't wait for that!
A friend recommended The Incredible Ecosystems of Planet Earth and her older son and Optimus have always had aligned interests, so I ordered it and it is one we read bit-by-bit and again and again. The illustrations are beautiful and the perspective is one that shares his passion for environmental protection.
When Optimus was two, he was given Dragons Love Tacos for his birthday and it became a fast favourite. So, when we saw Dragons Love Tacos 2 available with two little stuffed dragon toys, we had to get it. He reads it to Bumblebee while they each hold a toy dragon. The plot of this book involves time travel!
Two Christmases ago, we ordered a couple Vault-X side-loading collector card binders for Optimus's formidable Pokemon card collection and they've held up so well that we ordered another. I love the Pikachu yellow, but we have them in different colours to tell them apart because each set is from a different region (e.g., Alola).
Puzzles
We love the Rex London Periodic Table of Elements Puzzle In A Tube (300 pieces). We bought ours at Vibes & Scribes here in Cork, but it's not showing on their website anymore. It took me and Optimus (8) about 45 minutes to complete this puzzle. It was such fun and great reinforcement for visual learners.
We also got the Crystals Puzzle (500 pieces) from Vibes & Scribes and it's still on their website. We are easing up our puzzle piece counts, but trying to stay within our table size.
Arts & Crafts
After receiving a set of Addi Flexis as a gift from Marseille, I was hooked. They really are easier for me than traditional DPNs, so I bought another set in a size useful for a couple upcoming knitting projects. I am LOVING these Addi Crasytrio Double Pointed Needles in 5mm. This needle size is great for Aran or Worsted weight, I'm using it for a design I have that knits with two strands of yarn at once (one DK and one 4ply/sock). I'll use my smaller set to knit a design with the following yarn…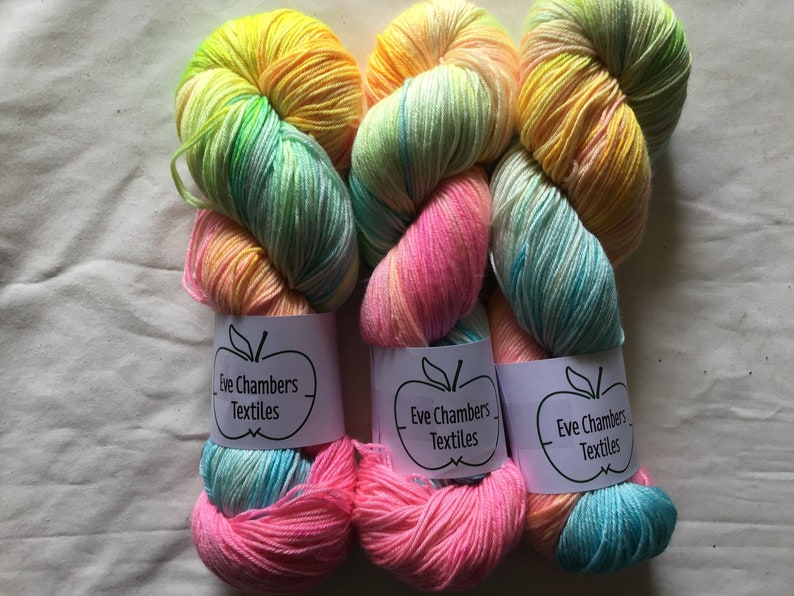 After eyeing this yarn for one full year, I ordered two skeins of Eve Chambers Textiles DK in Miami Vice colorway. I interviewed Eve last year if you want to read about it, here's the link to that post.
After relying on little pins for years, I finally bought a set of Knitter's Pride Rainbow Knit Blockers and I love how much easier blocking has become!
Sock Monkey Craft Kit and Sock Whale Craft Kit to sew your own with a kit that includes everything needed. Sock Creatures is a UK company and it's a fun concept.
For Bee's 4th birthday, he is getting a 12-block watercolour set in tin from Søstrene Grene with watercolour pad and postcards. I'm hoping he will create a set of cards to use as 'thank you' notes when the need arises. If it's no longer showing on their website, you can find a similar set on Amazon.co.uk or at Vibes & Scribes). He is an avid painter and loves his abstract watercolour creations. It goes with brushes we already have and I use the old burp clothes under the water bucket (no messes yet!).
Cooking & Dining
We stayed at an AirBnB one Christmas and were crushing on their LED light-up kettle, but they always were so expensive when we'd see them for sale… until this one – DAEWOO 1.8L Digital Temperature Control Kettle! It's fabulous. There is a safety feature that shuts it off if the kettle is not on a level surface (so make sure the cord is tucked into its nook completely). The light reflects the temperature you've chosen to heat your water to. Lower temp for hot water bottles, higher temp for a crazy hot cup of tea. There's a similar one on Amazon.com if you're in the States and want one. Friends of mine (check out his app Helperbird if you don't already know about it) who got married on Leap Day this year (and honeymooned in lockdown) will be getting one of these when they eventually get back home to the States.
Just before schools closed in March, my husband gave me two new YETI cups. I thought it was silly because I have so many mugs, but these are different. The insulation, dishwasher-safe perfection make them my constant companions. The tall tumbler (similar item) ends up being my cool water or iced tea all day while the short and stout mug-shaped cup with a handle is for hot tea, coffee, mocha, or hot cocoa. The stainless steel lining also means no flavour transfer.
I am used to drinking cold brew coffee every summer when I'm at my parents' house in the States. They don't own a coffee machine, so it's just the way I get coffee and having it be cold is an added bonus in that Mid-Atlantic heat. So, when we realised we'd be here in Ireland this summer, we started researching cold brew makers on this side of the pond. We chose the Asobu Cold Brew Portable Coffee Brewer and it didn't hurt that the 1 Litre size in Copper is so pretty.
Because the thermos that comes with the above cold brew maker is so well insulated, it doesn't make sense to put it in the fridge with the finished coffee because it won't get any colder and we then can't use the thermos to make more. So, we ordered this washable 1-liter glass jug and we transfer the made cold brew coffee to it then slip it in the fridge door. If you get the cold brew maker above, I recommend getting this jug or one like it.
I've searched for a container for iced tea that would fit in my fridge door for a long time. I looked locally for a year to no avail, so I finally ordered this Fridge Jug and it's perfect.
We decided to switch to chilled filtered water back in March and we love it. The Aqua Optima was the best rated one we found and it rests on our countertop not seeming as big as it did out of the box. I empty the used filter cartridges and recycle the plastic, then use the charcoal from inside to make homemade terrariums.
Much like an external hard drive, there isn't much poetry in talking about this 2 Tier Dish Drainer Chrome Rack with Drip Tray, but it's handy and useful and holds up to a lot of use.
It is unreliable to find Love Corn in shops, so I just ordered a box of 10, which cost the same as buying them locally. Not thrilled that I then contributed to pollution with the shipping and made a warehouse worker delivery something during a pandemic, but I was self-isolating or cocooning or whatever it's called, so this worked. Sea Salt is my favourite flavour and Bumblebee loves these so much. Handy to keep in my purse on-the-go because they are nut-free and vegan, so it won't trigger an allergy if we are near someone with a nut allergy. Not that we are near anyone these days.
To limit trips out to the store, we bought a Table Top A+ Energy Rating Freezer early on and would stock up from the local butcher every two to three weeks. This also helped with meal planning.
Sleep & Bedroom
On the longest day of the year, a bedroom curtain rod broke. Yep, broke. On the one day a year in Ireland when there is like 19 hours of sunlight! With restrictions, they've still not been able to make the repair, but thankfully once it happened we ordered this EasyNight Portable Travel Blackout Blind and it has been fabulous, especially to block glare from the home office area of the bedroom. The recommendation for this came from Shauna (aka Uptown Girl Suburban World). Handy for traveling with children and super lightweight. Each panel can be cut to size, so could even be used for camping in the back of a wagon and blocking car window light.
If you follow me on Instagram, you know Bumblebee is not a good sleeper. We are tired and he deserves better rest each night. We've read all the books and tried all the tricks, but still it has been two years of this ongoing issue. I won't go into that here, but the only thing we had not yet tried was a weighted blanket so we are now trying the Anjee Weighted Blanket and it is marginally better. Still not great, but definitely not worse. 
Apparel
My husband chose this cat riding a shark that's vomiting a rainbow hoodie for Bumblebee's 4th birthday. How do you even write that product description? We, naturally, ordered the child's size, but it comes in ADULT SIZES up to 3XL.
Not quite apparel, but perfect neckwear for road trips (or plane trips). I love my trtl Pillow.
As Optimus gets older, velcro shoes get harder to source for his foot size. We love how this set of No Tie Laces from Inmaker wipes clean and is black to blend with school shoes. He also uses them on his regular sneakers so it's faster to get out the door! They come in so many awesome colors too.

My husband has been looking for a tee shirt featuring John Lewis's famous 'good trouble' quote for a while now, but they're harder to find than expected. He ended up getting this one on Amazon. That is problematic because the shirt is made by an anonymous manufacturer/seller and the funds most likely do not go to John Lewis's family or favourite nonprofits. These are the words of Senator John Lewis, but someone else profits from them. Not right. But he ordered the tee while I was still researching alternatives, so we live and we learn and we know to do better next time. RedBubble may be a better option if there is credible artist information.
Storage
These Clippasafe Corner Toy Hammocks are fab for lightweight balls, stuffed animals, or paper mache creations. Up and out of the way!
After nine years, several of my vacuum storage bags broke this past year when swapping winter/summer clothing. So, we invested in a new set and I chose the Vacuum Storage Bag Variety Pack (Pack of 8: 2 Jumbo + 2 Large + 2 Medium + 2 small). Practical for off-season clothing and blanket storage, but also brilliant for yarn and fabric storage.
What products have been your MVP the last six months?