This Field & Sky Pullover sweater is knit flat then adorned with your favorite farm animal buttons. The two-color design allows you to personalise your creation without the effort of intarsia or stranded colorwork. I chose cow, chicken, rabbit, and carrot buttons, but you could select buttons depicting tractors, birds, pigs, or just about whatever the wearer is fond of.  This item is knit flat so you may use whatever type of knitting needle you prefer – straight or circular.
The sleeve length should land just below the elbow, keeping it from being dragged through ketchup and letting a long sleeve tee or shirt layer catch the dirt instead. The wide neck opening means no struggling.
The design is versatile and adaptable to your own vision. Under the sea, outer space, or even a city landscape! Be inspired by buttons you find and love.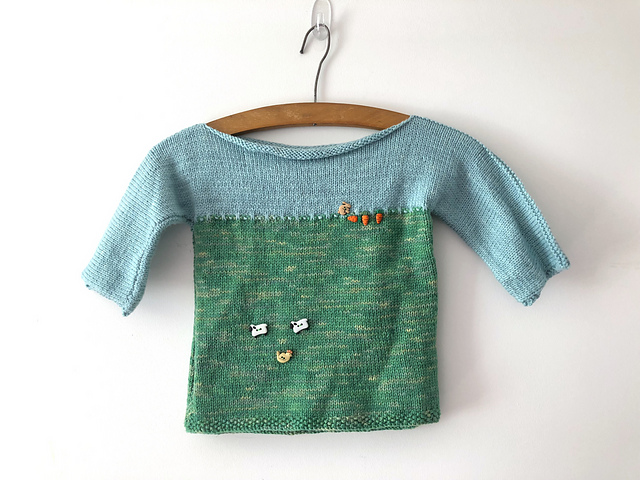 Pattern Available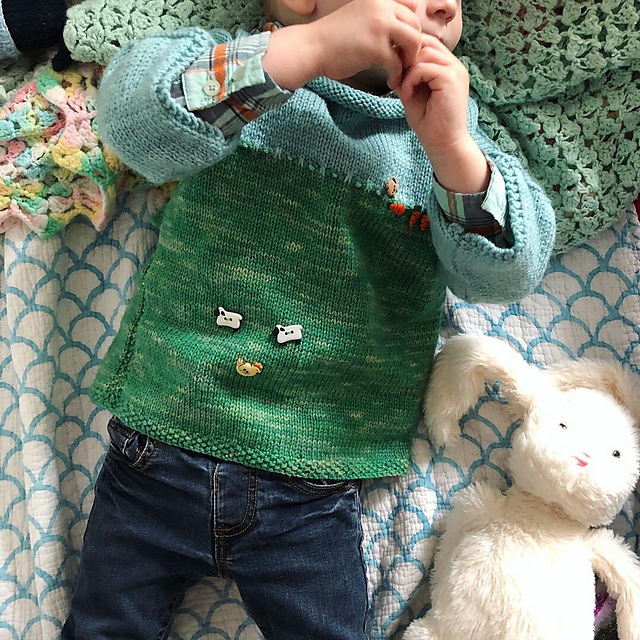 The sample shown was knit by Clare Hamill.
My Field & Sky Pullover design was featured in Country Living in 2018. Perfectly suited given it was inspired by the lush Irish landscape. You can follow along on my knitting designing, baking, and life's adventures on my Instagram account.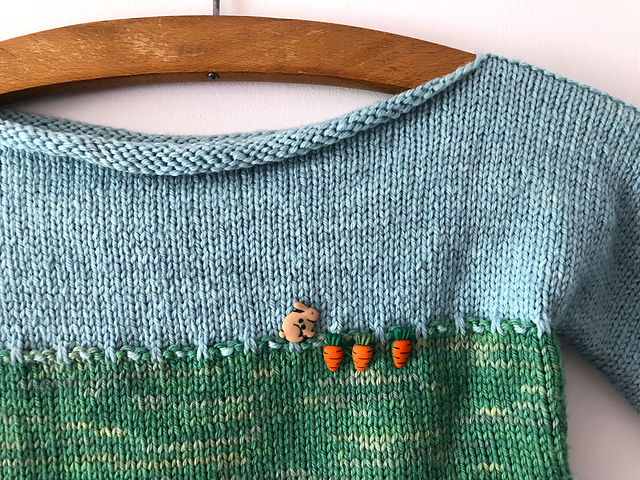 The Yarn
DK in two colors is used for this sweater. Materials for largest size:
246 yards (100 grams) Dublin Dye Merino DK or equivalent weight yarn (CC – green)
247 yards (102 grams) Dublin Dye Merino DK or equivalent weight yarn (MC – blue)
Dublin Dye has since closed to focus on other pursuits, but there are many other talented hand dyers in Ireland who make beautiful DK weight yarn for this project. I love the idea of using a natural fibre for this, not acrylic.
Sizes & Measurements
Sizes: Preemie (0-6 months, 6–12 months, 12–24 months, 2–3 years, 4-6 years)
Final garment measurements:
Preemie: Torso circumference = 14"; Length from neckline to hip = 8.5"; Armpit to below elbow = 3.5"
0–6mos: Torso circumference = 18"; Length from neckline to hip = 9.5"; Armpit to below elbow = 4.5"
6–12mos: Torso circumference = 20"; Length from neckline to hip = 10"; Armpit to below elbow = 4.5"
12–24mos: Torso circumference = 22"; Length from neckline to hip = 12"; Armpit to below elbow = 5.5"
2–3 years: Torso circumference = 24"; Length from neckline to hip = 13"; Armpit to below elbow = 6.5"
4–6 years: Torso circumference = 29"; Length from neckline to hip = 15"; Armpit to below elbow = 8.5"
The Country Living Baby Knits Series
In early Spring 2018, Country Living of Irish Farmers Journal featured a four-part series with original baby and child-focused knitting designs by me. The four designs in the series were: