I recently went to West Cork Yarn Festival and fell for the beautiful quilted bags made by Caroline of House of Nanoo. There wasn't one bag that just spoke to me, but I saw two fabrics that made me so happy and Caroline said she does custom orders.
About House of Nanoo
Caroline always loved sewing and used to make clothes for her eldest children when they were small. Then in 2015, she got the bug again when a batch of grandchildren were expected.
"I never made a quilt so thought I would try it and made the first one for my granddaughter, Mila. After that, I got the bug!"
Caroline explained that bags were a spin-off of her quilts because they are quicker to make compared to a quilt, so a nice balance.
"I searched for the perfect pattern for a while until I found it. It's such fun finding fabrics to match each other."
And after seeing her fabric options and combinations at West Cork Yarn Festival, I must agree with her!
My Custom Order
Within a couple weeks of meeting Caroline and placing my specific custom order by email, she made it and shipped it to me. Of course, I got a teaser by seeing her post photos on Instagram as she was making it! These photos are hers from her Instagram account.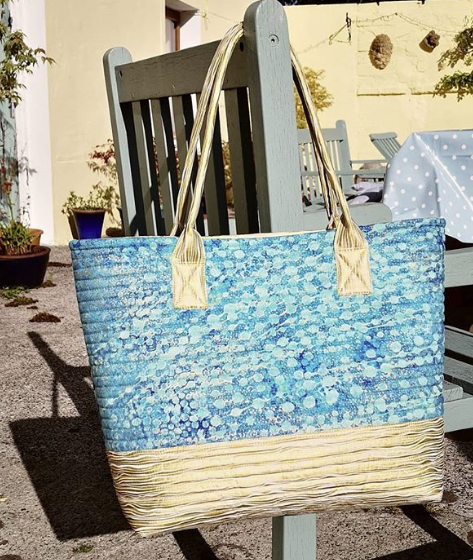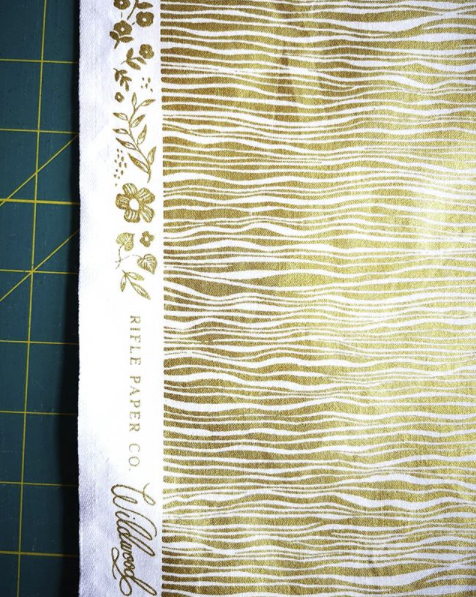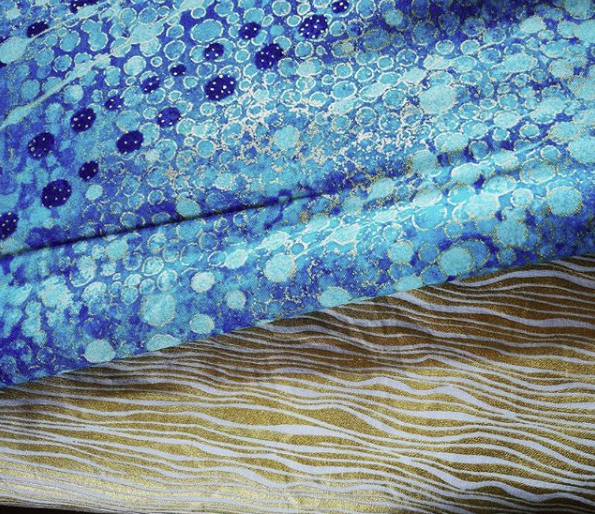 When it arrived, I found it was even more beautiful than I could have anticipated. Here are the final photos.
I love the very organic vibe of the two fabrics. The blue reminds me of rain dancing on a lake with golden sun glistening on the edges while the gold wood grain is just AWESOME.
Shiny!
Now, as a mom who compromises a lot to keep up momentum or peace in life, I don't often get 100% what I want. This was a surreal and lovely opportunity to choose what I desire and have it be exactly what I want. So this tote is an instant and useful favourite. Pretty and practical? That's a win!!!
Each week when I go to knitting, I tend to carry my knitting in whatever canvas grocery tote I can find or a knitting shop bag if one is handy, sometimes it gets stuffed in my purse. I really wanted a bag that was ALWAYS for my knitting. Like its own little HQ. This tote will serve exactly that purchase.
The fabric combination is lovely with the gold unifying but also the horizontal stitchwork bringing an elegant cohesiveness to the bag's design.
The handles are slender yet soft and comfortable. Really ideal.
The lining is entirely gold wood grain WITH POCKETS. It is bright and brings light to a space that often feels dark. Let's face it, the inside of a bag or purse can be a bit like a black hole. But not this one!
If this is something you need in your life, reach out to Caroline and/or follow her on Instagram because not only does she sell these beautiful quilted bags and take custom orders, she also makes the most intricate heirloom quilts (baby gifts!).