I love Valentine's Day! I always have. Growing up, my mother always gave my father something red (usually a necktie or a sweater) and she would cover a shoebox with heart paper to receive school Valentine cards. Today, I'm sharing a craft and two recipes which I wrote it from a family perspective (and with family-sized portions), but it is enjoyable for friends, couples, or roommates too!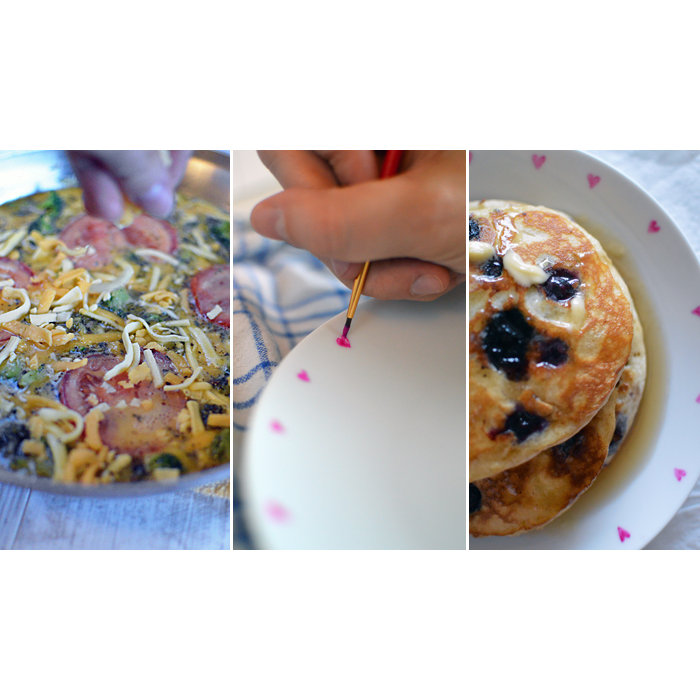 From a young age, I thought Valentine's Day was about love – all love, not just roses and romantic notions. My earliest memories of Valentine's Day are homemade. I'd wake up to enjoy a slice of broccoli frittata since adding broccoli to anything would nearly guarantee I'd eat it then my mother would send me to school, equipped with a shoebox carefully wrapped in heart-print wrapping paper with a wide opening in the top in which my classmates would slip valentine cards. I would open my lunchbox to discover my sandwich was cut in a heart shape. After school, we would draw hearts and designs on paper plates then use them for dinner that night when mother would make blueberry pancakes. Pancakes for dinner was the ultimate treat, not just reserved for Mardi Gras or Shrove Tuesday. Years later, I have my own family and we have continued my parents' traditions, which I'm now sharing with you!
photo by JeffreyW
Broccoli Frittata
To make my mother's frittata, you need the ingredients plus an oven-safe pan or a pie dish for baking and a plate or slate for serving. I used my trusty mixer for all the mixing to save time and lessen potential mess.
Unlike its cousin the quiche, frittatas do not have a crust – This makes them ideally suited for a gluten-free meal. My recipe is vegetarian, but you can include lardons if you wish (add them with the shallots). Refrigerate any remaining portions and reheat the next day for an easy breakfast!
Frittata Recipe
2 tablespoons olive oil
1 cup broccoli florets, cut into 1/2-inch pieces, at room temperature
1 tablespoon shallots, chopped finely
6 large eggs
3/4 cup shredded cheese (or 75 grams) (I used a blend of cheddar & mozzarella)
Salt and freshly ground pepper, to taste or 1/2 teaspoon each
1 teaspoon dried thyme leaves
1 tablespoon butter
shredded cheese for serving
1. Preheat oven to 400F degrees.
2. In a 10-inch oven-safe skillet, warm the oil over low-medium heat.
3. Add the shallots and cook for 1 minute. Mix in the broccoli florets and stir the mix for 5 minutes then turn off the heat.
4. In a mixing bowl, beat the eggs. Then fold in half of the cheese and mix completely. Sprinkle in the salt, pepper, and thyme.
5. Transfer the shallots and broccoli to small bowl for a moment as you melt the butter and add a little more olive oil to the pan, use a silicon brush to lightly coat the bottom and sides of the pan. Transfer the broccoli mixture back to the pan to evenly cover the bottom. Gently pour the beaten egg mixture over the broccoli and shallots. Top with almost all the remaining shredded cheese.
6. Bake the pan uncovered in the oven for 20 minutes. Serve warm. Garnish with any remaining shredded cheese.

Hand-painted Plates
To design your own dishes, choose food-safe porcelain paints and untextured white china plates (or non-toxic markers and paper plates). Porcelain paint is available from most craft shops and online stores. Choose food-safe paint that sets with baking. Use a fine-tip paintbrush for your work if you want something delicate, or a large wide brush and sweeping motions for a bold design.
How To Paint Your Own Plates
1 white plate for each artist
2 to 4 porcelain paint colors (or non-toxic markers if using paper plates)
paintbrushes (for china only)
clean damp washcloth for wiping away mistakes (must be done before they dry on the china)
oven (for china only, must be used by an adult)
1. Set out the supplies on a well-lit table covered with a layer of yesterday's newspaper or an old sheet. 
2. Decide on your design and start to outline it. Or just jump in and see where inspiration takes you! If you are right-handed, work from left to right. If you are left-handed, work from right to left. This reduces the chance of smudging your work with the heel of your working hand. Designs are best on the edges of the plates so they do not become damaged by knives and forks scraping across the centre of the plate with normal use.
3. Once your design is complete, set aside and let dry for at least 5 hours (or overnight, if possible). If you have created your design on paper plates, this was your final step before you enjoy dining on your custom dinnerware! For porcelain paint, this drying time is necessary. If you bake your plate too early, the wet paint will run and your design is not as you intended. Your paint package will specify how long that specific paint brand requires to dry (or "cure") before the final baking to make the paint more permanent and dishwasher-safe (usually top-rack only).
4. To set the porcelain painted designs on your china plates, preheat the oven to the temperature specified on your porcelain paint packaging. Bake the plates on separate oven racks for the necessary time then turn the oven off and leave them to cool inside the oven. I like to give the plates a quick hand washing with liquid dish soap when they are cool before using them for food then enjoy!

Fluffy American Blueberry Pancakes
You can make this ahead of time and store it in a sealed container in the refrigerator so that it will be ready for breakfast each morning.
Pancakes Recipe
1 3/4 cups (or 220 grams) all-purpose flour
2 teaspoons baking powder
1 teaspoon baking soda
1/2 teaspoon salt
3 eggs
5 tablespoons (or 56 grams) white granulated/castor sugar
1 1/2 cups (or 360 ml) buttermilk
1/2 cup (or 119 ml) milk
6 tablespoons (or 85 grams) melted butter
2 cups fresh blueberries (or defrosted frozen)
Butter and maple syrup for serving
1. In a mixing bowl, whisk together flour, baking powder, baking soda and salt.
2. In a separate mixing bowl, lightly beat the eggs then add the sugar, followed by the buttermilk and milk. Fold in flour mixture then add the melted butter. The batter should have a smooth consistency and pour well without being too runny. If it is too liquid, add a tablespoon of flour and stir to blend. At this point, you may pour the batter into an air-tight container and store in the refrigerator until ready to cook (up to 48 hours). 
3. Heat a non-stick pancake pan over medium heat (level 4 of 9 works best with the pan I used, link above). Using a ladle, spoon the batter onto the hot pan to create a circle about the size of a scone. Any larger, it becomes challenging to flip over. Let the pancakes cook until you see the first bubble appear in the batter on the top side, then drop on the blueberries. Let the pancake cook until more bubbles appear and the batter appears to have lost its moist appearance. This can take a few minutes from the Then carefully flip the pancake over and let cook for at least 1 minute. You can peek to see if the bottom has cooked. There is no perfect formula for pancakes (such as, two minutes on each side), it takes attention and peeking for a successful outcome, but in time with the same pan and stove, you become an expert!
4. As each pancake has a light golden appearance on both sides, remove it from the pan and set aside on a warm platter. Serve immediately dotted with room temperature butter and warm maple syrup.
The best part about love is sharing it and I've found that creating and sharing a meal together is one of the happiest ways to celebrate togetherness. No matter what you make together, it is special to share it as a family, or group of friends.