Thanksgiving was a whirlwind of activity this year with my piece in the Irish Examiner and a spot on the RTE Today Show! I was honoured to be included and delighted that Thanksgiving was receiving such warm attention. It is a charmingly simply holiday known for its feast and family focus. If you didn't have a chance to see me on TV yesterday, here is the RTE Player online viewing link. My segment lasts about four minutes at the 30-minute mark of the video.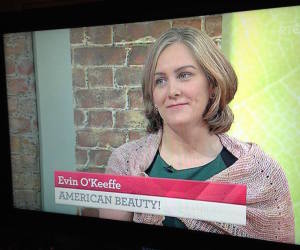 And here's a link to the Irish Examiner article I wrote about the holiday and what it's like to celebrate so far from family, home, and big ovens that can roast a 30-pound turkey.
Of course, the fun didn't stop there because to celebrate the holiday, there was a big feast thrown by the Cork International Hotel (by Cork Airport) where American chef Michael Lamothe. Here is an article about the very special event here. And below is a photo of my plate (round one).