Charity shops here in Ireland have such a wonderful variety of clothing, books, DVDs, and tableware. It is what inspired #PlateWatch on Twitter and Instagram.
Since moving to Cork nearly five years ago, I've acquired some real treasures in my regular browsing of local second-hand shops. Our mid-century modern TV console was €60 (including delivery to our living room) from the Irish Cancer Society. Sometimes small finds are a delight though, like when I found a Cath Kidston teddy bear (with its tags still on!) for just €3. Ah, thrift shop glory stories!
So, when Young House Love wrote a post inviting readers to join in their The Macklemore Thrift Shop Challenge, I was in!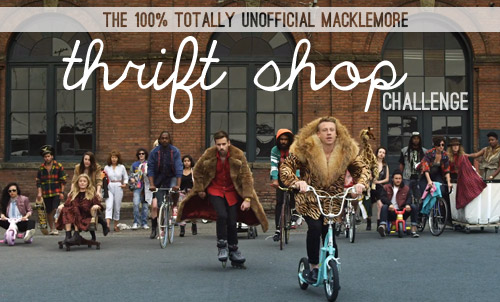 After visiting Irish Cancer Society on Coal Quay and on Castle Street, plus the Oxfam Book Store on French Church Street, I returned home with this, having spent €14 total.
Want details on why I spent my money on these particular items and why I think it was worth the expense?
Baby boy pullover sweaters (aka 'jumper' in Ireland), one with a train on the front and the other with a penguin (which you can  see here on Pinterest). Brand is Mini Boden and it is a cotton, poly, cashmere blend. I hand washed them and hung it dry and it fits perfectly. Very soft, lightweight and warm without being bulky. Mini Boden is a good brand so I'm thrilled with these finds. Based on a similar style on their website, the original price would have been around £24 ($37) each – $74 for both. What do you think I paid for each jumper at Irish Cancer Society on Castle Street? Are you sitting down? I paid €1.50 each! That's €3 ($4) for both jumpers, plus a little time washing them with care.
Here is LB sporting the penguin one at lunch upstairs in Electric this week for Margaret's birthday. He's in Belle's lap. Kate was also there. The sweater is labelled for 6-9 months but hanging it to dry made it perfect for 14-month-old LB.

This kitschy vintage Carrigdhoun Pottery mug with a map of Ireland and a gold-painted cup brim was very dirty and grimy when I found it at Irish Cancer Society on Coal Quay. I thought, at the worst, it could be a place to store hair ties on my dresser. But with a little scrubbing, the cream pottery showed up and the gold gleamed. It is in perfect condition and appears to never have been used. It actually is identical to this one available on eBay for $19.99. However, I paid just €1 ($1.36) for mine.
Then at the Oxfam Book Store on French Church Street, I spotted a gently used copy of LEON: Naturally Fast Food
. Available new for $19.99 or used starting at $14.99 (possibly not including S&H/P&P). Which is fair considering I paid €10 ($13-ish). A little TLC with Goo Gone
(a favorite product since my days working at Leigh's Favorite Books).

Grand total spent was €14 which at today's exchange rate is *drumroll* $19. Phew, just under the $20 in my pocket. The biggest expense was the book. The cheapest item was the mug. Interesting, I think the two Mini Boden jumpers for LB will get the most use because he goes through two outfits a day (plus PJs). Had I bought these four items through Boden, Amazon or eBay, I could have spent upwards of $110. Did anyone else do the Macklemore Thrift Shop Challenge with Young House Love?
Oh, and funny story. I ended up donating some things to the GORTA charity shop this week and when I went to drop the bag off, I ran into my friend (fellow expat) Sabrina who was chatting with Tess and Patrick. I couldn't stop staring at Patrick's scarf and remarked it was just like one my husband had (bought in Barcelona) before I accidentally donated it to a charity shop in the pre-baby clear out. Wellllllll, same scarf. Cork is a very small world indeed.
Your turn! Tell me if you think I overspent or what your favorite items are or which shops you adore in Cork.
I visit second-hand and charity shops all the time so I think this is the first of many weekly posts. Previously Loved Finds Friday!!!