I was delighted to get to interview Yoriko Oki of Fibre Art Studio. She is based in Vancouver, British Columbia. The region is already known for its stunning scenery, but if you've seen Yoriko's Instagram feed you know she is creating woolly beauty in her studio. I'm honoured to be featuring one of her yarns in a pattern in my upcoming Ultraviolet Knits book.
As you know by now, my interview series is all about sharing my platform with others, so now I'll move onto Yoriko's own words and photos (all images © Yoriko Oki)…
How long have you been dyeing yarn?
What inspired you to make your dyeing a business?
It was originally a very serious hobby because so many people told me that it would not be possible to make living with textile/fibre art. Then, my husband suddenly became very ill 5 years ago. He had an overnight emergency surgery for a heart-related condition and almost died that night. As he was heading to the operation room, thinking that he wouldn't make it through, he said that he had a good life. Those words made me think… Would I be able to say the same if I were in his position? I had to look at the fact how unhappy I was working as a freelance translator. So, I have been making conscious changes to my life to make myself a happier person since then.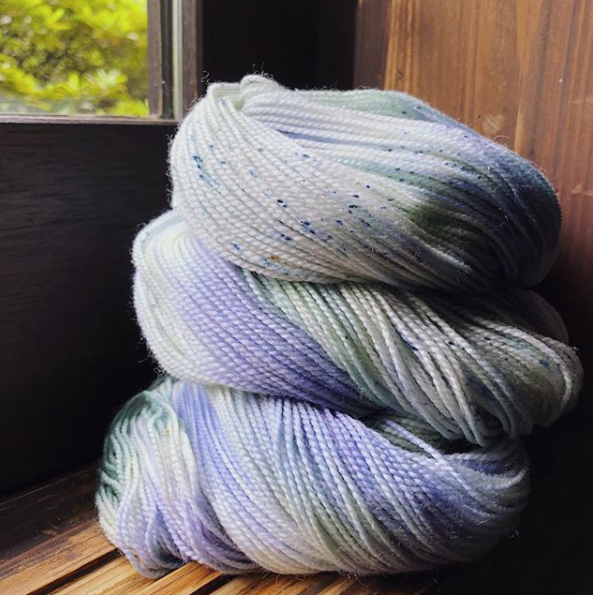 Where did your company name come from?
It is a name of my shared studio. So, the name was already there when I joined the studio.
What do you like about what you do?
Flexibility is a major factor. Because my husband is now disabled and at home all the time, I would like to keep him company by working at home. And, working with dyes/fibre/yarn is almost mesmerizing! I can spend hours at a dye pot, and even more hours working with the yarn I dyed. I just love it.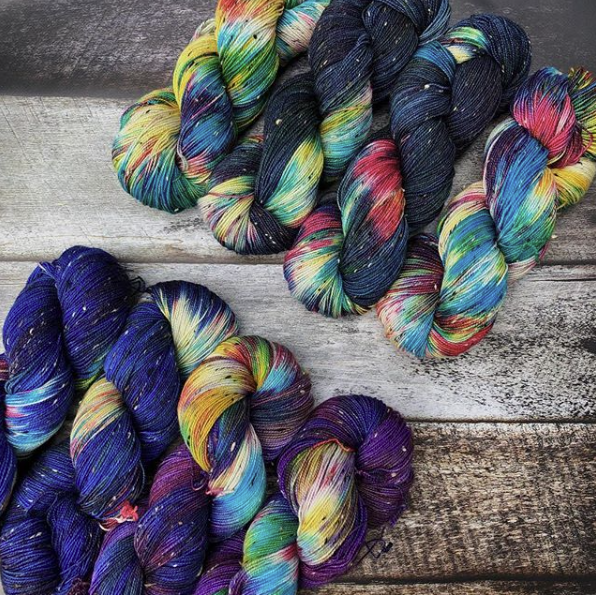 What fuels you in your work?
When I feel the connection with my customers. I realize that selling yarn is not just selling physical goods. There are all sorts of emotions – excitement, love, care, etc, attached to the yarn. Often, customers are knitting gifts for their loved ones, or a special sweater/shawl/hat to keep her warm. I love hearing those stories and receiving the pictures of their finished projects!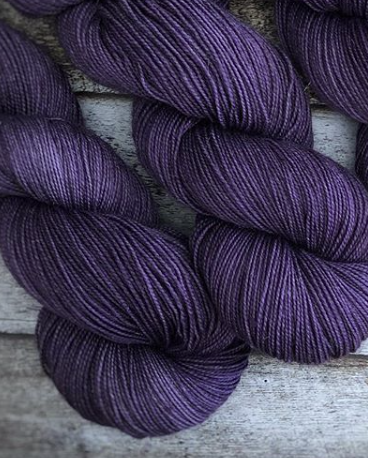 How does your environment inspire your work?
I feel lucky to live in Vancouver, Canada, where I am surrounded by nature, and still enjoy the conveniences of urban environment. The nature is a great inspiration source for sure, but it sometimes gives me some restrictions, too. For example, we have drought in summer almost every year. In order to save water, I always plan my work so that I can reuse water in dye pots as much as I can. For this reason, I decided not to use natural dyes in large quantity because they require many rounds of rinsing. Also, in winter, when it snows, I enjoy snow-dyeing sock blanks. We don't get as much snow as the rest of Canada, but snow dyeing is a great way to enjoy the snow instead of complaining about it!
What is your approach to your work?
I used to be a perfectionist who couldn't finish projects because they were just not right. But I am learning to get things done.
How do you approach your work on a colorway?
I like designing a collection of colourways. I choose a theme, make a mood board, develop a story, dye a bunch of samples, and choose 5 to 7 colourways from them.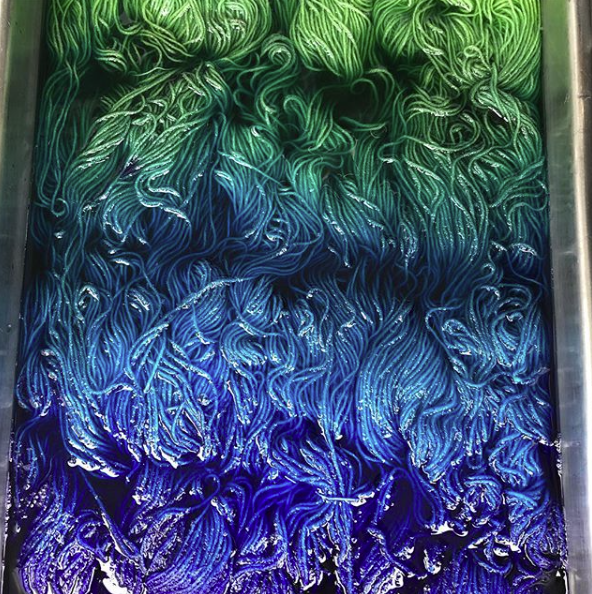 Who in the knitting and craft community inspires you and why?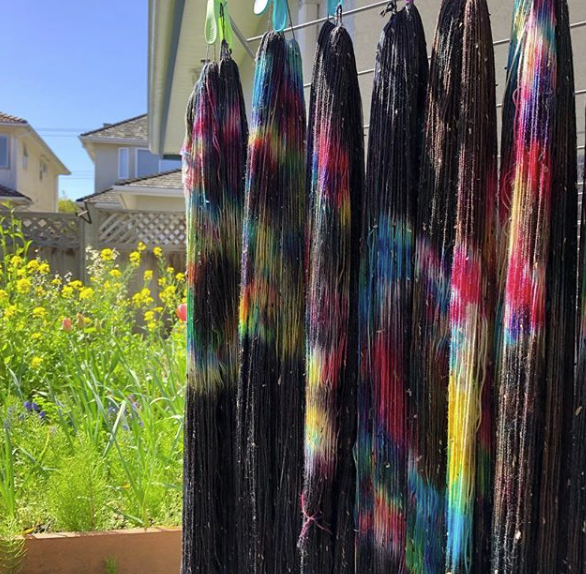 What makes a beautiful skein of yarn?
Resonance between the dyer and the knitter. I think that my job is to inspire my customers to make something beautiful/cool/interesting. I feel that sending yarn to customers is very much like sowing seeds and waiting for beautiful flowers to bloom.
Craft tool you cannot live without?
Electronic skein winder from Nancy's Knit Knacks
Finish this sentence: "When I am not dyeing yarn I am… "
tending my vegetable garden in my back yard.
Anything else you want to share or reflect upon?
I am an immigrant from Japan to Canada. I used to be an architect in Japan, but hit the glass ceiling very early as a female architect. Since moving to Canada, I had many odd jobs to keep myself afloat. It took long time, but I think I found what I love as a dyer.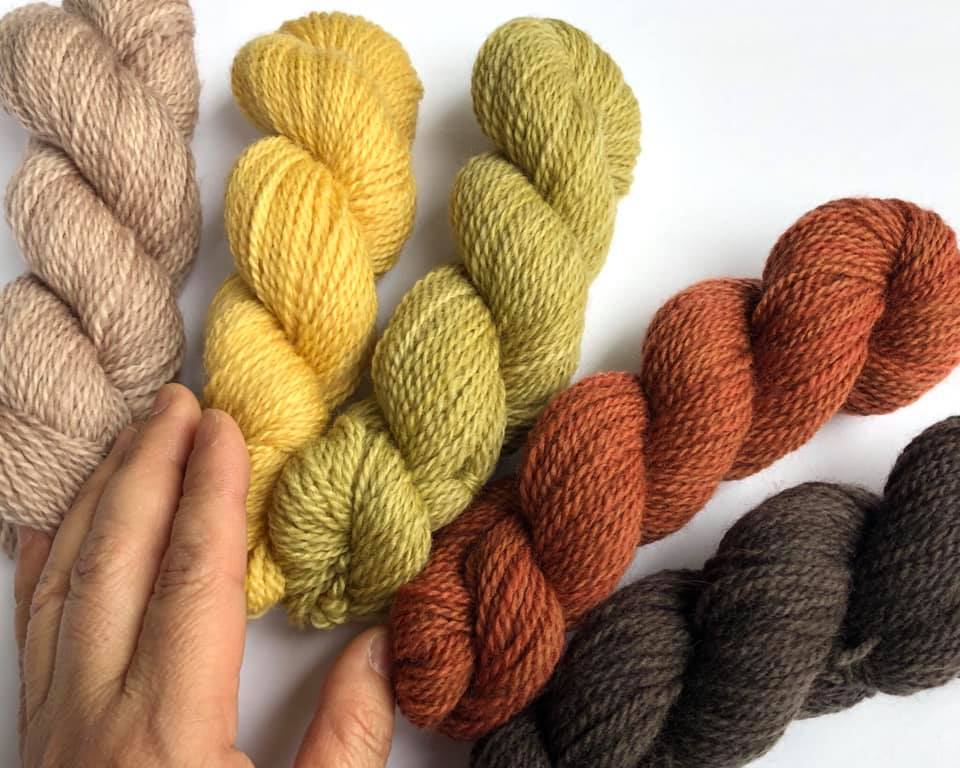 Having followed and admired Yoriko's
Instagram
 feed (source of the photos in this post) for a while, being able to interview her to get to know her and her work even better was just a treat. I'm thrilled to make one of her yarns the star of a pattern in my upcoming
Ultraviolet Knits book
.