We wanted to try a new craft this weekend, so we decided to make homemade rainbow play-dough. The boys lobbied for slime making, but I couldn't face it after slime stained my wedding quilt in 2019. This is also why I chose to make this play-dough with all edible ingredients (then we added glitter at the end to ruin that plan). So, here is how we did it. Spoiler alert: It was messy and fun.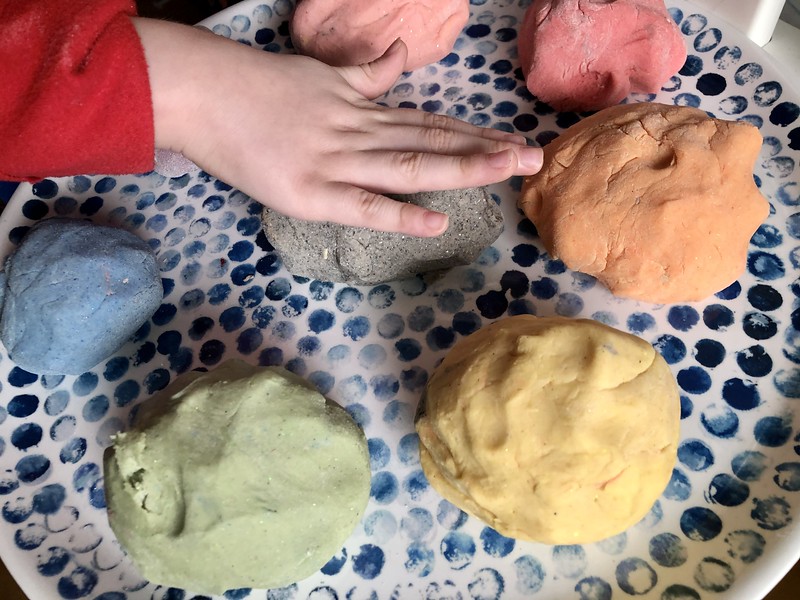 Here is a video I created of the process as an overview, the recipe is just below that.
Homemade Non-Toxic Rainbow Play-dough
4 cups water
1 cup salt
1/2 cup cream of tartar
5 cups all-purpose flour
1/4 cup vegetable oil
food coloring (red, yellow, and blue)
glitter (optional)
In a large pan, warm the water over medium heat and stir for the salt to dissolve.
Once the salt has dissolved, stir in the cream of tartar and blend to not have clumps. Then stir in the flour little-by-little. Mix until lump-free.
Remove from heat and fold the mixture out onto a board and let cool enough to touch then knead to achieve the right texture.
Break the large dough blob down into smaller blobs, one for each desired color.
Add a few drops of food colouring into the centre of the dough and fold over and over until absorbed then knead for the color to be even.
Store in an air-tight container and use with clean hands for the mixtures to last a couple weeks.
If you decide to add glitter, sprinkle into the centre of the dough and fold over and over then knead the dough. Adding the glitter felt rather magical.
Here are the colors put away in air-tight containers.
The next day we started playing with the new glittery rainbow of dough. It was an instant hit.
Tip: When we separated out the dough into smaller blobs, we kept track of which colors we had yet to create by sticking the glitter tube in it.