We've all seen a majestic Redwood or spritely Aspen tree and admired the bark or wood, but it is rare to be able to work with wood to create something of everyday use. Gene Kelly does just that. In his Sacramento-based Gene Kelly Woodworker studio, he spends an average of eight hours per day transforming raw wood into unique bespoke treasures. While a great deal of woodworkers prefer a more linear design approach, when left to his own devices Gene "prefers it to flow and/or flower".
I had the opportunity to ask Gene a few questions and talk to him via FaceTime to learn more about his work and what inspires him as a creator. Here is our interview interspersed with photos of his creations.
"You can be artistic, you just have to want to be. And allow it and nurture that."
How long have you been working with wood?
My interest in woodworking was sparked at a very early age. When I began Junior High School in the Los Angeles area, including wood shop into my curriculum was a given. I was fortunate to be in a school system which supported my interest as a boy. Sadly, most children now do not have the opportunity which I had then.
In the search for guidance in all things woodworking I have come across several people that have served as mentors, some knowingly and some unknowingly. The unknowing ones have been in the form of the many books and videos that I have devoured over the course of the last 45 years.
My interests in wood reach across the spectrum of the art form to include wood turning, with a special interest in segmented turned artifacts; furniture design and construction; sculpture; carving; and as a General Contractor I have enjoyed designing and constructing custom homes, kitchens and wine cellars/rooms.
Most of what I have offered for sale has been designed and created through my imagination; however, I welcome the collaboration that generally accompanies the direct commission as well.
My artistic vision is always evolving and therefore my web site will reflect those changes as they materialize. 
"Allow and enjoy the exploration of something that is intrinsic and human, not just in me."
What do you like about what you do?
The fact that I am able to work with a medium that is a living entity is a huge honor for me. It grew out of the Earth, was harvested and continues to move and breathe and absorb until one day it will be absorbed or consumed and used to nurture new growth. That fascinates me.
What fuels you in your work?
My goal is to elicit a response from the viewer, whether it be visceral or emotional. Art that you can feel.  (Yes, that and comfort. It is possible to create art that is uncomfortable. I prefer comfort)
How does your environment inspire your work?
I enjoy the flowing lines and symmetry of nature. I would say that most people don't register the fact that the lines of a tree or a mountain or a human form bring them pleasure. I try to capitalize on that.
What is your approach to your work?
My interests in wood craft reach across the spectrum of the art form with special interest in fine wood furniture design and construction, and most specifically, handcrafted heirloom quality chairs. I use the highest quality hardwoods available for all of my custom built wood furniture, which are often locally harvested and dried. I am always looking for interesting figured woods, which help give my pieces another layer of appeal.
How do you work on a design? Does it start with a sketch or does the wood talk to you?
I know what the wood will do if I am building from lumber, so the design starts in my mind then goes to paper to see if my design will actually work in 3D. If I am turning a vessel from a large billet then often I will follow the wood.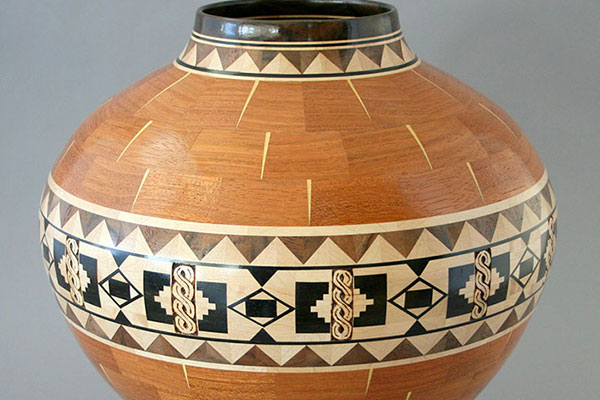 Photo courtesy of www.gkellywoodworker.com
How do you know a piece should be simple or when to include an element such as inlay?
Simple designs can be deceiving. Sometimes simple means boring. Other times simplicity is difficult to arrive at. The question of when to use inlays or carvings is a matter of viewer focus. Much like a painter who draws the viewer in by a destination at the end of a diminishing road or stream, focal interest or viewer attention is gained through these techniques.
What is your favorite item to make?
I enjoy making a comfortable chair.
What designers inspire you?
My solid wood American designs are influenced by the late Sam Maloof, and to a lesser extent Greene & Greene and the Craftsman movement. As is the case with all of my artistic pieces of furniture, my chairs are constructed and sculpted by hand in California.
Like Maloof, do you favor Maple, Rosewood, Ebony, and Walnut? What about the rubbed oil finish he was known for?
Well, sort of. I like figured Maple like tightly formed Curly Maple or Quilted Maple. Rosewood is becoming more scarce and is expensive.  It is a beautiful species if one can get ahold of Madagascar Rosewood. Ebony I do use, but only as a highlight such as plugs and other focal points. I use a lot of Walnut, both Eastern Black Walnut which is readily available but, I prefer the look of Claro Walnut which grows on the West coast which is less available and a lot more expensive. As to the rubbed oil finish, yes I have used his finish, however I have found it to be very vulnerable and I prefer a similar look with a tougher shell.
What is your favorite wood to work with?
Figured woods from Maples, Walnut and Cherry.
Finish this sentence:
When I am not hand crafting with wood I am…tending to my (what I call) farm chores. I have some laying hens and about a dozen and a half Koi and about 12 Bonsai trees, along with our dog and cat. I try to get out on my bicycle, but I'm having a difficult time of justifying that with my current workload.
"If you can separate the brain from the self, the left brain wants to create a dominance over the right brain because it can – because it is a vocal and logical presence. Whereas the right brain is more artistic and deals with language and the expression of form and thought and spirit and things that are not easily expressed. It's value-based, rather than logic-based."
If you would like to follow the creations of Gene Kelly Woodworker, he's on Instagram as @gkellywoodworker!