There are some patterns that are the perfect starter project for a new knitter or ideal as a last-minute knitting gift – and the 'Wham Bam Thank You Lamb' (WBTYL) neck warmer is just that. You can access the pattern on Ravelry here.
With 4,397 projects and counting on Ravelry, it is clear this is a popular free pattern with classic appeal. It is also handy as a destash project because you can knit it with almost any weight or gauge, so long as you keep a mind on the final proportions. You can knit it with doubled up sock yarn or DK and just use a larger needle size. For instance, if you use two strands of Chunky weight yarn, swatch with at least US 13 – 9.0 mm needles to see if that is loose enough. I used this when I knit one and it was not loose enough and felt a bit like chainmail, so even a tiny swatch can help for this if you're knitting with doubled up yarns. For knitting with two sock yarns, US 7 – 4.5 mm may do the trick.
If you want to create a gradient appearance, put your leftover yarns in the order you want, double them up to knit, but change one color at a time for a flowing shift of hues. For an idea on how to shift your own colors to create a custom gradient look, read this tutorial from Louet.
The stretchiness of the Long Tail Cast On and Jeny's surprisingly stretchy bind off (Fall 2009, Knitty) lend themselves particularly well to the 'Wham Bam Thank You Lamb' Neckwarmer. Overall, this project feels challenging, yet is a simple, quick, and satisfying knit, resulting in a useful, wearable cowl.
For an example at one I've made with doubled up yarn, here is one from my project archives.
My first WBTYL neck warmer was done lickety-split and sent off in a care package to a knitter friend in a cold climate.
This is how the experience of knitting it went…
The cast on itself was an experience and I enjoyed learning a new technique. The stitches were easy with garter stitch results. I chose to knit it with paired up Red Heart acrylic (Firehouse Red) and a random wool I had around (Aubergine).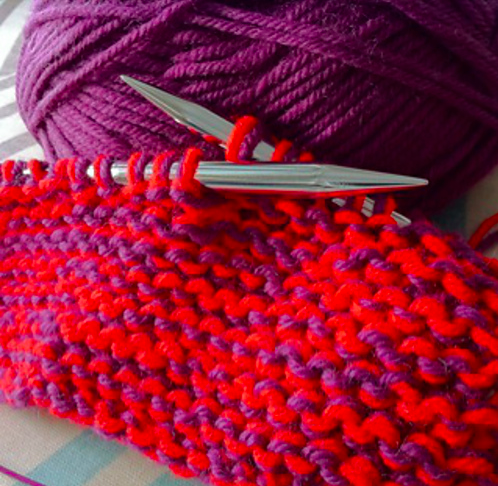 The color combination was exactly what I wanted because it was being made to join a cableknit hat and gloves set I bought from Lands' End. The Lands' End red Merino set was a slightly darker red than my Red Heart, but doubling it up with the Aubergine toned it down to the perfect shade visually. The set looked wonderful when I sent it off.
This was the entire care package with all the little goodies.
The 'Wham Bam Thank You Lamb' Neckwarmer pattern is good, but doubled up thick yarn with 9mm needle size was a poor choice for slouch factor as the resulting neck warmer is slightly stiff. I was young and new at knitting, my gauge left much to be desired. Learn from my mistakes, friends.
This is an ideal last-minute knitting gift pattern. Especially if you have an ample stash and can just choose lonely one-skein yarns that you have neglected and create something beautiful in time for Christmas. If you end up knitting one, comment with the Ravelry project link so we can check it out and cheer you on!
More Last-minute Gift Ideas
For other fun last-minute handmade gift ideas, check out these other posts of mine:
Free Knitting Pattern: One Size Fits Most Cupcake Tea Cosy – Knitmas 2011
Creating the Perfect Care Package for a Knitter
Free Knitting Pattern: Midwinter's Night Cowl
Christmas Craft Workshop: Handmade Gift Ideas
Christmas Craft Workshop: More Handmade Gifts
No Sew Statement Tea Cosy for Last-Minute Semi-Handmade Gift