A little break from the usual crafty, homemade goodness posts for something focused on my summer in the States and all the food I seek out when I am here. If you want to see all the places we visit as it happens for my American summer, follow me on Instagram or check out the #evinoktravels tag.
I try to visit home once a year to see my family, friends, and satiate my need for my favorite foods. It's true, though Ireland is a wonderful home and Cork has some of the finest dining in the Republic, I miss the restaurants, ingredients, and home cooking I grew up on. I also long to visit the museums in the Smithsonian! This is my list of things to do and places to go while I am visiting Washington, D.C. this time around. I have been in DC and soon am going to Delaware, Seattle, North Carolina, and Philly, so I am just getting warmed up in enjoying my Washingtonian foods. Before I return to Cork there will be many many meals, why not make the most of them and share this expat American's food wish list:

Things to Do
Window shop in historic Georgetown with a stop at Dean & Deluca
Visit the luxurious Peacock Room at the Freer Gallery of Art and lunch at the Jazz Cafe in the American History Museum
Outlet shopping in Hagerstown or Rehoboth with an Auntie Anne's pretzel for fuel
Day trip to Philly with a cheesesteak, of course
Maryland Wool & Sheep Festival with my knitting friends and their lamb sandwiches and lemonade
Dining
Shanghai Village, Bethesda, MD – veggie dumplings, Peking duck, filet with scallops, string beans.
Positano, Bethesda, MD – penne al arrabiatta
Manoli Canoli, Chevy Chase, MD – pizza!
Tastee Diner, Bethesda, MD – creamed chipped beef at any hour
Tia Queta, Bethesda, MD – enchiladas verdes and crepas
B. Smith's or Georgia Brown's, Washington, DC – fried green tomatoes
Harris Crab House, Kent Narrows, MD – crab cake!
Little Italy, Baltimore, MD
Bethesda Crab House, Bethesda, MD – steamed Maryland blue crab encrusted with Old Bay and served on yesterday's Washington Post
Chick & Ruth's Delly, Annapolis, MD
Woodside Deli, Silver Spring, MD
Dishes
Fried green tomatoes
Fried pickle spears
Matzo ball soup
Latkes
Crab cakes from Maryland Blue Crab
Moscow Mule
Wedge salad
Ball park pretzels
Yuengling
Fried catfish sandwich
Root beer float
Milkshake
Waldorf salad
Mom's Cooking
Matzo ball soup (if you can't make a trip to Mom's, try Barkat Matzo Crackers – 200g from Amazon.co.uk
)
Stuffed grapevine leaves
Pandora's chicken (a Joan Nathan recipe from her book, Jewish Cooking in America, available from Amazon.co.uk
and Amazon.com
)
Dad's salmon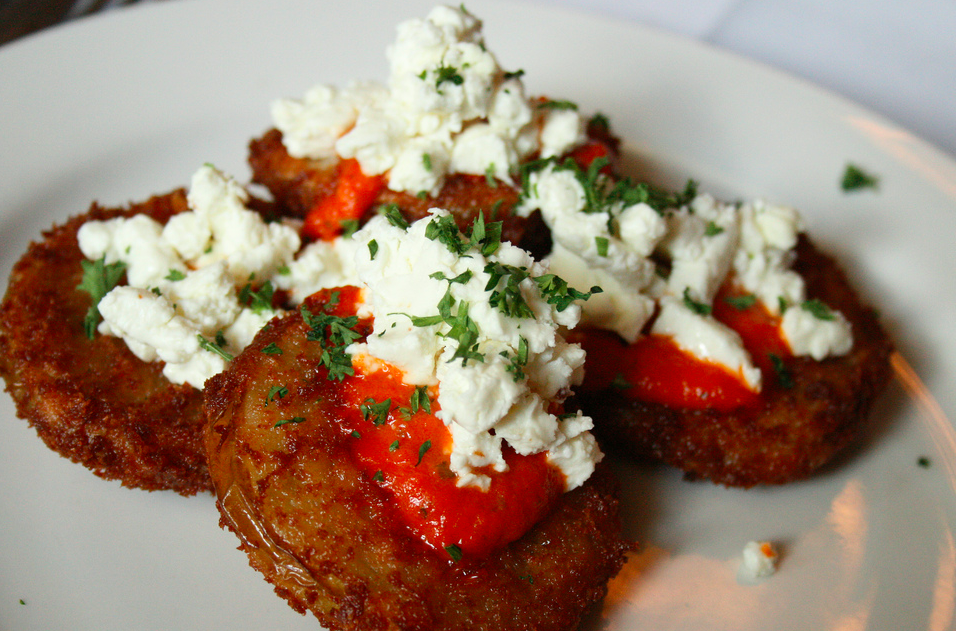 Food to Eat & Bring Back
New York Style Bagel Chips
– sea salt and garlic (also available from Amazon.co.uk
for my fellow expats or at Harvey Nichols in London)
Calbee Snack Salad Snapea Crisps
– original flavor
TJ's honey sesame snack sticks
Frontera Foods Medium Tomatillo Salsa

TJ's green salsa
Candy Kitchen Salt Water Taffy
Kraft Blue Box Macaroni & Cheese
(also available from Amazon.co.uk
)
Kellogg's Cracklin' Oat Bran Cereal

Snyder's of Hanover Hard Sourdough Hard Pretzels
When you travel, what food do you always seek out? I always look for [fish] tacos.