Elara Shawl
Elara is the eighth-largest moon of Jupiter. The Elara Shawl design reflects the moon's shape through purl stitches, eyelets, and bobbles. This shawl has a triangle shape, but feels elegant with the alternating textures and bobbles. This is a nice size for warmth – Once blocked, the shawl measures 69cm (h) x 150cm (w). The eyelets help show off the outfit beneath, making this a choice project for everyday wear, a special event, or to go with a favorite occasion dress.  Niall Twamley photographed this shawl with me in two ways, an everyday look and a dressed up look.
You can access a list of all the UV Knits posts HERE!
Pattern Sources
The individual pattern is available from LoveCrafts or you can buy the entire ebook on Ravelry. Scroll down for details on the print edition of the book.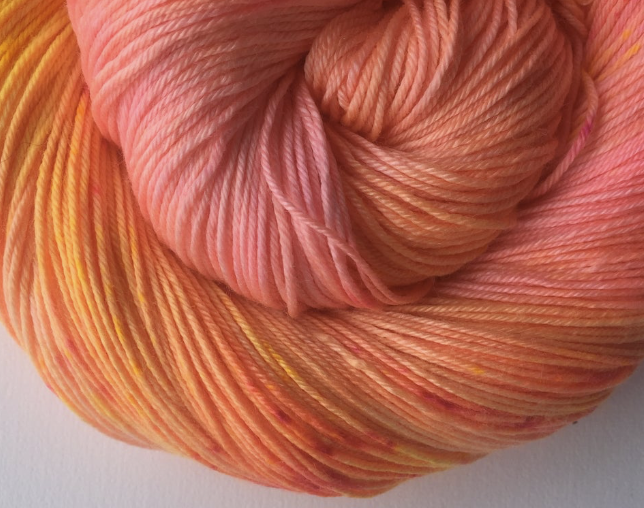 The Yarn
The shawl is knit with Eve Chambers Textiles SOCK in her Flamingo Moon colorway. Read my Interview with Eve Chambers Textiles, Hand-dyer from last year.
About Ultraviolet Knits
My latest book, Ultraviolet Knits: Twelve knitting patterns featuring UV-reactive hand-dyed wool (Anchor and Bee, 2020), was released at the end of March. This collection features 12 original accessory knitting patterns designed with black light-reactive hand-dyed wool-based yarns.This collection is inspired by the night's sky, some from the view from Earth, such as star-gazing from a porch swing, while others pay homage to astronomy. Each of the 12 accessory patterns works well with bold, speckled, and vibrant yarns as well as semi-solid and neutrals, making the designs well suited for using those treasured skeins in your yarn collection. These accessory designs are excellent for travel knitting given their size. For festival-goers or everyday use, these finished objects are ones you'll want to wear.
Where to Buy the Book
Individual patterns from Ultraviolet Knits will be available on Ravelry in October 2020, but until then you can treat yourself to the entire 12-pattern collection. Each week during June, July, and August, I'll profile one of the patterns from Ultraviolet Knits in a blog post like this one.
If you wish to purchase the entire book, it is available as a digital download from Ravelry or in print from a range of bookstores and retailers. I'm including a partial list  of online retailers selling the book, though you can likely provide your local independent bookshop with the ISBN and they can order it for you.
ISBN: 978-1-910567-06-7 (paperback)
Price: $24.50USD / €22.00EUR
Trim Size: 8.268" x 11.693" (A4)
Page Count: 50
Illustrations: 63 color photographs and illustrations
Amazon.com (USA)
Amazon.co.uk (UK/Ireland, affiliate link)
Amazon.com.au (Australia)
BookDepository (Worldwide)
Waterstones (UK/Ireland)
Bokus (Sweden)
Anchor and Bee Publisher (Worldwide, books ship signed and free gift of Ravelry digital version with each purchase)